Cruising
Lüderitz – Namibia - When you're in the desert...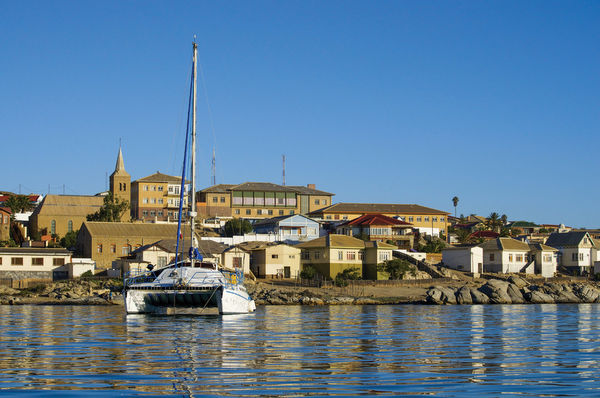 Our catamaran Pirates.com at anchor in front of the colorful bay of Lüderitz on an exceptionally calm day.
Things to see/do
"It's the desert", you cry. Well, despite that there are a lot of things to visit and activities that you will enjoy. You'll see!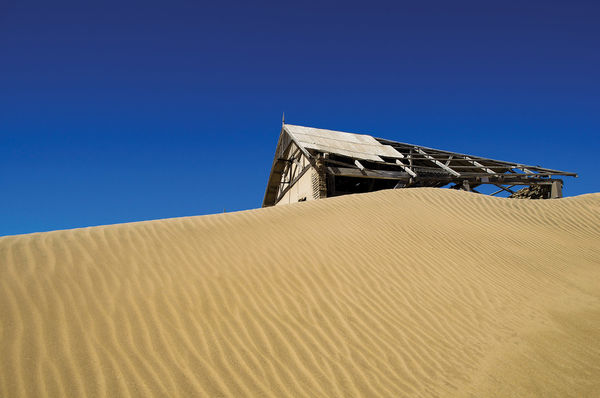 Kolmanskop has been half submerged by the sand of the Namib.
 Lüderitz, for starters, is a very colorful city with authentic colonial architecture. It is still mostly inhabited by Germans. After the discovery of the diamond mines in 1908, it experienced a major boom. Today it is a picturesque fishing port and a tourist attraction.
One should not miss out on visiting the ghost town of Kolmanskop, about six miles (ten kilometers) inland to the south-east of Lüderitz. Founded at the end of the 19th century by German settlers, this village grew up around a huge diamond mine, and was exploited for a few decades before slowly dying out. The last inhabitants left the town in the 1960s. The city became a cemetery of buildings engulfed under a thick layer of sand.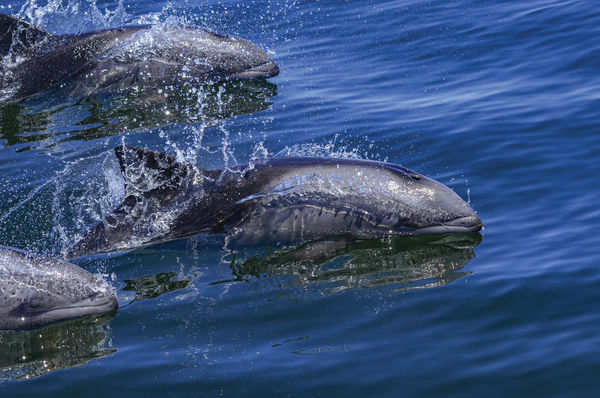 A rare species of cetacean which can only be seen here. The Cape Cephalorhynchus.
Mussel fishing. Just thinking about it makes my mouth water... The water temperature here is ideal for the proliferation of mussels. And they're not small ones! You can find some on the two islands that protect the bay of Lüderitz, Penguin and Seal Island. However, the steep shores make fishing difficult. They tend to be in clusters, hanging on protruding rocks, hidden under tons of kelp - the huge seaweed that is found all over the waters of southern Africa ... The best technique is to be on a rock, armed with a bucket, between two waves. It's worth it. They are delicious!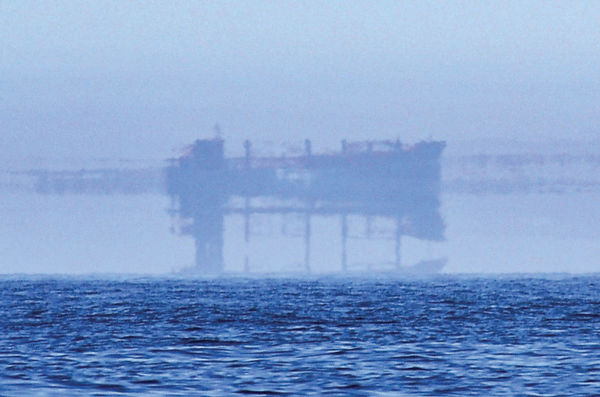 A «double» Fata Morgana where you can observe the boat in both directions.
There is an incredible phenomenon that can be seen quite often in this area. It is called «Fata Morgana». These are the most powerful mirages that exist. Large temperature differences seem to create a second horizon that reflects a part of the earth or the water. It is possible to see boats more than 50 miles away thanks to this mirror effect. I was able to observe a sunset... rising! The sun disappeared behind this false horizon only to reappear lower down, but still rising! 
Anchorage/Position
26º 37.766'S - 15º 9.480'E. - South anchorage
This anchorage is relatively well-protected, facing the pretty, colorful town and between the fishing boats. The bottoms can be rather random: a mixture of mud, sand and rocks. It is recommended to check your position several times, especially because of the frequent gusts of wind that can blow at more than 30 knots.
26º 35.288'S - 15º 9.973'E. - The north anchorage
This anchorage is much wilder. At the northern end of the bay, it is possible to anchor between Flamingo Island and Seal Island. The setting is magnificent: facing the land, you will see huge yellow dunes standing tall. Towards the open sea is a rocky island where huge colonies of sea lions and ...
Subscribe
Subscribe to Multihulls World and get exclusive benefits.
Subscribe
What readers think
Post a comment