Cruising
Uligan – The Maldives : the Indian Ocean's fashionable destination
Things to see and do
We would love to go ashore to stretch our legs, walk on the beach and tell you where you should go. But unfortunately, we are not allowed to do so, simply so as not to frighten the local population. According to our local official, the people of Uligan might be afraid to see us on terra firma if they think we might have Covid 19.
We had to make do with the crystal-clear water, which after a year in Thailand was very welcome. We also enjoyed seeing manta rays, dolphins and different fish, which seem a little bigger than in Asia, I would say!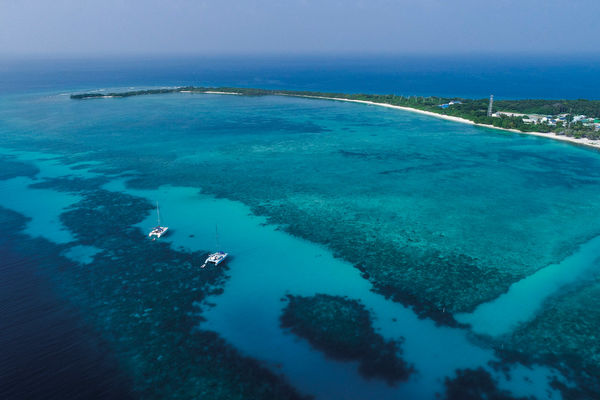 It's perhaps not the loveliest Maldivian anchorage, but we're not complaining here on the south-west coast of Uligan…
Positions
Uligan is the northernmost Maldivian island - well almost - and is one of the three ports of entry to this tropical country that's made up of 26 atolls. We are 120 miles north of Male, the capital.
The position of the anchorage that is best protected from the swell and current are: 7º5.042'N / 72º55.095'E. It is just in front of the entrance of the small port.
It is possible to anchor more or less all along the southwest of the island depending on the wind direction which is mostly NE. Unfortunately, it is difficult to find a small area of 5 me-ters depth with a good sandy seabed. You're more likely to be in 15-20 meters of water with a sand and coral bottom.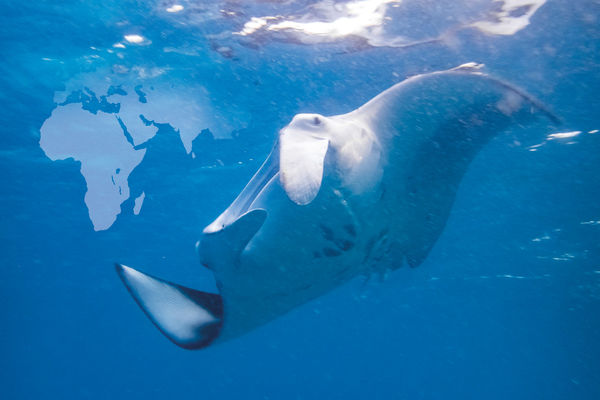 A Manta Ray spent a whole day with us, clearly enjoying the abundance of krill in our an-chorage.
Weather Check
The rainy season runs from May to October. Most of the sailors who head for the Maldives come from the northeast (Thailand, Malay-sia, Sri Lanka). It's around 1,500 miles from Phuket to Male. In this region, the rainy season ends in October - a little earlier in Sri Lanka. With the beginning of the dry season (in the Maldives it lasts until April), the North East trade winds gradually establish themselves in the northern Indian Ocean. Crossings are generally made in January, when the trade wind regime is well established. Earlier, the winds are not always very stable, and depressions still form in the north of the Indian Ocean. The intertropical convergence zone, which is an unsettled weather area, can also be very rough.
Overall, the wind is rather light in the Maldives, varying from NW to E in the dry season. And as in Southeast Asia, the long rainy season (May to October) is not very pleasant.
But during both seasons, the atolls have many well protected anchorages.
Subscribe
Subscribe to Multihulls World and get exclusive benefits.
Subscribe
What readers think
Post a comment