Multihull
Tremolino Dick, I need three hulls… can you help?
In the early 1970s, John Ollins, a fan of lightweight multihulls, met Dick Newick - the designer of the proa "Cheers" and many other magical racers - in the British Virgin Islands. The pair immediately got along, and started work on an exciting project: designing a kit to allow Hobie 16 owners to sail a quick yet safe trimaran. The central hull, initially built in epoxy plywood - using the Goujeon Brothers' West System process - is typical of Newick's plans, with its very banana-shaped bow, U-shaped hull and rounded coachroof. The boat met with immediate success in the United States, and soon became available in polyester. The story might have ended in the States too, but then along came Jacques Dewez, who had gone from being a fighter pilot, to being owner of the trimaran Gordano Goose, then a racing driver, and in 1982 became a real estate developer: in southern Corsica he sold villas overlooking a bay, and offered every customer a yellow Tremolino! In all, 18 units were built in Corsica. Over the years the Tremolino filled out a little, to fit the floats and rig of the Hobie 18. Finally, Dick Newick designed the famous, much stronger, half-moon floats.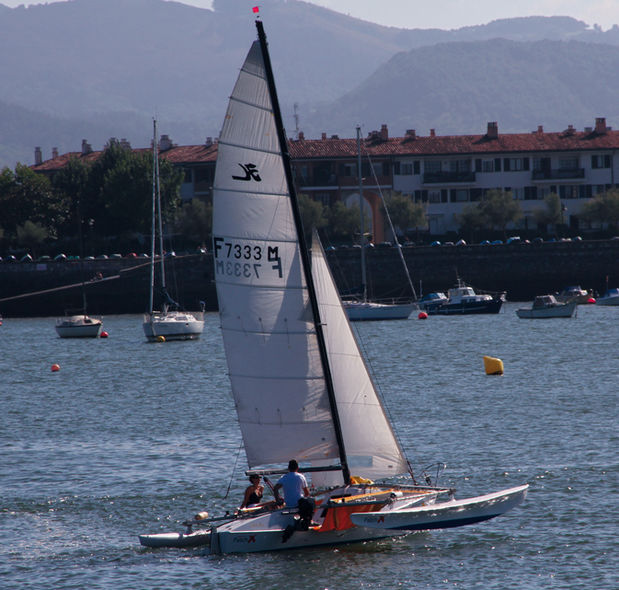 The magical stamp of Dick Newick
The model we're looking at today belongs to Pierre Calmon. A fan of older racing multihulls, he is an active member of the Golden Oldies Association. He has been involved in many rebuilds, as well as deliveries (always epic) of wrecks back to boatyards. This is the reason that today Pierre happens to be one of the owners of Gordano Goose - developer Jacques Dewez's boat. Get the picture?
On our test boat, the very narrow central hull features a center cockpit - ideal for weight distribution. The seats are made from waterproof fabric, and are an extension of the standard trampolines. At both the forward and aft ends of the cockpit there are companionways, with both leading to a mini-cabin, which, while watertight, is fairly small. There is a little more space forward, with 1.25 meters of headroom. Each cabin can basically accommodate one sleeper. So what if you are sailing as a couple? All you can do is pitch a tent on one of the trampolines, but ensure that you put something buoyant under the outboard hull, otherwise you'll be keeling over! Ironic for a multihull! Pierre and his wife, who have been cruising on the Costa Brava for a long time, have ended up sleeping on the beach. You have been warned…
Our host's Tremolino is definitely a first generation model, built at the SCIM yard in Corsica. It was in a semi-abandoned state, and its owner let it go for €1,500. The boat was in such a state, that the first thing the new owners did after buying it was to take it through a carwash…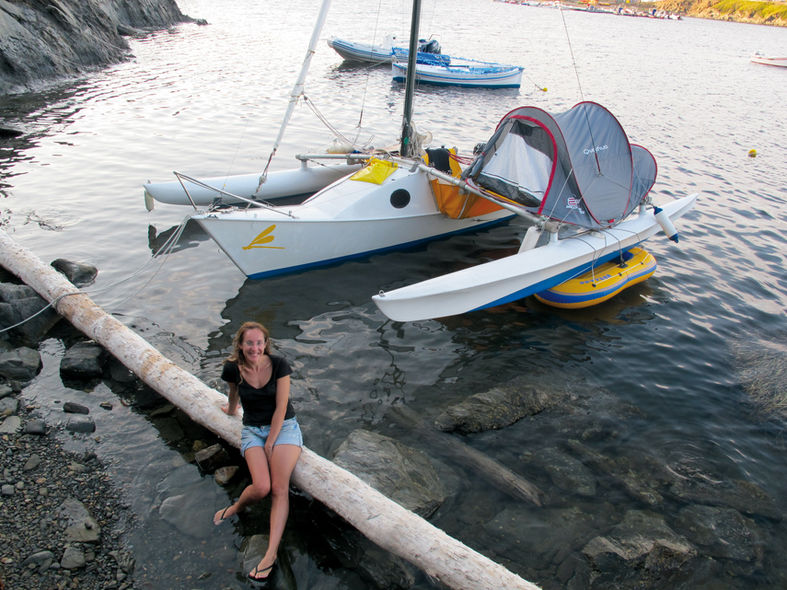 Subscribe
Subscribe to Multihulls World and get exclusive benefits.
Subscribe
What readers think
Post a comment