Second-hand test
Bahia 46
The Bahia 46 is a catamaran which continues to appeal. The proof: search the web, its blogs, opinions, reports, then do the same again in English, German, Spanish...the conclusion quickly stands out: this catamaran, available from 1996 to 2007, is unanimously appreciated by skippers, delivery skippers and crews of all nationalities. It's perhaps not for nothing that the Bahia 46 remained in Fountaine-Pajot's catalogue for over 10 years, and that 176 examples were sold – one of the company's biggest successes. For the R&D department, this 46 represents the quintessence of the cooperation between the architects Joubert/Nivelt and the designer Olivier Flahault! Faithful to the trends of the time, the Bahia adopted rounded lines. Although it retained the coachroof and its extension, and the 'pug-nosed' bows, characteristic of the builder, it adopted beamier hulls than the previous models. Yet the 46 remains a catamaran with a moderate displacement, and is generously canvassed. With a sail area/weight ratio of 11.71m²/tonne, it is well-canvassed and above all displays performance which would put a number of modern production multihulls to shame...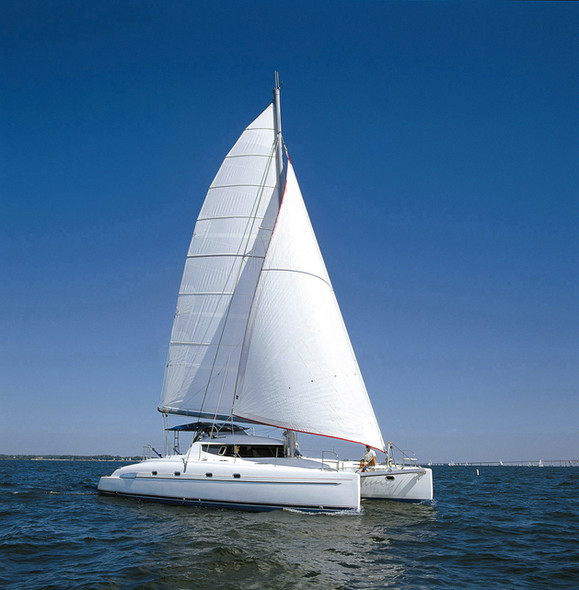 Averages of over 10 knots!
But although it is fast, comfort is not forgotten, thanks to its beamy hulls – which do restrict the boat's potential in light airs a little. Clearly, below a force 2, assistance from the engines – 2 x 38 or 2 x 48hp depending on the model – will be welcome. However, by opting for a square-headed mainsail, a gennaker on a bowsprit, and folding propellers, the boat can easily be boosted...and it is crying out for it! Because from 10/12 knots of wind, the Bahia 46 will surprise you with its acceleration, and above all the ease with which it returns two-figure averages. To windward, with its fixed stub keels, it does rather well, with a course close to 50/55° to the true wind, and very little leeway. Gentle movements, sails well – this Joubert/Nivelt-designed boat is certainly one of the fastest and most pleasant catamarans (comfort type, of course) in its category when cruising. And compared to more performance-oriented boats, it has the advantage of tolerating a significant load capacity without losing too much speed...but beware, we aren't saying that a cat which is full to bursting is a good thing; we can't repeat it often enough: the enemy aboard is weight!!!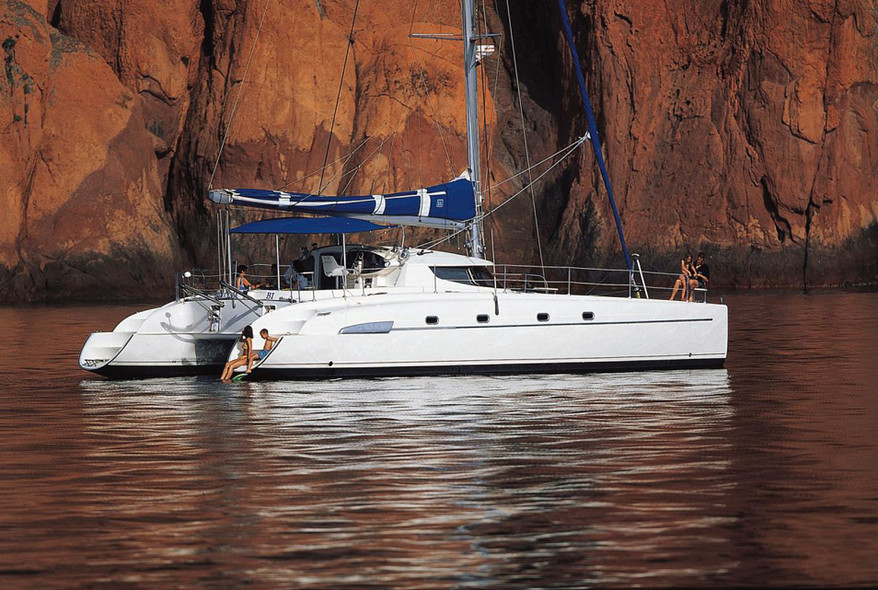 Deck plan: sober and effective.
Compared to the deck plan of the more recent boats, the Bahia can be distinguished by its relatively short cockpit and a limited coachroof footprint. Here there is no aft gangway, but ...
Become a member
Become a Multihulls World Community Member for free and get exclusive benefits
Become a member
What readers think
Tell us your opinion