Cruising
On Cloud Nine! A year after setting out, here's the low down on life on board the Cataja…
We have been in a relationship for 12 years, and throughout this time have always made a point of having joint projects, something which we believe to be essential in the life of any happy couple... Buying our first house, the birth of our first child, our latest investment, our marriage, our travels, our second and third bambinos... All great, successfully accomplished projects. After all these years, and having spent so much time homebuilding, we began to think about getting away from it all, but it did take a while to come to fruition!...

It all began one summer day in 2007 when Antoine suggested that we spend a week's holiday with a couple of friends, on a charter catamaran... At that time, Malo was 3 and a half years old, and Elian just 8 months. The idea didn't exactly fill me with enthusiasm. You can imagine that as a mother, all I could think about was my little guy deciding to take a trip overboard! Thankfully, my fears were unfounded, and we spent a wonderful week around Porquerolles in the South of France. We continued to charter a catamaran in each of the following years, and every time we enjoyed it just as much and were always impatient for the next holiday to come around...

"What if we left everything behind and set off in a catamaran? We could travel the world in our home with our kids. We'd have a different outlook at breakfast-time each morning if we wished, we'd meet loads of new people and we could just go wherever we felt like going...." These were the kinds of ideas that Antoine started to sow in my mind!

You probably think that that sounds pretty tempting. However, it took a while to take the idea on board as I'm a fairly down-to-earth kind of person, and had lots of worries and questions which needed to be addressed... I managed to answer some of the questions at the many boat shows which we visited... By going through this process, we were able to start dreaming about one day setting out.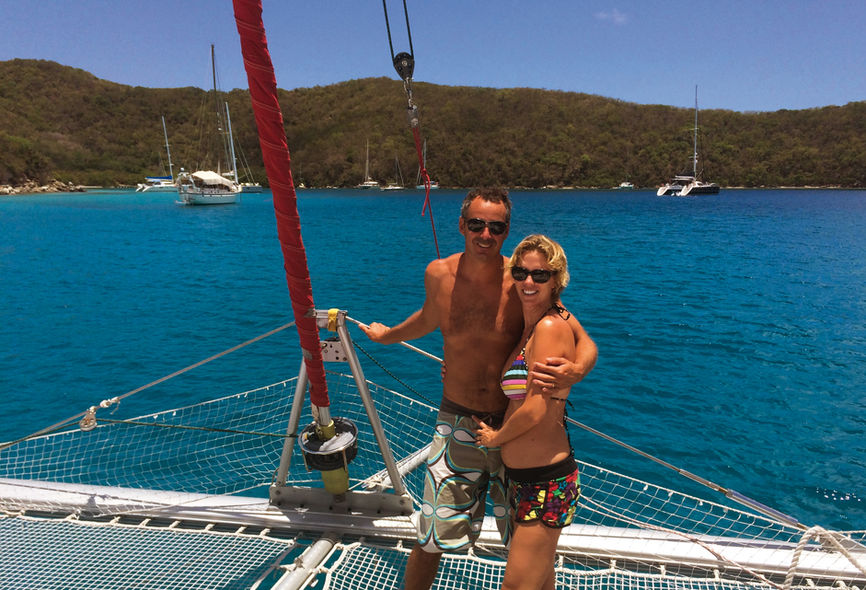 Dreaming is all very well of course, but how does it work in practice? At the time it was all still a bit vague. We took our time to decide. Then in the summer of 2011, we met a family which had decided to leave everything behind and live the same dream, and that was the catalyst!!! Why wait any longer? Why risk missing out on our dream? Why take the chance of something cropping up and stopping us leaving? Too many of our close circle had been struck down by illness... When our children would be older, everything would be much more complicated! We decided that we were going to do it, and not in 2016 as we had originally planned, but much sooner! And we would sell our house rather than rent it out, sell our furniture and not put it into storage, sell the cars and not leave them in the garage... We only had one thing in mind from that point on...Everything must go, and quick! Having spent years amassing things, and buying and accumulating loads ...
Become a member
Become a Multihulls World Community Member for free and get exclusive benefits
Become a member
What readers think
Tell us your opinion