Cruising
The Islands of Bermuda
A cruising crossroads
After another season in the Caribbean, the plan this year had been to head west for Panama and the Pacific Ocean. But we hadn't gotten as far as we wanted last year when we cruised the US East Coast. That combined with the threat of an El Niño event this season (and I've crossed the Pacific before in an El Niño year), we decided to head north again to check out Maine and Nova Scotia. Setting out from the BVI, Bermuda seemed like a logical place to stop on the way.
Jimmy Cornell's World Cruising Handbook suggests that Bermuda "has little to offer in the way of cruising"… but we were sailing in company with friends who have that most important navigational resource: local knowledge.
We cleared out with customs in Spanishtown, Virgin Gorda, and weighed anchor on May 16th. Quite a number of boats were headed our way around the same time, some bound for New England, others for Europe via the Azores. Bermuda makes a convenient stop for both these routes, one of the reasons it sees around 1,000 visiting yachts every year.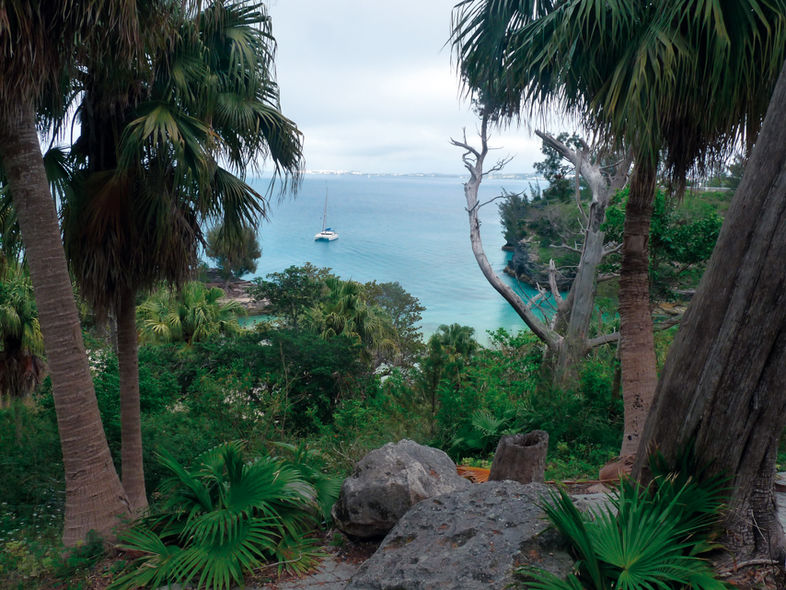 Our passage north
Sailing conditions were just perfect for us: four days with an easterly wind between 12 and 20 knots, which moved slowly round to the south and died away to nothing on the fifth day. There was a reasonable swell out of the east, but this was no problem for our Founatine Pajot. We stayed in contact with friends on another cat throughout this passage. At 44 feet, their South African cat was faster than us, but with much lower bridgedeck clearance, the easterly swell made things uncomfortable for them, meaning they couldn't stick to the rhumb line and leading them to cover a lot more distance. We arrived almost at the same time, having covered around a hundred miles less than them. Further confirmation we had chosen the right boat. And if any more proof were required, we were in communication with a three monohulls which set out the day after us. They were taking weather routing advice from ashore via SSB, whereas I prefer to download the grib files and make my own opinion. The advice they got was that a weather system was coming through and that they should heave-to, south of 24°N, to sit it out. This was confirmed by the dying wind and rainfall on our last day, but I was confident we would be well in Bermuda by the time it arrived, so we pressed on. Two of our monohull friends hove to for several days in 30 to 40 knots of wind, quite safe, but it can't have been too much fun, and the third abandoned the plan altogether and made a new course for Puerto Rico. We were tucked up in shelter by then, but more of that later…
We motored the last 24 hours, unfortunately picking up a bunch of rope in our port propeller a few hours out. This looked like it was going to be a nuisance to clear, so we continued on one engine with no problems.
After radioing ahead we passed through the narrow Town Cut to ...
Become a member
Become a Multihulls World Community Member for free and get exclusive benefits
Become a member
What readers think
Tell us your opinion