Technical
STAYSAILS ARE MAKING A COMEBACK
The furling genoa caused a real revolution in our boating lives. The dangerous crawl along the foredeck in a rising gale was quickly forgotten. One foresail which could be adapted to suit all conditions, adjustable without the need to leave the cockpit, it quickly brought the "leisure" back into "leisure sailing". The flipside however, was that this sail had to be able to do everything: from a lightweight genoa to a stormjib, via a heavyweight genoa and a solent. We have maybe forgotten a little too quickly that, even though the furling gear can only accommodate a single sail, there's nothing to stop us adapting it as necessary: a small overlap with heavyweight cloth for long passages, or a medium-weight maxi-genoa for coastal cruising. Ultimately, we are faced with a big compromise, in terms of shape, sailcloth, triangulation and mediocre performance when the sail is partially rolled up. This situation degenerates rapidly with age and the condition of the aforementioned sail. On our multihulls, these concerns have, in a way, been overcome by the advent of the smaller, self-tacking, solent. A sail which is cut very flat, and made with a somewhat heavier cloth. But recent naval architects' designs have seen a tendency toward following the evolution of offshore racing , setting the rigs further aft, which has the following results:
-The center of gravity and center of effort are brought further aft, creating the double advantage of reducing pitching and the risk of burying the bows.
-Rebalancing the sailplan between the headsail and the main. The latter has been becoming much too large, making them increasingly difficult to handle.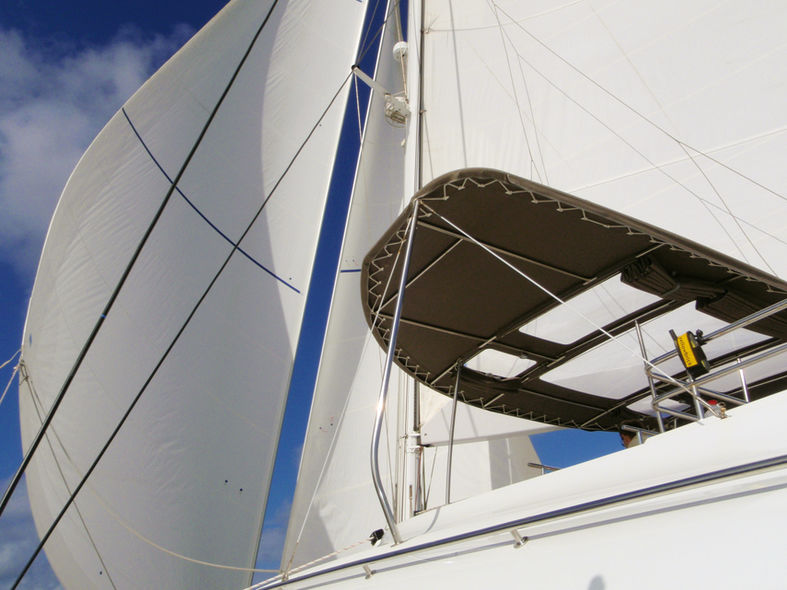 If you consider the willing number of "multihullists" who want to continue under sail in moderate or even light airs, going back to a big genoa is essential, and with it, the need for a solution in heavier conditions, say up to 25 knots apparent, to make things easy. The bigger the boat, the more this alternative to the genoa, and the security of having another sail available, becomes necessary. Upwards of 45 feet, and absolutely over 50 feet, for any serious offshore program, a staysail is vital. Fitted on a lower stay, the bottom fitting attaches further aft than the main forestay. So the center of effort is moved back and down in relation to the standard genoa, even when furled, making things easier to handle when conditions become a little more sporty. Being cut relatively flat because it's going to be used mainly as part of the upwind strategy means it can be made with large-sized reinforcements. As for the material, there's no need to consider a complex membrane, when a Hydranet cloth or a heavyweight Spectra will guarantee tranquility and durability. And if the wind increases to the point where it's time to go home, you're not going to break this one. As for its geometry, it's best if self-tacking ...
Become a member
Become a Multihulls World Community Member for free and get exclusive benefits
Become a member
What readers think
Tell us your opinion