In keeping with Privilège 465 (test in MW #70) the Alliaura Marine shipyard, with this new model targeted in the heart of the 12/14 meters, is resolutely pursuing the renewal of their range. The Privilège 435 unveiled to the public in last autumn's boat shows confirm the choices made at the last Paris Boat Show. The result of close collaboration between the Groupe Alliaura Marine research department, Marc Lombard's yacht design firm and Archétype Studio for the interior, this new model should satisfy both demanding sailors and those who love fine prestigious units. The Privilège 42 is dead; long live the Privilège 435!
Nous étions pressé d'essayer cette unité prometteuse, il nous aura fallu patienter quelques temps afin qu' un exemplaire soit disponible. Le N° 1 prévu initialement nous ayant fait faux bond pour cause d'expédition urgente vers son propriétaire d'outre-atlantique, nous embarquions sur le N° 2 version "Easy Cruise" *, ce 23 septembre dernier, au départ de La Rochelle pour rejoindre la base "chantier" des Sables d'Olonne.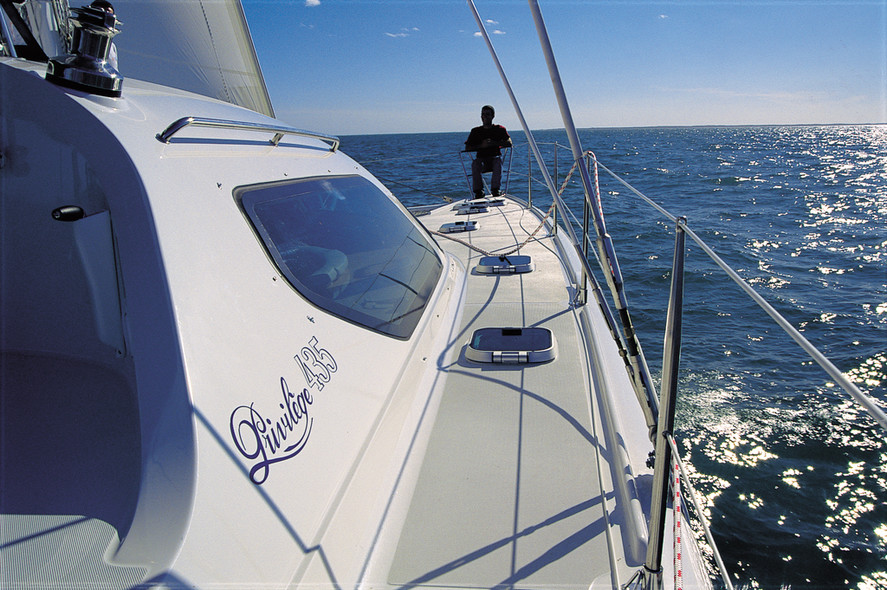 Under sail
The mile weather conditions enabled us to go quickly on an escapade to the Isle of Aix. After all, this was a relaxing moment to discover the spacious volumes of this 13-meter unit. The sails are deployed by hand with some effort for the final hardening of the mainsail (by Incidences Voiles) on the Andersen winch, but without contortion thanks to the well planned control stations: mainsail halyard at the mast foot, sliders on trolleys by Fredericksen, traveler adjustment units reduced to a single rear winch placed on the portside of the cockpit and all the maneuvers of the genoa jib and furler on the roof directly accessible from the helm...
To read in full,
Buy the boat test
What readers think
Post a comment