---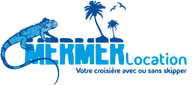 This is one of the last small yacht charter structure in Martinique (5 catamarans in 2016), it ensures a close relationship and an excellent service with its customers; the majority of the competitors have at least 20 vessels (sometimes more than 50), and the smallest often commercialize boats that are not theirs. with Mermerlocation this is not the case all the boats that we propose are those of our own fleet.
Since its creation by George Prado (who left since May 2015 to make a world tour with his wife) the choice was always to remain "human scale" in order to manage all the activities, from marketing to boat maintenance.
With this, mermerlocation manages to offer better competitive rates than larger structures without sacrificing the quality of its services, all the contrary ...
We don't make"stop and go"charter the same day, to ensure boat in perfect seaworthiness and the possibility to to take the time needed for the handover
Since its creation, mermerlocation works exclusively with the shipyard Fountaine Pajot. It now offers a large range with a 36 Mahé (Evolution 2015) 1 Lavezzi 40 (2009), 1 Lipari 41 (2012) 1 Orana 44 (2010) 1 and Helia 44 (2015).
All boats are perfectly equipped and autonomous in energy with powerful solar panels. The watchword is to have a boat perfectly equipped for navigation: GPS plotter, fridge and freezer in all catamarans (except Lavezzi 40), Semi-rigid dinghy with outboard of minimum 6cv , watermaker on the 44 feets , converter, etc ...
Address
MERMER LOCATION Quai N°1 - Marina du Marin MARTINIQUE
---
The boats available for charter