---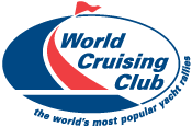 World Cruising Club is the world's leading sailing rally specialist, with nine distinct rallies taking place every year - ARC, World ARC, Caribbean 1500, ARC Europe, ARC Portugal, ARC USA, ARC Baltic, ARC DelMarVa and the Malts Cruise. From round-the-world adventures and ocean crossings, to social cruising and island hopping, there is something for everyone.
World Cruising Club was born with the very first ARC in 1986, the first-ever ocean crossing rally. They now help more than 450 boats and 1200 people to achieve their sailing dreams every year. Some of their rallies are big on fun and big on people, others are more intimate. Whatever their size, their rallies all adhere to the original ethos of safe and social cruising.
Their rally teams are all keen to ensure that everyone has a great time ashore and afloat; they know that rallies are more than simply sailing.
World Cruising Club USA
Tel. 1 757-788-8872
Email. carib1500@worldcruising.com

World Cruising Club Deutschland
Tel. +49 (9533) 8733
Email. buero-deutschland@worldcruising.com

World Cruising Club Netherlands
Tel. +31 614023357
Email. dutchsupport@worldcruising.com
Address
World Cruising Club Limited 120 High Street, Cowes Isle of Wight, PO31 7AX United Kingdom
---