---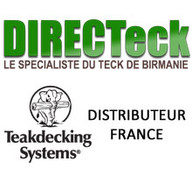 THE SPECIALIST IN BURMESE TEAK

Specialized in Burmese teak trade, Directeck keeps selecting the finest wood, under more than 700 references in store and delivers everywhere in France and worldwide. Open to privates and professionals, our strategy lies in advising on your projects and listening to your needs (terraces, decks, parquet floorings, decorative touch, accessories, glue and care products...).

From Verbenaceae family, teakwood (Tectona Grandis) is a beautiful and easy wood to work with. It largely grows in South-East Asian mountains(Siam). Its intrinsic qualities make it a noble and precious essence which has no counter-grain and is water-repellent and resistant throughout the years.
More than any other essence, teakwood combines undeniable benefits : being rot-proof, it resists and preventsfrom fungi, insects and bad weather. Naturally rich in oleoresin, it seduces by its unique non-skid adherence.

We have also been distributors for 3 years now of the American brand Teakdecking Systems, created by a deck manufacturer, for sealants, epoxy glue, care products and tools (reefing hook, bond breaker tape, seam sander). The brand has become more and more popular those last few years in Europe and has been standing as a reference in all Nautical world.

Address
19 rue Sidoine Apollinaire 63000 Clermont-Ferrand France
Phone
+33 (0)4 73 91 24 97
---