---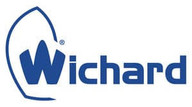 The marine hardware manufacturing specialist, for over 30 years.
Whatever your sailing program is (cruising, club, regatta, Olympic, Tran's ocean ...) you will always find the right Wichard product which has been designed and engineered, to match your expectations.
Address
Wichard S.A.S ZI de Felet CS 50085 63307 Thiers Cedex France
Phone
Tél : + 33 (0) 4 73 51 65 00
---
Multihulls World Partners
Postcards
Discover the best of our readers' favorite destinations
Share your postcards
and receive one year's free digital subscription!
share now