---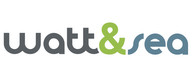 Catamaran hyrogenerators

The new Watt and Sea hydrogenerator brings now a solution to energy needs in sailing cruise and race.

We sustainably produce your energy on board. Discover more on www.wattandsea.com.
NEW 2018: the hull-integrated hydrogenerator:
Invisible - simple on/off feature - no maneuvers

The perfect solution for responsible and efficient cruising.
Address
Parc Creatio TECH - 40 rue Chef de Baie - 17000 La Rochelle - France
---
Multihulls World Partners
Postcards
Discover the best of our readers' favorite destinations
Share your postcards
and receive one year's free digital subscription!
share now