Cruising
Alizé's (Half) World Tour - Stage Three: Tristan Da Cunha/Mayotte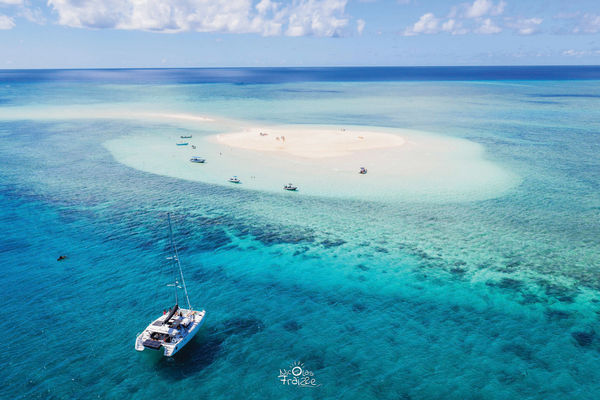 After her trip halfway around the world, Maitai is now being used for day charters in Mayotte.
March 12 and we had just come through our second storm system. I can assure you that it was pretty hard going once again! I can still see my father facing up to each squall one by one without even thinking, but still stressed to the core because we had just spent a night without sleeping with 45/50 knots of established wind and a swell with 25- to 35-foot (8-to 10-meter) waves. To make matters worse, a huge squall came along at daybreak. When we saw this monster advancing towards us, while we were already dealing with strong gusts, we had no idea of what to expect. What was this squall going to batter us with? 70 knots, 80? A fine rain began to fall, and the mysterious squall was still visible in the distance. With my father, after that long and agitated sleepless night watching over Maitai, we looked at each other with great understanding. All we could do was to wait for the verdict and whatever punishment the weather would throw at us, without being able to do anything... Then strangely, the wind seemed to calm down and drop, a fog rose and the swell decreased, little by little... The ocean seemed to regain its calm and leave behind its raging seas. Phew!
Fine Dining!
That's it, the storm had passed. Apparently, this is what is called the tipping point: the calm after the storm. What a relief! Although it's one of the most beautiful and impressive things I've ever seen and experienced (admittedly, a storm with 33 feet (10 meters) of swell and winds of 50 knots set and gusting 70/80, is not something you see every day), we were still much happier to be sailing on calmer waters. We will remember this sail, in all the senses of the word! I won't go back over this depression in detail as it seems to me that I had already described the first one we had experienced before arriving in Tristan da Cunha, one week earlier.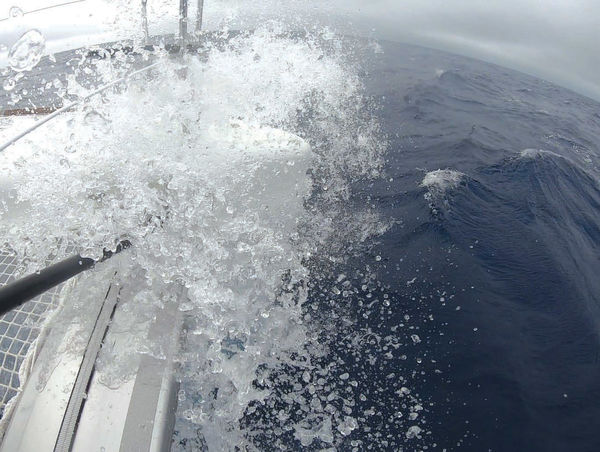 The South Atlantic had a special storm in store for Alizé and her crew: 33-foot (10 meter) swell with 50-knot winds, gusting to 70/80!
I'd rather talk about something a little more light-hearted. Let's talk about boat food! Because that's one area which held up pretty well, haha! The day that we got through this second depression (and yes, we were so keen to get fishing that we set the rods back up as soon as the wind dropped a little!), César reeled in a big 60 lb (25kg) tuna all by himself! In no time at all, the fish was cleaned, cut up and delicately deposited on our plates. The sashimi was wolfed down in the blink of an eye. There's no better way to reconnect with life and the sea after two days of negotiating storms! A twist of lemon, a hint of olive oil, a turn of the pepper mill, a pinch of fleur de sel, and we had produced a meal worthy of Bocuse. What a delight! It had been a long time... The next day, Lisa made us rillettes with the rest of the tuna. Taste sensation number 2. Max, as usual, made the bread. And me, I ...
Subscribe
Subscribe to Multihulls World and get exclusive benefits.
Subscribe
What readers think
Post a comment