Why not get off the beaten track, and try sailing around the fjords? Whether it's in summer or winter, when you're sailing in Norway you're bound to discover all sorts of unimaginable wonders. Come with us, in the footsteps (or should that be the wake?) of the Vikings, those warriors who were, first and foremost, sailors...
Ship's Log
Even the most blasé of sailors can't fail to be tempted by Norway: there are 83,000 km of coastline- if you include the mainland coast, and the islands of the archipelago- incredible fjords and almost 50,000 islands. There are inexhaustible possibilities. The proof: there are one million boats for a population of 5 million ... There's no doubt that the Norwegians have always been drawn to the sea. The adventures and explorations of Eric The Red, who founded the first colony in Greenland around 1000 AD, and his son Leif Ericson who discovered Vinland (which is generally considered to be Nova Scotia, although some think it may be the States) have stimulated peoples' imaginations ever since. Norway is a Nordic country. Tromso sits at 69° North, and is labeled the Capital Of The Arctic." For those who have never sailed in this part of the world, it is hard to imagine the pure beauty of the place. In winter you can be transfixed by the heavenly spectacle of the Northern Lights, while in the fall, you can find yourself sailing with the whales which head for these waters. And finally in summer, you might get the chance to sail in the light of the midnight sun. But perhaps the most tantalizing possibility is to head off from your boat with your skis on, for some great off-piste moments. And as with all cruising, there's the fishing. Except that up here, it can be incredible, with huge salmon, cod and sea bass available! In short, sailing in Norway is a unique experience. And of course, there's no question of sailing in one of the famous drakkars, which cemented the reputation of the local sailors. No, you can set off in a catamaran on a voyage of discovery that is as unique as it is exceptional.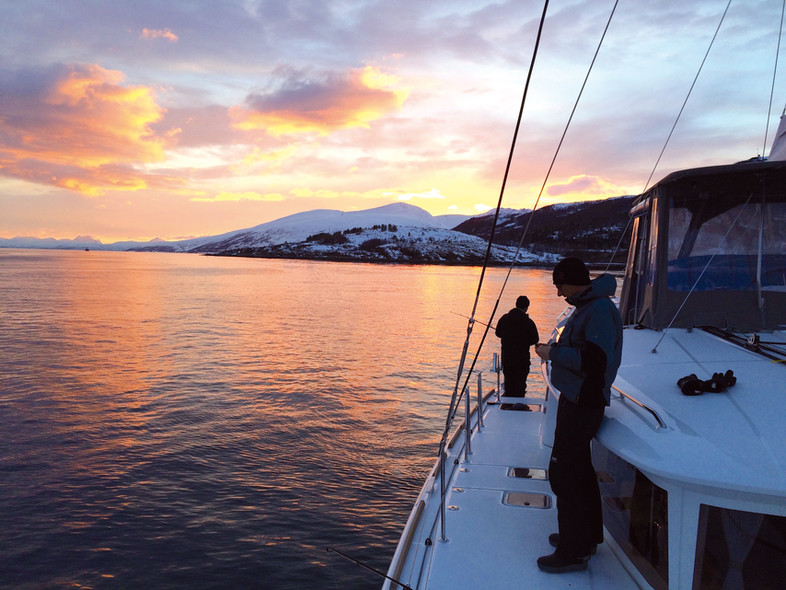 Norway: useful info
Getting There: Norway is easily accessible, with direct flights to all major European and North American capitals. Every large town in Norway has an airport -often an international one- like Oslo and Tromso. Norway is also easily accessible by car, using the ferries coming from Germany and Denmark, or via the Oresundsbron, a 16 km long bridge which connects Copenhagen to Malmö. Europeans only need a current passport or ID card to enter the country and mustn't be staying for more than 3 months. When To Go: Anytime. Summer sailing under the midnight sun is amazing, but it's also possible to head out in winter on a ski/sail trip, or to discover the Northern Lights. Official Language: Norwegian, although everyone speaks English. Currency: The Norwegian currency is the Krone (NOK). €1 = 8.75 NOK There are plenty of ATMs in towns, and cards are accepted everywhere. On the small islands or small villages, it's a good idea to have some cash with you. Good To Know : Summers can be hot (up to 30°C) and the sea temperature can reach 18°C. In winter, the country is under a blanket of snow and the temperature can drop to -40°C... However, Tromso's average temperatures are -4.4°C in January and11.8°C in July... Catamaran Charter Companies : Artic Cruise – Oceans Evasion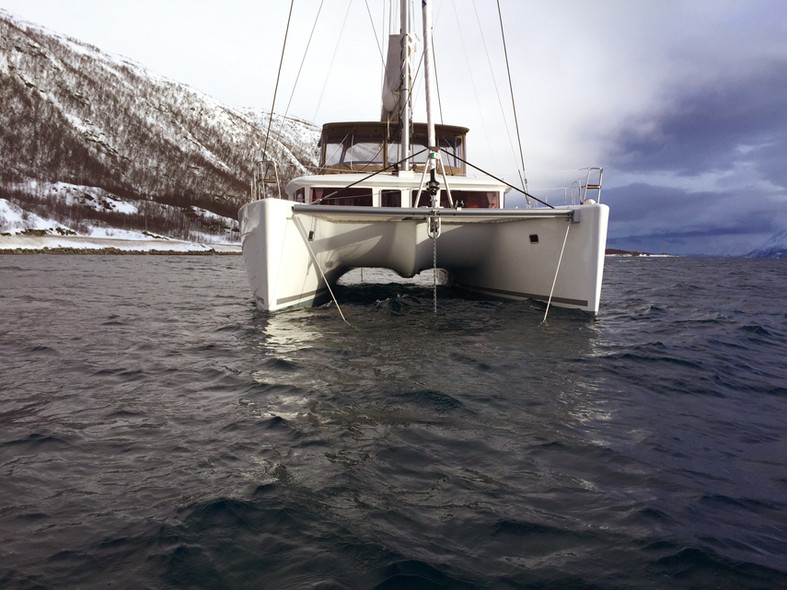 The Standard Itinerary.
Multihull renters are pretty thin on the ground in Norway. We asked Arctic Princess to help us out with our trip around Tromso's maze of Fjords. This charter company not only has a 2014 model Lagoon 450 available, but also knows the area particularly well. Everything begins in Tromso. You can check out the town's rich history before setting off. Upon arriving, you are struck by the majestic landscape in which it sits, with mountain summits looming over the town, the glaciers and of course, the famous fjords...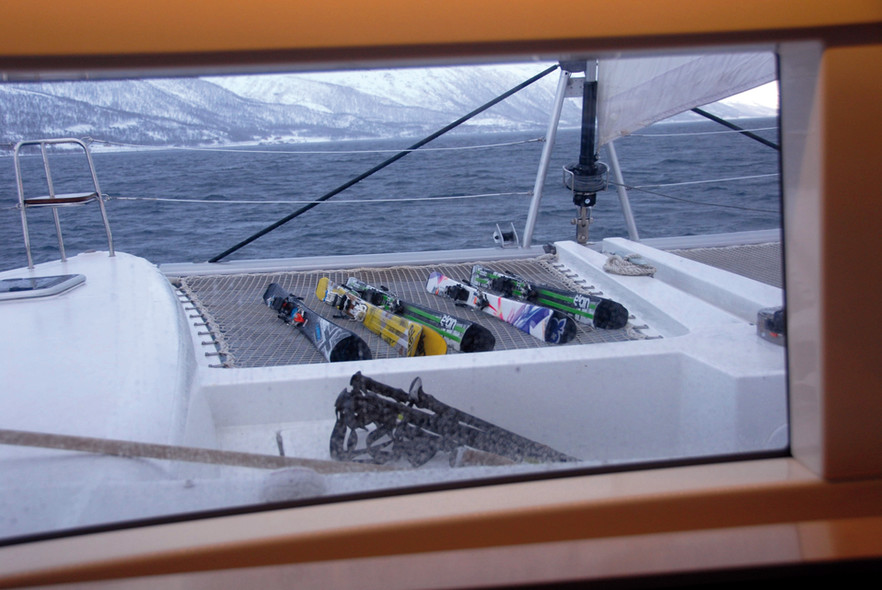 This is a summer-only trip, but you will discover the loveliest fjords as well as some of the region's typical fishing villages which can only be reached by sea. Leave Tromso around midday on the first day, for a gentle sail to the first mooring at Arnoya. You can use your second day to discover the Jokelfjord, amongst others. It's a magnificent fjord, with a glacier that slopes down into it. On the third day you keep heading north, where there are plenty of opportunities to stop and discover unexpected landscapes, until you reach Honesby. This is a small fishing village situated on the island of Seiland. You can wander around its small fjord on foot, and there's even a small shop. Luxury! This is always a popular mooring, thanks to the locals being so friendly... On your last day, after a breakfast that only the inhabitants of these Nordic countries know how to prepare, you set off on the last leg of your sail towards Hammerfest. Said to be the most northerly town on the planet, it sits at 70° 39' North... After a few days of fjord discovery, you have the choice between taking a plane back to Tromso, or turning your cat around and doing the return trip...
More than elsewhere, the weather in this region will dictate your agenda... The charter company therefore offers several other options such as a trip to the Lyngen Alps, where a professional fisherman will take you out fishing at his favorite spots. Before reeling in your meal, there's a good chance that you will have enjoyed watching the whales playing in the Lyngen fjord. The next day you head up onto the glacier for a day's walking in a stunning 10,000 year-old world.
What readers think
Post a comment