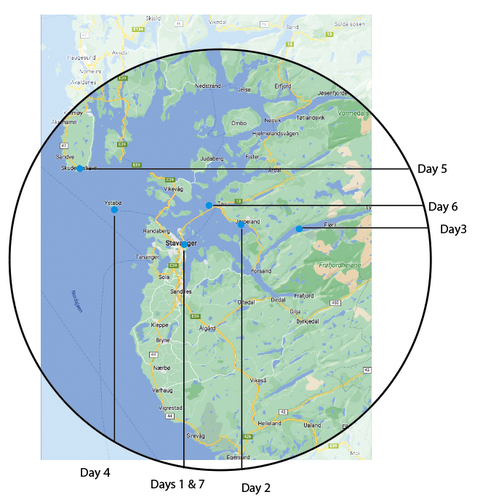 Day 1 - Stavanger/Jørpeland (11 nm)
Enjoy the restaurants of Stavanger before heading east for a first sail among the islands.

Day 2 - Jørpeland
Discover Jørpeland and its two small, deserted islands nearby and then go overland (on foot or by bus) to Preikestolen - this is where you will discover the famous 1,982-foot cliff with a flat summit and a breathtaking view over the Lysefjord.

Day 3 - Jørpeland/Lysefjord (10-20 nm)
Venture into the Lysefjord upstream from the suspension bridge. It is possible to anchor on the southern shore. A little further on, Kjerag and its famous hanging boulder are within reach of your bows (after a few hours of walking).

Day 4 - Lysefjord/Kvitsøy Ydstebøhavn (23 nm)
Head west again towards the North Sea! You will not really be out at sea as there are many islands and islets to protect you from the swell. Discover the island of Kvitsøy with its perfectly protected fishing harbor, not to mention its typical lighthouse - you are now in Norway's smallest municipality...

Day 5 - Kvitsøy Ydstebøhavn/Skudeneshavn (8 nm)
Head northwest to discover a charming village with white painted wooden houses. The streets are sometimes extremely steep! If the day offers the opportunity for a nice sail, head first to the island of Utsira, one of the most distant places from the mainland (36 miles) and then why not head for Røvær and its ancient Viking site.

Day 6 - Skudeneshavn/Vatlandsvåg (25 nm)
Reach the shelter of the fjords and head for Vatlandsvåg. From there, go for a pleasant hike, heading west to the nearby Grytenuten Peak. The altitude is a little less than 1,650 feet and the panorama is splendid.

Day 7 - Vatlandsvåg/Stavanger (30 nm)
Return to Stavanger. Taking the «inland» route, you can enjoy a wonderful lunch break at Rossøysundet, a perfectly sheltered anchorage.
---