Australia, Indonesia... yes, it rhymes, but apart from that, these two big countries don't have much in common. 500 nautical miles separate Darwin from Kupang, a small Indonesian town located in the western part of Pulau Timor. It would be our first stopover in Indonesia; I don't like cities, but you have to deal with the wonderful customs and immigration administrations to get yourself declared; it's just common sense!
However, I get the impression that common sense is something that doesn't exist here anymore... We all know that feeling of freedom after having cleared in and obtained our visas. For our part, we had to wait three days before being released and for the paperwork to be processed. Three complicated and laborious days, with an agent who was very much enjoying having coffee in his office. We didn't know whether to lose patience or just laugh about it. We had to laugh about it of course, but this scenario is definitely up there with our top three «local fun» episodes. We could finally start to immerse ourselves in the local culture, and discover and explore, which was what we were here for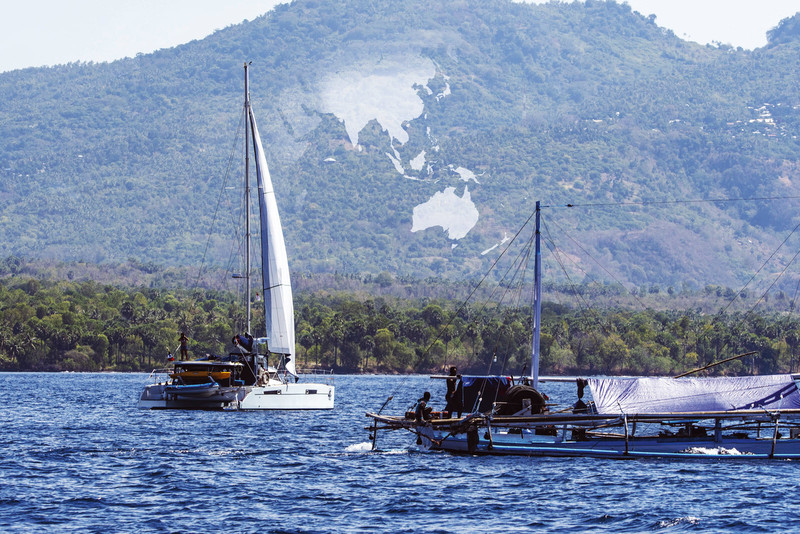 This is the channel that passes in front of the city of Kupang, in the southwest of Timor.
What to see/What to do
This city seems to us to be quite particular, probably because we seemed to be being constantly observed by the local population. The inhabitants of Kupang are very curious and do not hesitate to ask if they can take selfies with you. There are very few tourists, which for us opens up the charm and authenticity of the country. Initially Kupang was just a simple administrative stop for us, but we had time to visit the city, to go to the markets, and to stock up a little on supplies. There are many waterfalls to visit a few miles further inland. I think that Timor would be worth a few weeks' exploring, as long as you were on a mooring buoy…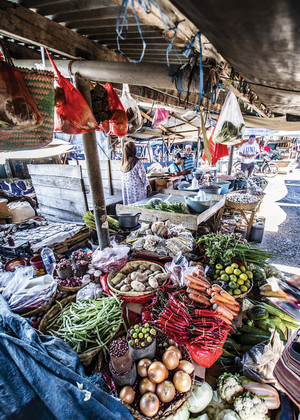 The Kupang market, immense and varied.
Positions
And yes, where Indonesia is involved, you need a good windlass... I can't imagine hauling the chain by hand here! The water is at least 60 feet deep almost everywhere, whether it's Kupang or elsewhere in the southern islands. It is really recommended to have at least 200' (60 m) of chain. And still, it was often necessary to put out 300' (100 m) of chain in some places. Here is the anchorage off Kupang: 10º10.043'S / 123º33.859'E
It's a little rough, because it's very open to the ocean, but it's bearable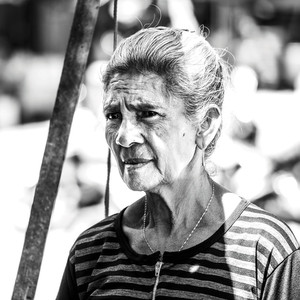 An Indonesian face, wrinkled by non-stop hard work, at the heart of the markets.
Weather check
The best time to go from Australia to Indonesia is in August. The winds are from the southwestern sector and rather calm. This means that should you wish, you can leave your multihull for a few months and visit Indonesia, before passing through the Strait of Malacca in November which is the best time. Having said that, passing north along Flores, Sumbawa, Komodo and the islands up to Singapore, I strongly advise you to check the engines, to bring diesel and to disregard the weather forecast. There can be some wind while passing by the south, but it would be a pity to miss all these islands which deserve to be visited. 

It's not the most beautiful architecture, but let's say it has its charm...
What readers think
Post a comment