Hvar is one of the most beautiful islands in Croatia. It offers a surprising duality, with a remarkable historic and cultural heritage and summer night life worthy of the craziest cities. All this in a traditional landscape, where the cultivation of lavender, vines and olive trees continues. A sailor's dream...
Logbook
Before becoming one of the favorite islands of the world's jet set, Hvar was firstly invaded by the Greeks, then by the Romans, around 200 years BC. After the fall of the Roman Empire, the island became Byzantine, fell into the clutches of Venice, then throughout the centuries came under Italian, French, Austrian, Yugoslav and finally Croatian domination... Of this multicultural past, a rich historic and cultural heritage remains, as well as landscapes of a rare beauty, just a few cables from the Croatian coast and international airports. The island offers numerous points of interest, but three quite literally stand out from the rest: Vrobska, Starigrad and Hvar. Vrobska is a picturesque village at the end of a channel, with a marina and fuel pump. Arrival at Starigrad is very beautiful and majestic, at the end of its long channel. You can opt for a berth on the quay or pick up a buoy, in the heart of the town. It's a lively town, with restaurants, markets and a few monuments, and (not to be overlooked) it is easy to fill up with water here. Hvar itself, finally, is the not-to-be-missed local St Tropez. You must take your time - there are some very nice visits and some beautiful walks – but you will need some courage (necessary but rewarded) if you climb up to the fort overlooking the town. You can still anchor in the middle of the harbor but you won't be alone, not even at night – beware of tangled chains... It's not peaceful, it's party time day and night...and, as the icing on the cake, the occupants of the harbor who are at anchor will be woken by the harbormaster at 8am, who will ask them to move to allow 'little' yachts of between 50 and 70 meters to maneuver! Awesome, but you should try it. If you get the chance that is, as it's very popular.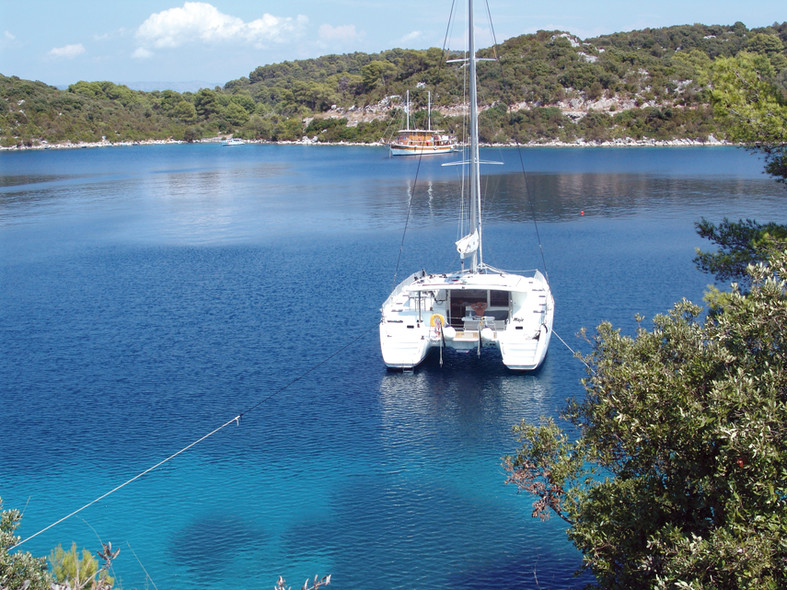 Practical Croatia
Getting there:
Nothing is easier than getting to Hvar, thanks to Split International Airport. You can also get there by ferry, from Italy via Croatia. A valid passport is needed to enter the country.
When:
Croatia offers an ideal climate for cruising between April and October; the summer high season is quite obviously the most pleasant. It is hot, the water is pleasant (average 22°C) and the winds are light in the morning, with good breezes in the afternoon, and calm nights. The very small tidal range (30 to 60 cm) allows easy cruising and anchoring...
Official language:
Croat, but English and German are spoken everywhere.
Currency:
Croatia's official currency is the kuna (1 euro = 7.56 kunas) Visa and Mastercard are only accepted in the big towns.
Note:
To charter a boat in Croatia, you must hold a cruising license in your home country, validated by the Croatian naval ministry. It is essential to find out, on the web site www.mmpi.hr, if the documents in your possession allow you to skipper a boat in Croatia. To enter and anchor in the national parks (Hvar - Kornati) you must possess a permit valid for two days and one night, which will cost around fifty euros. A night in a marina costs between 25 and 80 euros, depending on the size of the boat and the services offered. Diving with tanks is strictly controlled, and to dive from your catamaran, you must purchase a license, which costs 2500 kunas per year (330 euros).
The catamaran charter companies:
Alternative Sailing - Baotic Yachting – Dream Yacht Charter – Kiriacoulis – Nautika Centar Nava (Navaboats) – Oceans Evasion - Sunsail - The Moorings - Ultra Sailing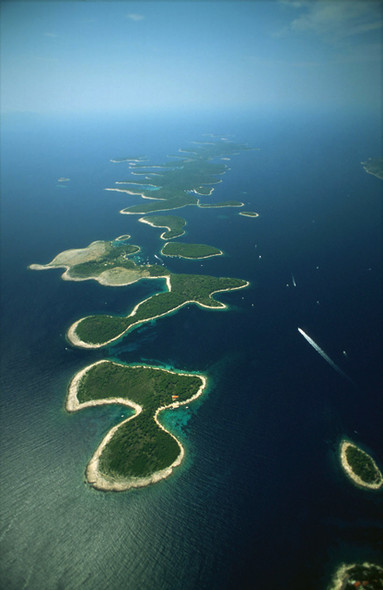 Typical itinerary
Boatic Yachting is based almost opposite the island of Hvar, and the Boatic Marina, situated at Seget Donji (just 8 mins by car from Split airport), is an ideal departure base for cruising on the Dalmatian coast. Here is a typical itinerary for 7 days' cruising in the region, but there are so many anchorages in the area that everyone can find their own 'little corner of paradise', according to their wishes and the weather conditions.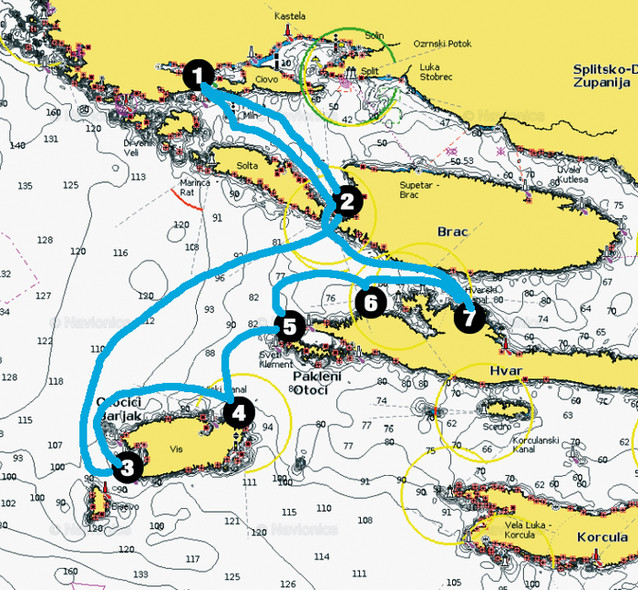 Day 1
Seget Donji -> Milna
Milna is situated on the island of Brac, where there are several little ports, including Pucisca, with its white stone quarry, Povlja, with an excellent anchorage deep in the bay, and best of all the delightful Milna, which offers a few services, such as fuel.
Day 2
Milna -> Komiža
The village of Komiža is situated on the island of Vis. The little harbor is very picturesque, and there are numerous mooring buoys outside which allow you to leave your boat in safety, to go and visit the spectacular Blue Cave on the little island of Bisevo, which is very close.
Day 3
Komiža -> Vis
Situated a bit further from the mainland, Vis is less well-known and can be a little more authentic. Arriving there by boat allows you to enjoy its rocky coasts, its very private villages and its unspoilt scenery. At both Kut and Vis, the island's two villages, you will find some excellent restaurants and numerous shops, as soon as you arrive ashore, at the quay, on a mooring buoy, or at anchor. You simply must taste and stock up with the island's excellent wines, which you will find easily as you stroll round the narrow streets of the two villages.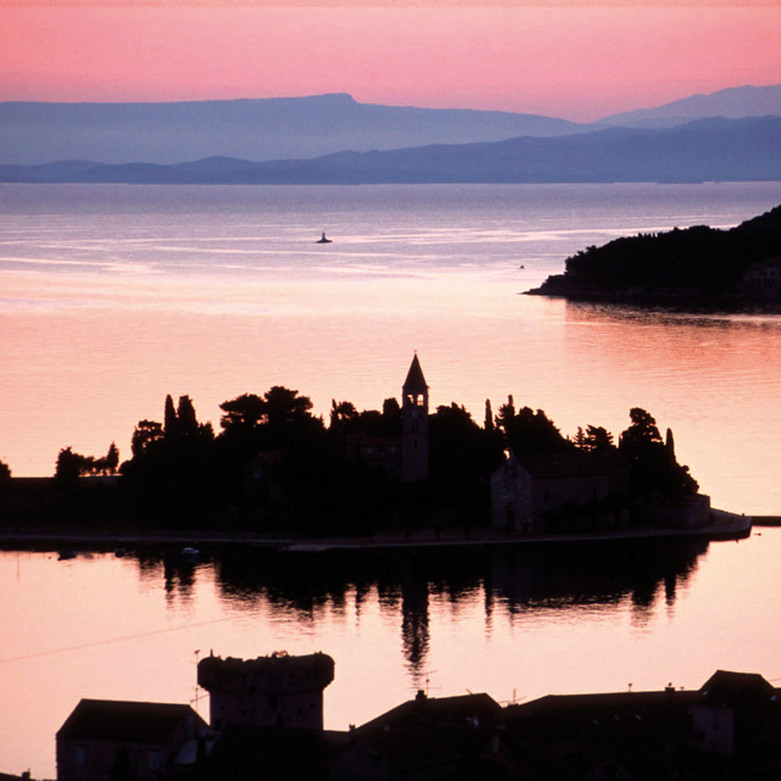 Day 4
Vis -> Hvar (Palmižana)
Hvar is the aim of this cruise. A mythical island, but it would be a shame not to visit the surrounding islands, which are certainly less glamorous, but at least as beautiful...
Day 5
Hvar (Palmižana) ->Vrboska
Day 6
Vrboska -> Hvar (Starigrad)
Day 7
Hvar (Starigrad) -> Seget Donji
Return to the marina, to go home. If you liked Croatia, note that with 6,000 km of coastline and over 1200 islands at your disposal, there is still a lot to see…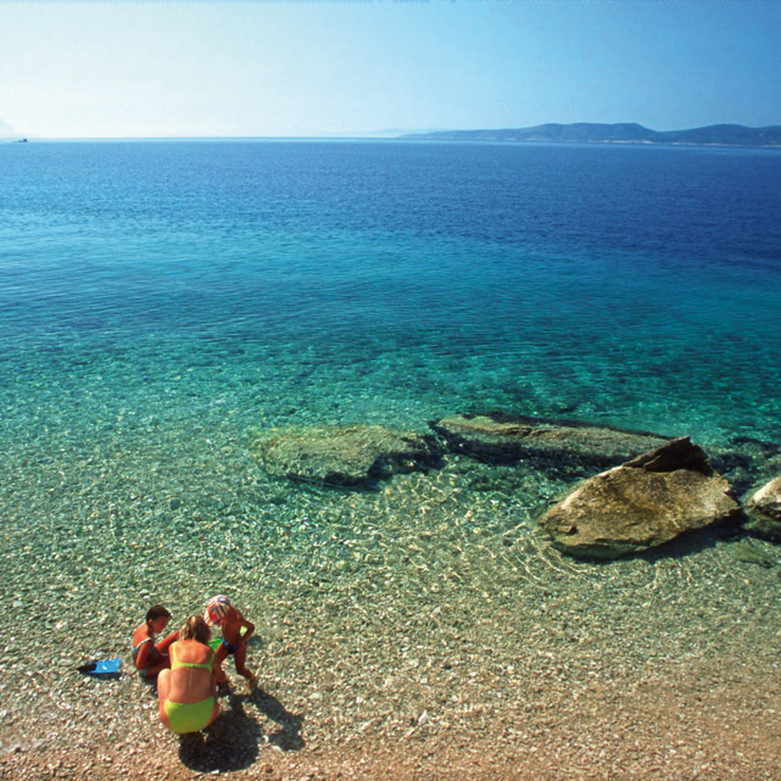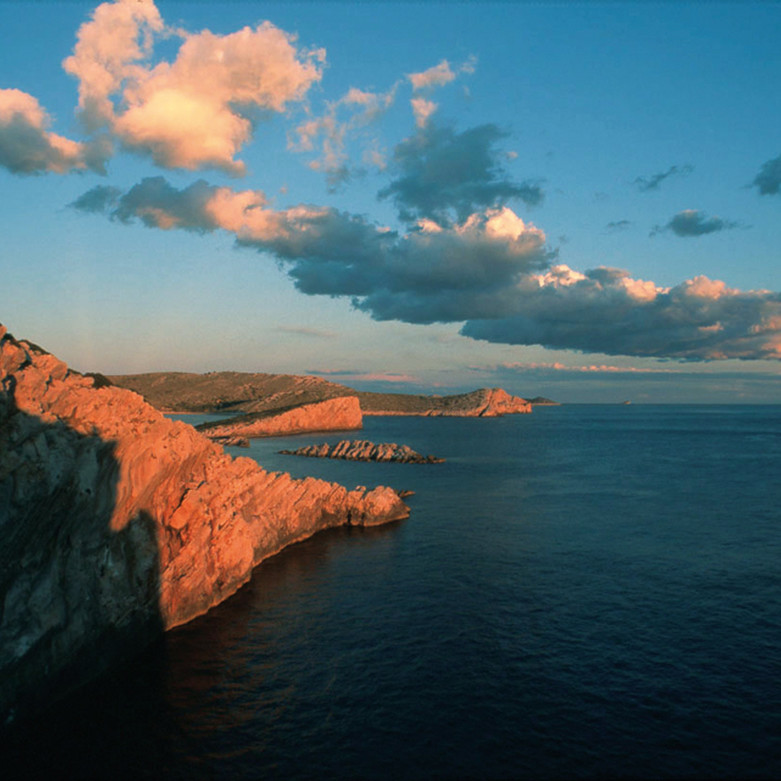 What readers think
Post a comment