Cruising
4 weeks at sea between Africa and Brazil…
"Crossing the Atlantic is a dream I have had since I very first went sailing. Over time, the plan has evolved a little. It's no longer a question of learning all the technical aspects (although why not?), but knowing how I am going to react to the three weeks or so at sea which lie ahead of me. In a sense, I'm looking at another route: it's not the Transat which is important, but the time spent at sea. Without being either mystical or religious, I think the best analogy would be retiring to a monastery or going on a pilgrimage. You are leaving the world behind, to try and find yourself in your dreams, yours books… But now there's going to be more than just the pleasure of sailing. This time there will be the pleasure of sailing for a long time, as I always find my sailing vacations are too short. How will it be this time?
December 12th 2014
The big day. I am leaving the office for the first leg of my journey, which will take me to Cape Town in South Africa, via London. The long flights and time spent waiting at airports is going to allow me to reflect on this project that I have held so dear for so long now. But how will I find it, after twenty days (minimum) at sea, whereas up to now I have never spent more than two or three nights on open water? And the most number of days I've spent cruising? Fifteen, and now I'm setting off for three weeks! And how are we going to organize the watches? The flight from London to Cape Town was pretty comfortable, with completely clear skies. I think I was more comfortable than the guy sitting next to me, who was 6'5" and 260 lbs. At least there was a good film to watch before going to sleep, The Expendables 3…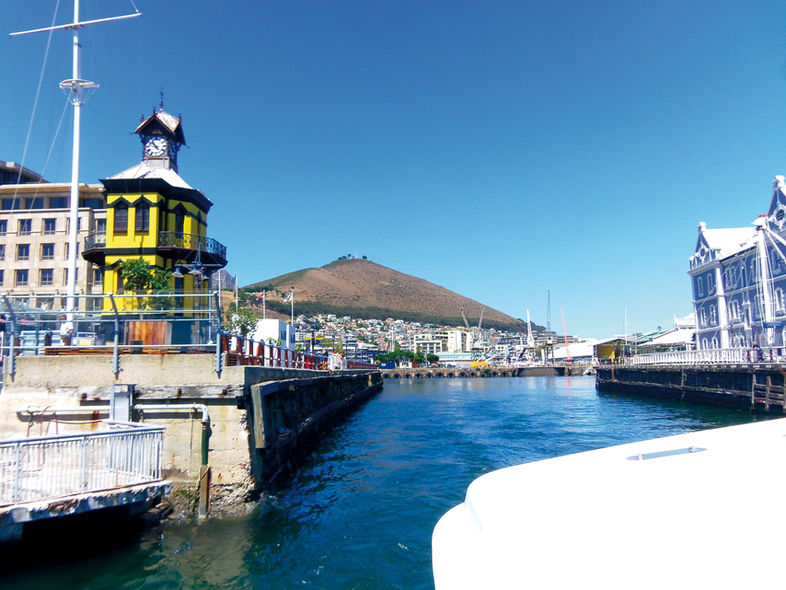 December 13th 2014
We arrived in Cape Town after an eleven hour flight. It was beautiful sunshine, and there were boats racing. Mike, the skipper, warmly welcomed me on board and we joked about the 17 days he was predicting for our trans-Atlantic crossing towards Brazil.
There were to be four of us for this trip:
Captain: Mike, in his fifties, is self-employed, but works exclusively for TUI Marine. He has delivered all models of Leopard, including several 48s, like ours.
First Mate: Edouard, in his early thirties, has not been sailing very long (5-6 years). He did his first delivery trip with Mike, and has continued on other boats, including Leopards from time to time.
When not at sea, he works as a head chef.
Crew: Helène, celebrating her 29th birthday today. She's not South African, like the other two, but Dutch. She is also Edouard's girlfriend, and seems to not have so much experience. She has come along to learn…
December 14th. Preparation
We start early, in the cool, around 8am. Housework, settling-in, finding my bearings on the boat. I need to go do a bit of shopping: a sheet, a pillow and most importantly some candy, which will be essential for maintaining my good humor!
For this ...
Subscribe
Subscribe to Multihulls World and get exclusive benefits.
Subscribe
What readers think
Post a comment