Cruising
A Transat: an exhilarating time…
It often starts like that. At anchor, a quiet evening on board, having impromptu drinks with friends. You put the world to rights, talk about the people you've met, the latest equipment you've found and, of course, your plans for forthcoming trips. That's how this latest adventure began. I have known Jean-Louis for at least 15 years, and I have been enjoying his company more since he has retired, as we have often sailed together these last few years, each of us on our respective cats. And that evening, in a Caribbean anchorage, we discussed the possibility of going back to the Mediterranean. Not as a fast delivery trip, but via the BVI, the Turks and Caicos Islands, the Bahamas, Bermuda, the Azores and finally Gibraltar. A great trip where we could go AWOL and discover all of these islands we dream about. Eleuthera, for example, where we could swim on the famous pink sand beach, or Nassau, a magical stopover in the Bahamas…
I've crossed the Atlantic several times from Europe to the Caribbean, and also the Pacific, but I've never made the "return" journey. So this will be a first for me. For this nice little cruise there will be four of us on board: Jean-Louis, the owner; a couple who are friends of his and who have come from France especially for this trip; and yours truly. Despite being invited, my wife, with whom I have just spent five months on our catamaran in the West Indies, as we do every year, has decided to stay home and "look after the garden"…
We finally get everything organized, and set a date to join up at the boat in Saint Martin on May 10th. We slip our lines a week later. A week during which part of the crew did the victualling and the other part familiarized themselves with the new "MaxSea Time Zero" navigation software, and checked over and sorted a few things out on this fantastic boat.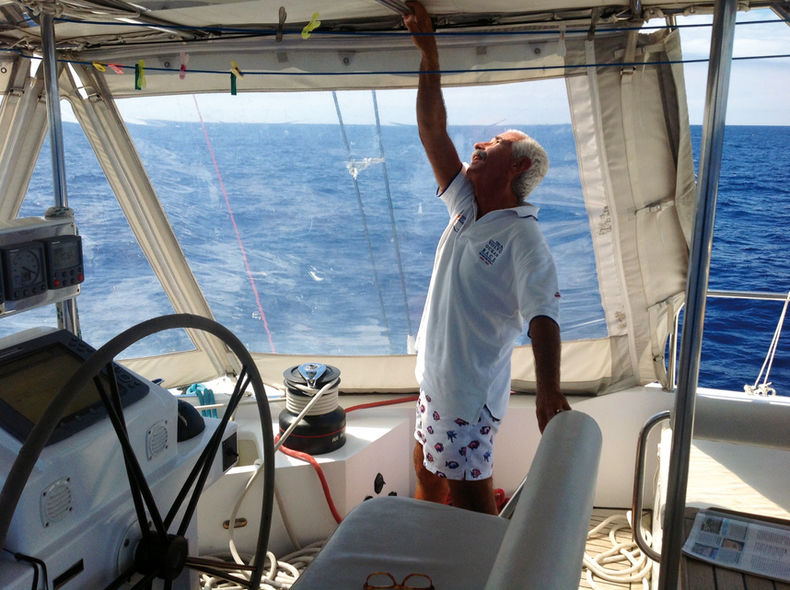 And we're off on a great cruise!
"Hérénui" is a Sunreef 62, weighing in at 38 tonnes, equipped with two 125hp motors, a carbon fiber mast, a brand new suit of sails by US Sails, a satellite positioning beacon, and above all, an incredible level of comfort… A bit of a change from my "Belize"! All overseen with disconcerting ease by Jean-Louis, a retired cosmetic surgeon who has been living on his boat for seven years, and who makes the crossing both ways every year. A sailor and a man who exudes competence, approachability, kindness and a rarely seen know-how, who will go the extra mile to ensure the comfort of his friends on board. This promises to be a really enjoyable sail.
May 17th we left the dock at Aqua Marina on the Dutch side of Sint Maarten, and exited the lagoon back into the Caribbean Sea, after having negociated the two bridges and filled up with 1,900 liters of diesel. There was one more anchorage, at Orient Bay, to enjoy a last dinner of lobster before setting off…
We're bound for the BVI. The wind is easterly at 14 knots, allowing ...
Subscribe
Subscribe to Multihulls World and get exclusive benefits.
Subscribe
What readers think
Post a comment