Cruising
Azyu -Going for it in a big squall!
Who: Jean-Marie, Gaëlle, Coline and Erell
Where: Between the Marquesas and the Tuamotu Islands
Multihull: Nautitech 475
www.azyucroisiere.com
---
The sea was calm, the wind close to 15 knots. We had reached a pleasant cruising speed. Under our 1,560 sq ft (145 m²) Parasailor, Azyu sails at a speed of more than 6 knots: the 500 miles will pass by with ease. On the morning of the 3rd day, thunderstorms broke out in the distance. The wind picked up to more than 20 knots and the swell from the north quickly deepened. In these conditions, it is better to take the helm yourself to keep the spinnaker downwind while negotiating the waves. In a squall, the boat picked up speed until was galloping across the ocean at a speed of 20 knots! Everyone put on a life jacket and the children were barricaded in the saloon. The waves crashed under the nacelle and the whole boat creaked. The risks were twofold: getting caught in a breaker from behind that would flood the nacelle or burying the boat and capsizing. At this point, the captain realized that this was not just a passing squall but an established 35-knot wind, something that had not been forecast at all a few days earlier. The catamaran was now getting dragged along on a wild surf, which didn't look as though it was going to drop! We had to somehow wrestle back control of the boat. While his companion remained at the helm, the captain edged forward to douse the spinnaker while shouting: «If I can't do it, you must run to the mast and drop the halyard. If it gets stuck, you will have to cut it with a knife!» The exhausted captain pulled as hard as he could on the spinnaker's sock, but two-thirds of the way down, the spinnaker, which was inflated to the limit, jammed. He ended up wrapping the halyard around a winch to take in the crazy sail completely. At the helm, his companion was hallucinating: the boat was doing 10 knots, without sail or engine! Another concern was that with this short northerly swell of 3 to 4 meters, the entrances to the nearby atolls of Makemo, Raroia or Hao would become impassable. What a nightmare! After a day of this, the weather improved. The wind and the swell both fell. Hao seemed to be a haven. The Nautitech 435 had withstood the heavy weather; the Parasailor withstood the strongest gusts thanks to its wide opening and its wing giving lift at the front of the boat. In Polynesia, when the winds turn north, the weather system can become very unstable, so forecasts are only reliable 24 hours in advance. We found out afterwards that two boats anchored off Fakarava had ended up on the shore….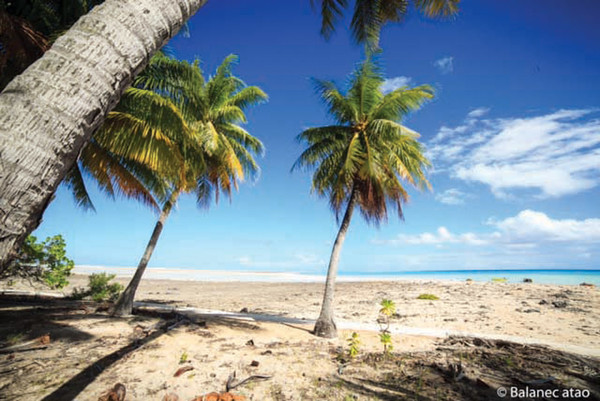 What readers think
Post a comment