Caribbean
Caretta. And we're off, on a voyage around the world!
In 2013, we set off around the Mediterranean for 5 months on our first boat, a Lagoon 380, Zazen. Timothee was only 2 and a half years old, and we weren't constrained by the obligatory schooling. Our project at that time was to work for six months of the year and to sail for the rest of the time while gradually working our way around the world in stages. We knew a few crews who managed like this… However, as we were both working in the health service, this seemed a rather difficult option. Our heads would be at work when we were at sea and vice-versa. So, we concentrated on work with the intention of setting off for a longer period, a few years down the line.
In the fall of 2015, we bought Frédocéan, an Eclipse 472 that had been extended by 1.2m (4'). She had been built by an amateur (Didier Quidellur, see inset) and seemed to fit perfectly our particular round the world program. She was very well equipped, and we spent quite some time getting used to her… This was important as the boat hadn't sailed for a long time, and there were lots of areas to refresh or repair. We rechristened her Caretta because of a large Marquesan style turtle that was drawn on the saloon table. In 2016 everything started to fall into place. But a voyage around the world takes a long time to organize, and it was only by the end of September 2017 that we finally set off, having sorted out all our professional and administrative issues and rented out our house. We also needed time to finalize our projects with Voiles Sans Frontières (Sails Without Borders) - installing water filters, distributing pairs of eye-glasses - and our collaboration with Ifremer (French Marine Science Research Institute).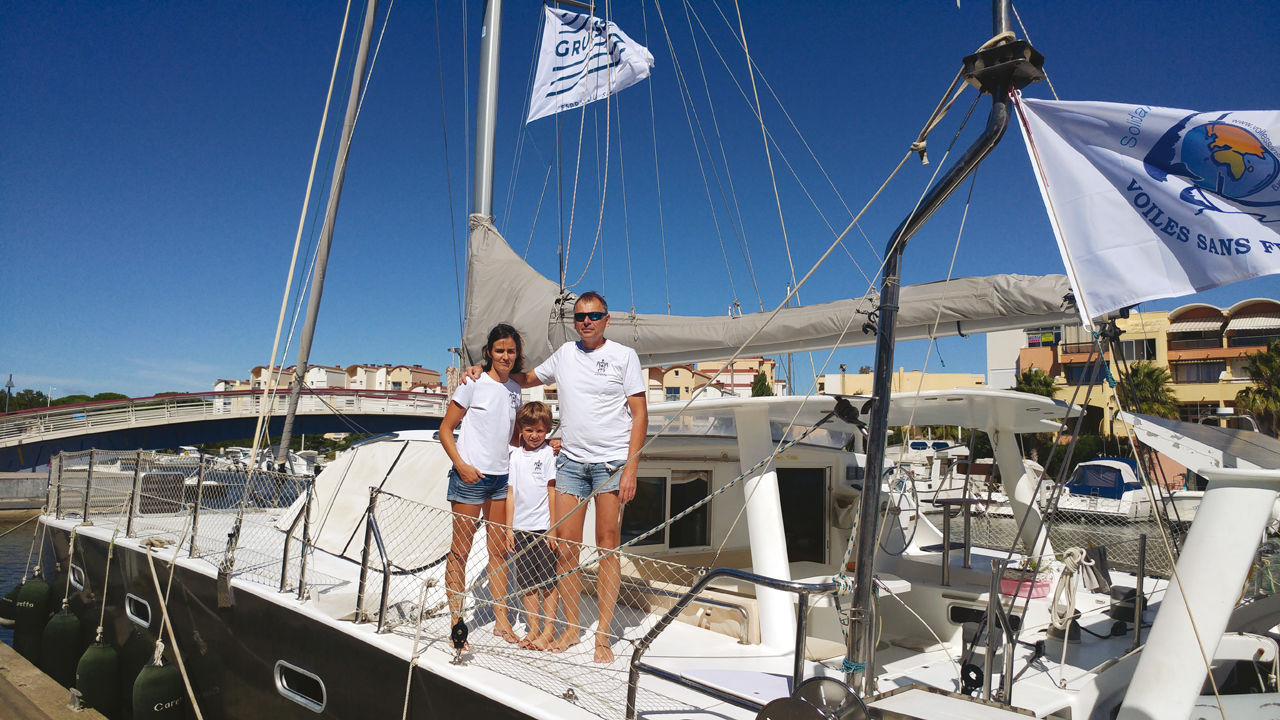 A departure frustrated by rudder problems
September 26, 2017 was the big day! The stocking up was done that morning. This wasn't just some summer getaway cruise: we had been living on board for almost a month at that point and the days had been passing very quickly. There was so much to do: storing the dozens of books and personal effects, maximizing the cupboard space, testing all of the electronics, the OpenCPN cards, the engines, little repairs here and there, getting the watermaker up and running, adding an opening hatch to the coachroof, going to Toulouse to get the 100 water filters which had just been packed up, and then stow them away, getting the enormous Ifremer beacons on board, selling (or rather giving away) our last car, repairing the folding bikes, etc. Over the final few days, Marie's parents had really helped us by managing all the logistics. At last we set off very discretely with just those closest to us present. Marie doesn't like goodbyes!
However, as soon as we were off downwind under spinnaker, we realized that the rudders weren't aligned properly. The two hydraulic rams were offset. We decided to make a technical stopover in Canet en Roussillon where there was a hydraulic technician. This problem annoyed us the whole way to Gibraltar as the ...
Subscribe
Subscribe to Multihulls World and get exclusive benefits.
Subscribe
What readers think
Post a comment