Who: Anne-Sophie & Loïc, Océane (10), Eléonore (7)
Where: Australia & Papua New Guinea
Multihull: Outremer 45 (first generation)
Facebook: @Nawaks.Outremer.45
What an incredible sea rescue adventure for Nawaks! We never thought that morning that our day would take such a turn. After our first night in the Torres Strait, we had planned a second stop on the islet of Coconut, 40 miles further south. Once school was over, we weighed anchor, hoisted the sails and set about preparing lunch. At that moment, Loïc, sitting at the chart table, spotted some reflections coming from a small islet two miles ahead of us. We got out the binoculars, but we were still a little way off. A few minutes later, we resumed our observation as the strange reflection was still there. It was not one but two flashes that we could now see, and as we got a little closer, we could make out two people under the flashes. We soon realized that they were calling with old-fashioned signal mirrors. The children even thought they were sending a message: three short, three long, three short! We then decided to leave the channel and approach the islet, using a mirror too, to inform the strangers on the beach that we'd spotted them. We then alerted the Australian authorities at the Reef Vessel Traffic Service. We lowered the sails and approached. Using binoculars, we saw two people heading towards a boat. A coral reef separated us and we couldn't move any further. We decided to send up the drone to see what was going on. We discovered a third person. Seeing our drone, they showed the strange bird their intention to launch their boat, without a motor, and row out to join us. Still in contact with the authorities by VHF, we reported the situation to them. We towed the three men in their boat. We made sure we knew how they were doing straight away. We gave them water, food, paracetamol for one man who was ill, and caps for the sun. We learned that they were fishermen from Papua New Guinea, 70 miles from here, and that they had been lost on this islet for 10 days, without water or food (just coconuts). We're now waiting for the Australian authorities to agree to let them on board. The JRCC, which manages sea rescue, then took over. We don't have Australian clearance because we're only in transit in the Torres Strait area, and we just wanted to clarify everything and avoid any administrative complications. The three survivors understood the situation perfectly well and didn't want to board Nawaks until everything was in order. Above all, they were reassured that we had discovered them. It took a good hour of exchanges by VHF, telephone and e-mail to get permission for them to come aboard (thanks Starlink). We prepared them a meal and listened to their incredible story. At the same time, everything was being organized with the Australian authorities. A customs officer was waiting for us on Coconut Island, where we had planned to go, and we set sail again. Loïc will still have to exchange a few emails with the JRCC and respond to their many requests. While we were sailing, our guests contacted their families in Papua by phone to reassure them. The strait control plane flew over us twice and asked us where we were coming from and where we were going. Nawaks is well known here by now, so our presence wasn't very inconspicuous! Arriving at Coconut Island at the end of the afternoon, we dropped off our survivors, greeted by three nurses and a customs officer wearing cosmonaut suits, masks etc. Our poor fishermen had to empty their belongings, throw away the three coconuts they still had and even abandon the food they had been given in their boat until they were allowed to board Nawaks. The authorities acted efficiently throughout the day and having an internet connection on board made everything much easier. But how did our guests end up shipwrecked on a desert island? Five of them set off from Papua for their usual fishing trip in a small boat. Bad weather took them by surprise, and ten days earlier they got lost and stranded on the small uninhabited islet of Rennel Island. After an argument, the skipper, accompanied by another fisherman, decided to set off again, leaving his three companions behind. The two men never returned! All the castaways had to eat and drink were coconuts. Scouring the islet, our modern-day Robinson Crusoes found an old boat with no engine (the one in the photos) and collected any other bits of debris they might have found useful (planks of wood for oars, for example). When we picked them up, they were trying to make a sail out of branches and leaves, desperate to be spotted. They had tried smoke signals, though, and mirror signals every time a boat passed. Neither the cargo ships, nor the planes that are constantly on patrol, nor the pilot boats came to their rescue. But all's well that ends well!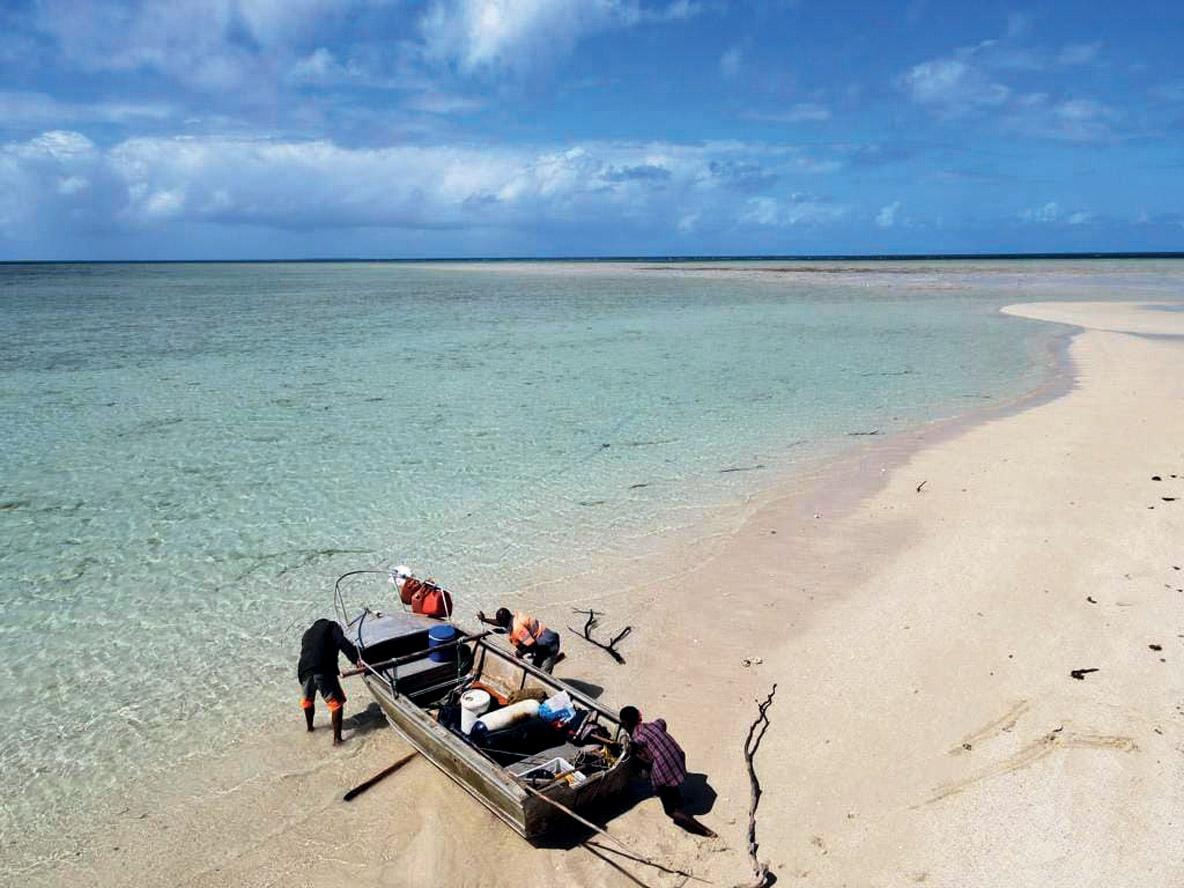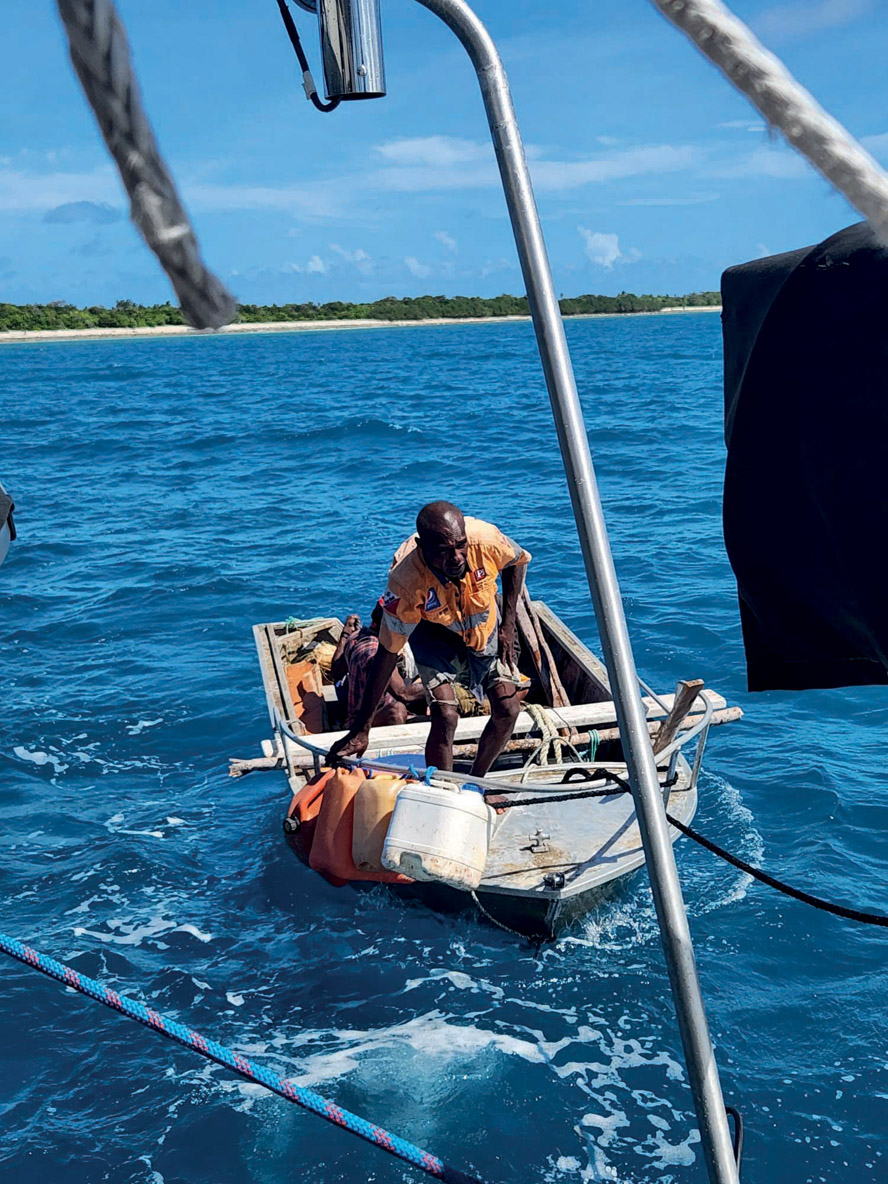 What readers think
Post a comment