Cruising
Passing through Sumbawa and Lombok …
To the north west of Sumbawa there is an enormous volcano…
We had left the wild waters of the strait behind us, and were heading west again, to the north of the Sunda Islands and towards Sumbawa, Lombok and Bali. Right now we are sailing past the island of Sumbawa, which is not as well-known as Flores and Lombok. Sumbawa is a rather dry island, and is home to a monster well known to volcanologists. It is a terrifyingly powerful volcano, which holds all sorts of records: Tambora. For a few hours, an easterly breeze pushed us along around the never ending cone of the volcano, whose highest slopes were shrouded in cloud. As we were sailing around the volcano's foothills, I decided to find out about Tambora. I love travelling around and investigating whatever new things crop up. Indonesia is obviously home to many majestic volcanoes, but what makes Tambora particularly interesting, is that it was responsible for the first global climatic event of the modern era. Its dimensions are enormous: a base diameter of 60km, with the volcanic caldera alone being 6km wide. It is also 1,100m deep, thanks to the cataclysmic 1815 eruption. The last eruption was in 1967, since when the volcano has been dormant. Thank goodness for that! We sailed discretely around the base of the volcano. Before 1815 the volcano was thought to be around 4,300m high. That's quite something when you consider that it rises straight out of the sea. In just a few hours it lost 1,500m!!! Obviously, Tambora getting decapitated like that wasn't going to happen without noise, smoke or damage. After a bit of rumbling which indicated that an eruption could be imminent, there was a first explosion on April 5th 1815. It could be heard as far away as Batavia (Jakarta today), some 1,300km away! However, in the capital of the Dutch colony, it took a while to work out where the noise had come from. They understood when the town was covered in ash… The main eruption took place on April 10th. The column of ash and debris rose 45km into the sky, ash rained down all around and a violent shock wave destroyed the village of Sanggar, 30 km east of the crater. Between 11,000 and 12,000 people were killed in the eruption, but around 50,000 were killed by the tsunamis, famine and epidemics which followed, mainly on the islands of Sumbawa and Lombok. However, the most remarkable things about this eruption (and it's the first time that we became aware of such an event), were the global, climatic consequences caused by the massive amount of ash thrown into the atmosphere by Tambora. Archives from the period allow us to follow the worldwide influence that the eruption had on the way the atmosphere worked, something that was not really understood at the time. Far away from the island of Sumbawa, there were more insidious and longer lasting effects of the eruption. It is thought that in the three years which followed, up to 200,000 people around the world (who didn't even know that the volcano existed) died due to the effect that it had on the global climate. It would take a long time before scientists began to understand how such a phenomenon could affect the circulation in the upper atmosphere, as it was something that was not at all appreciated at the time of the eruption.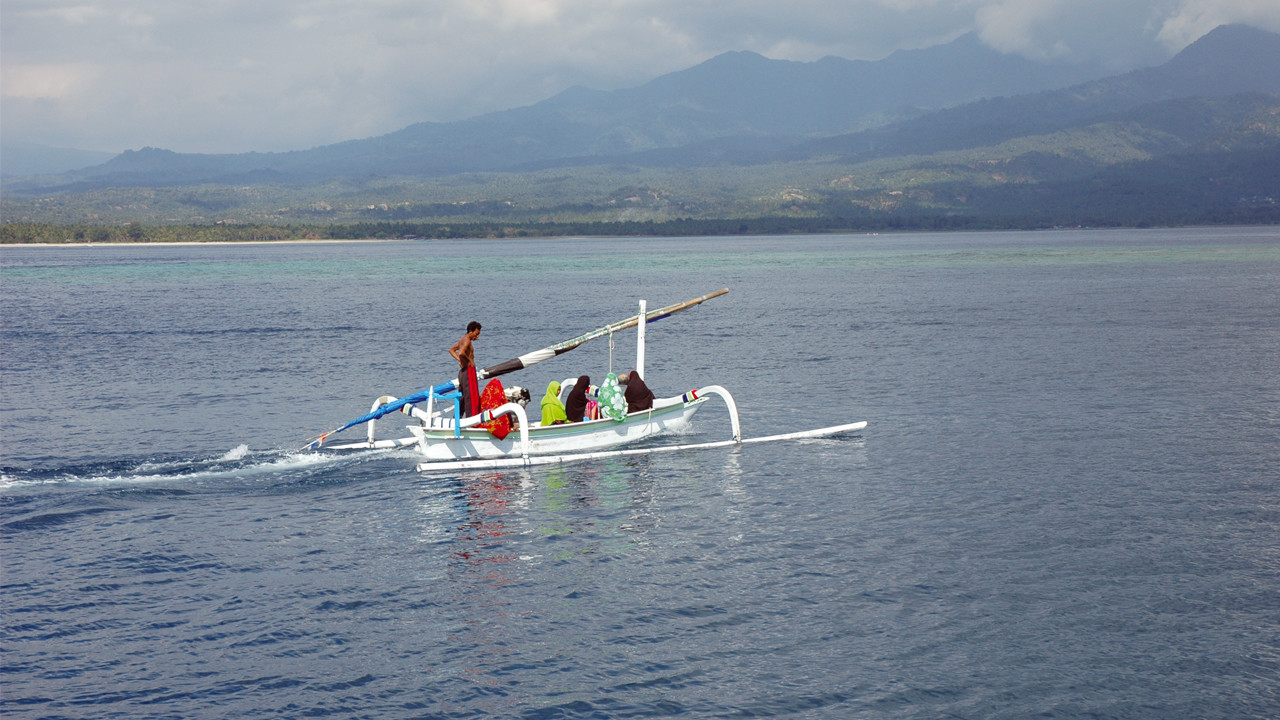 Pulau Medang, a beautiful little island…
Jangada sailed quietly around the giant until eventually it disappeared from our view aft. We went past a small island, a few hundred meters from the coast, Satonda. This is a secondary crater of Tambora, situated at sea level, which is today filled with a fresh water lake. We went by the north of Moyo, and headed out into the open sea. A small island along our route to Lombok caught my eye on the map: Pulau Medang. As it was isolated I guessed that it would be authentic, populated by fishermen and farmers. There was an inviting bay on the north coast which was sheltered from the prevailing easterlies that blow at this time of year. We decided to stopover. Head for Pulau Medang!
We spent three days there, and discovered a long, charming village which I enjoyed wandering around with my camera. Marin and I were invited to share a meal with some villagers who were building their family home.
It was here, while buying some drinking coconuts from the local lady who sold them, that we also purchased to her great surprise, her machete and its wooden sheath! We did of course make sure that she would be able to get another one! It was a lovely piece which looked well used, and something that the kids had wanted for ages. The coconuts of the atolls of the Indian Ocean had better watch out…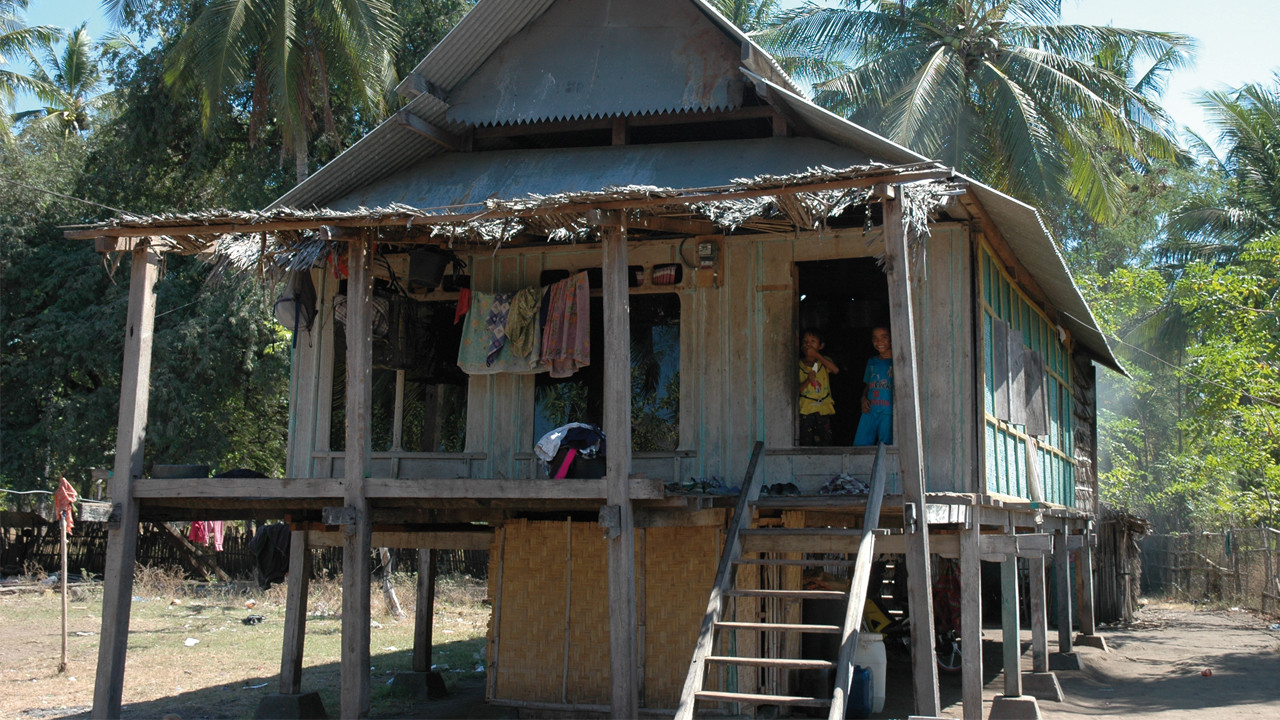 Lombok, a foretaste of Bali…
Lombok is like a gentle introduction before Bali. A kind of moderate Muslim version, which does mean a slightly different ambience for the visitor. Lovely white sand beaches, great surfing, incredible scuba diving. There is also a volcano, Gunund Rinjani, which disappears into the clouds at around 4,000m. The mountainous terrain has the advantage of attracting rain, which irrigates the paddy fields and the other products which are grown there: tobacco; coffee and cashew nuts. We knew that on Lombok we would be in a more civilized and touristic environment. We were leaving deepest Indonesia behind, which was somewhere that we had really appreciated. Lombok would be like the waiting room before Bali…  
Gili Air. What a strange name for a small island! The Gili Islands hang on to the coral reefs to the north west of Lombok, which is the last island before Bali. There are 3 islands (Gili Air, Gili Meno and Gili Trawangan). These tiny islands, just a few kilometers around, do not allow cars or gasoline engines. They are however overrun with tourists! You can get around on foot, bike or a horse-drawn cart. There are palm trees, white sandy beaches and local straw huts, although these are luxury versions! The islands are not only easily accessible from Lombok, but from Bali too, if you cross the straits in one of the speedboats that are full of tourists in a hurry. Particularly popular with westerners, they are full of charming guest houses and small hotels, as well as countless bars, "warongs" and all types of restaurants. Gili Air, the closest to Lombok is perhaps a good compromise if you have to choose. Gili Meno is the quietest, with the least infrastructure and the least number of tourists. As for Gili Trawangan, it's the trendiest of the three, more of a party island and with the most beach bars. It's a world-renowned location for scuba diving. For Jangada's crew, to arrive here after the quiet and peaceful Pulau Medang was a shock to the system. It was a brutal return to a civilization that was hungry for leisure, and conspicuous consumption…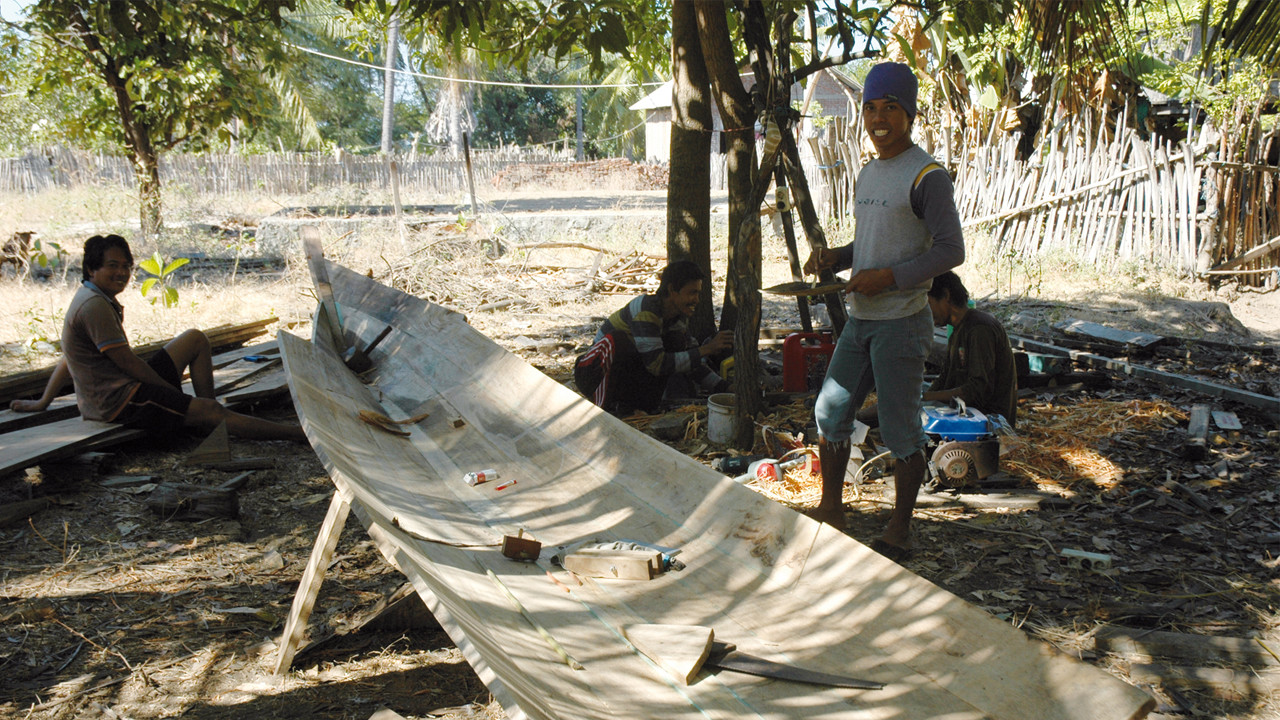 We continued along the coral reef, pushed along by a strong current which took us into the strait which separates Lombok and Bali, the Selat Lombok. We sailed around Gili Air, looking for an anchorage, but they are few and far between around the Gili Islands. We finally anchored outside the reef, but this would soon prove untenable when the tidal current was strongest. We headed for the south of the island and took a floating pontoon in the port area. This was where the boats that connected Gili Air to Bangsal set off. Bangsal was the village on Lombok, around 2 miles away which served the Gili Islands. It was noisy and chaotic, but we had no other choice. We went ashore, a little apprehensive about meeting up again with western civilization and its easy morals. A sandy track goes around Gili Air, with one side of it, particularly in the east and south, dotted with lots of small, pretty restaurants and hotels. There are huge bamboo armchairs everywhere, and it's all the rage now to take your breakfast lying on your tatami, just a few meters from the crystal clear waters. We walked all around the island, overtaken every now and again by one of the small carriages, pulled by a tough, quick and busy little horse. As the sun was high, we were soon hungry and thirsty. The kids had been dreaming of eating a "gado-gado" or a "nasi goreng" at a "warong" by the water, accompanied by a Sprite or Coca Cola. We would have a cold Bintang. We spotted a few bars with Wi-Fi, but what surprised us the most on the Gili islands was the incredible number of scuba diving clubs per kilometer of beachfront. There were at least a dozen on Gili Air and more than 30 on Gili Trawangan. It's a real industry.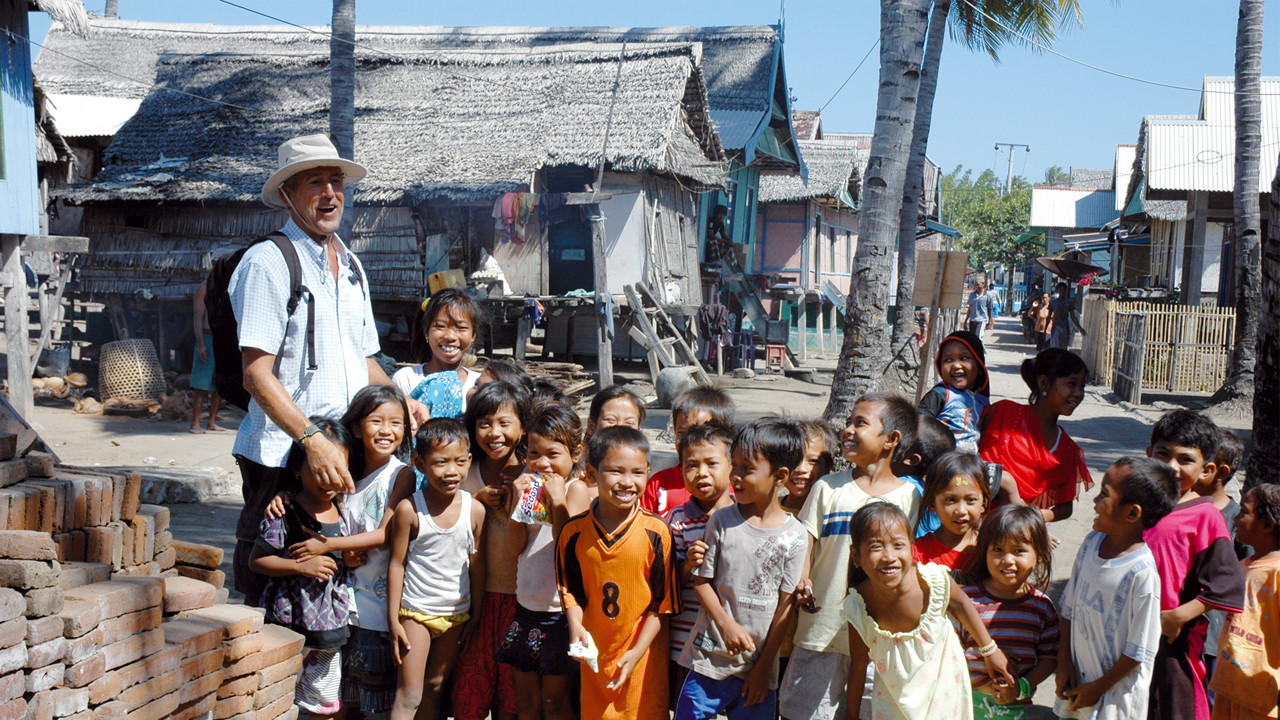 We signed Marin up for a session of diving around shipwrecks. He was lucky. His instructor, Paul, was a lovely French guy with whom we had lunch with the next day in a local Indonesian place in the center of the island. In the evening, as he was so interested in our journey, he asked us hundreds of questions about our round the world adventure. I think that I managed to persuade him that with his diving qualifications (one of the best imaginable jobs for making some cash when you are on a long boat trip), he would make a living just about anywhere in the world. All he needed to do was to master some basic sailing techniques. Marin was over the moon when he came back from his dive among the Gili Trawangan's corals, while Adélie was pleased to have met Sapke, a young Belgian girl the same age as her, who was sailing with her two little brothers and her parents on a 46 foot monohull with the lovely name "A Small Nest". We would see them again later on, as like us, they were en route for South Africa before heading home. Two families with kids following the same route at the same time. A really nice encounter.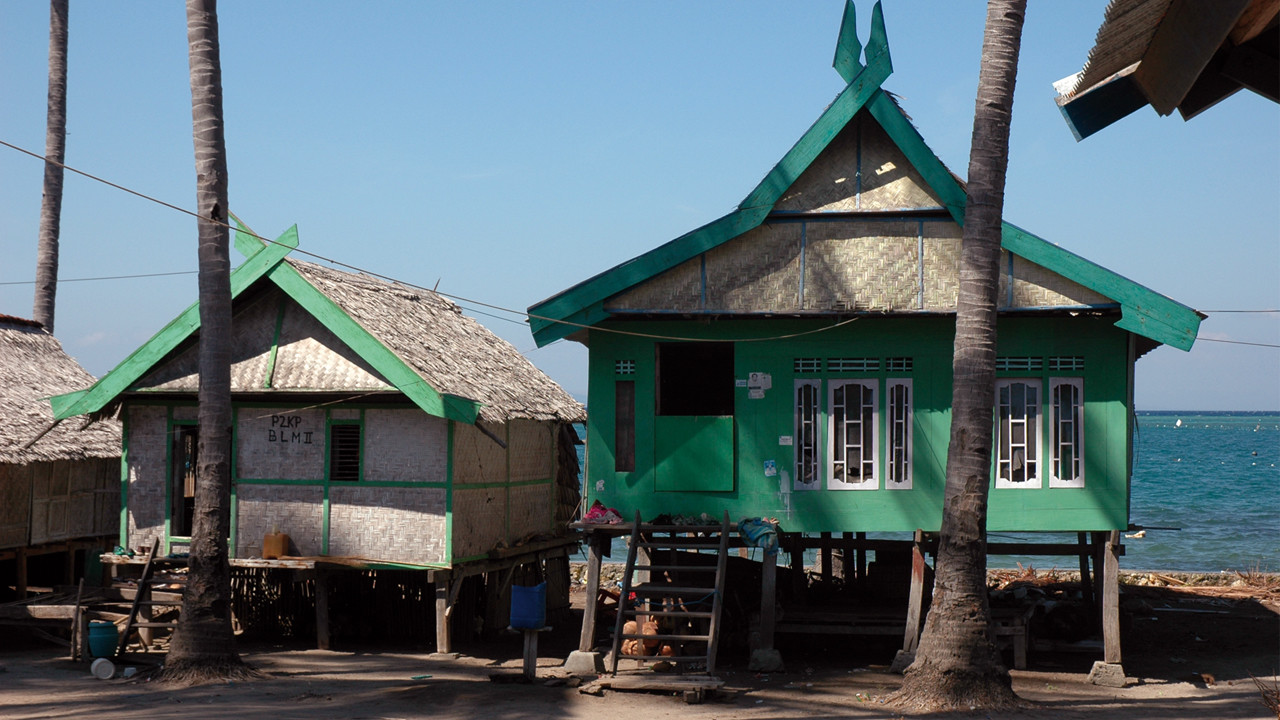 We settled in the Bangsal anchorage to the northwest of Lombok, which meant that we could do a day trip to the island's hinterland. The next day we all got into a Toyota minibus and set off for the center and the south of the island. To be honest, this isn't my kind of excursion, but Marin and Adélie seemed so happy to be with other kids! Villages and paddy fields whizzed by and groups of monkeys hung around the edges of the torturous roads which climbed up the mountainside. Our guide Mohammed didn't seem to understand that despite his insistence, I didn't want to throw peanuts for the monkeys which were obviously used to this circus (he had stopped the minibus in a village to buy the peanuts, which he claimed were included in the tour price). The monkeys then turned up again at the service station, another example of authentic wildlife… I didn't bother telling him what I thought about feeding wild animals in their natural environment. However, I could see that he was a little disappointed and a little vexed. I guessed he was thinking that I wasn't one of his usual, docile tourists. It was nothing against him though, especially as it was the first day of Ramadan, the Muslim fasting period, for him and our driver…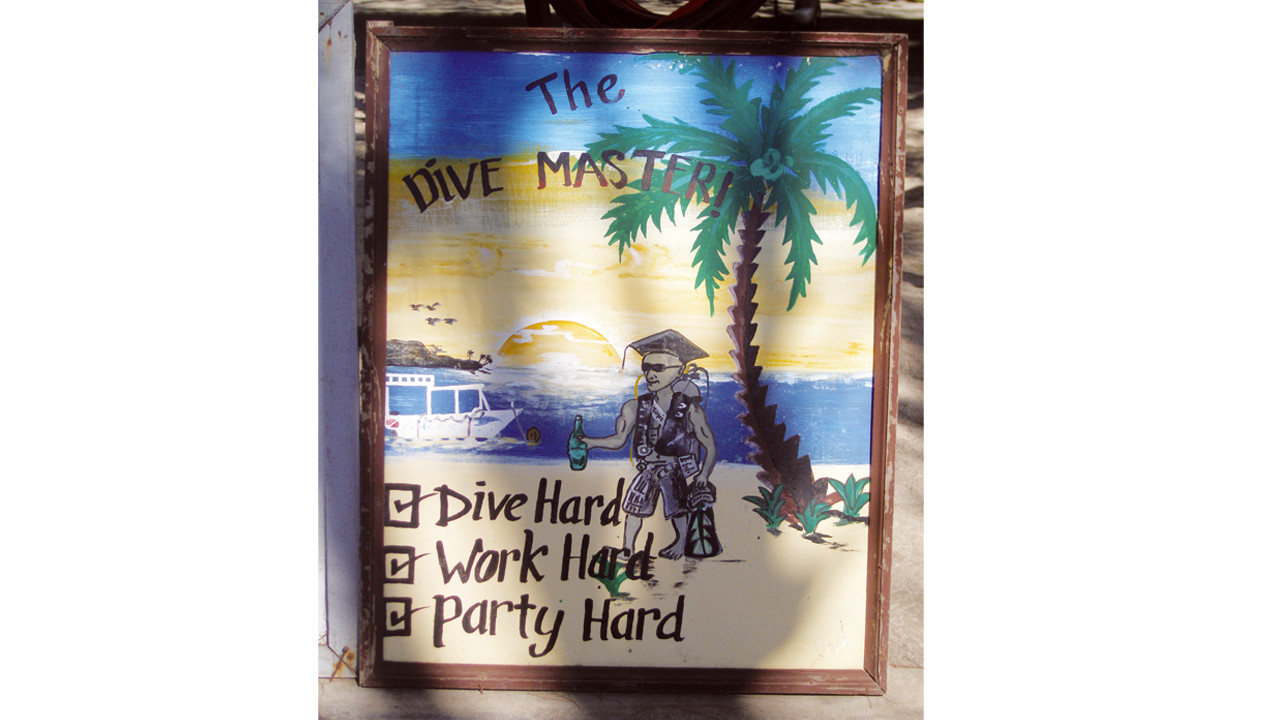 We visited a pottery workshop, another for batik, and a weavers' village before heading to the beach at Kuta in the south, a renowned surfing hotspot. Despite the heat and sunshine, Marin needed an ikat to keep warm whilst we had lunch at a warong by the beach. We were worried that he might have contracted malaria, which would have been very bad news. However, it was probably a case of dengue fever. The symptoms were muscle ache, shivers and a fever. The lieutenant looked after the medication, the Captain kept up the troops' moral, and within a few days our teenager was back on form. I would have liked to visit a workshop making high quality bamboo furniture, but Mohammed seemed to think that the tourists wouldn't be interested so we moved on. The Toyota arrived back on time at sundown. The monkeys had had their ration of peanuts, and on this first day of Ramadan (apparently the most difficult for the stomach), I regularly offered a cold bottle of fizzy drink to our driver, whenever there was a straight piece of road, to help him avoid hypoglycemia at the end of the day, although not of course before the end of the day's fast had been signaled by the local FM radio. Ramadan, like everything else, is changing…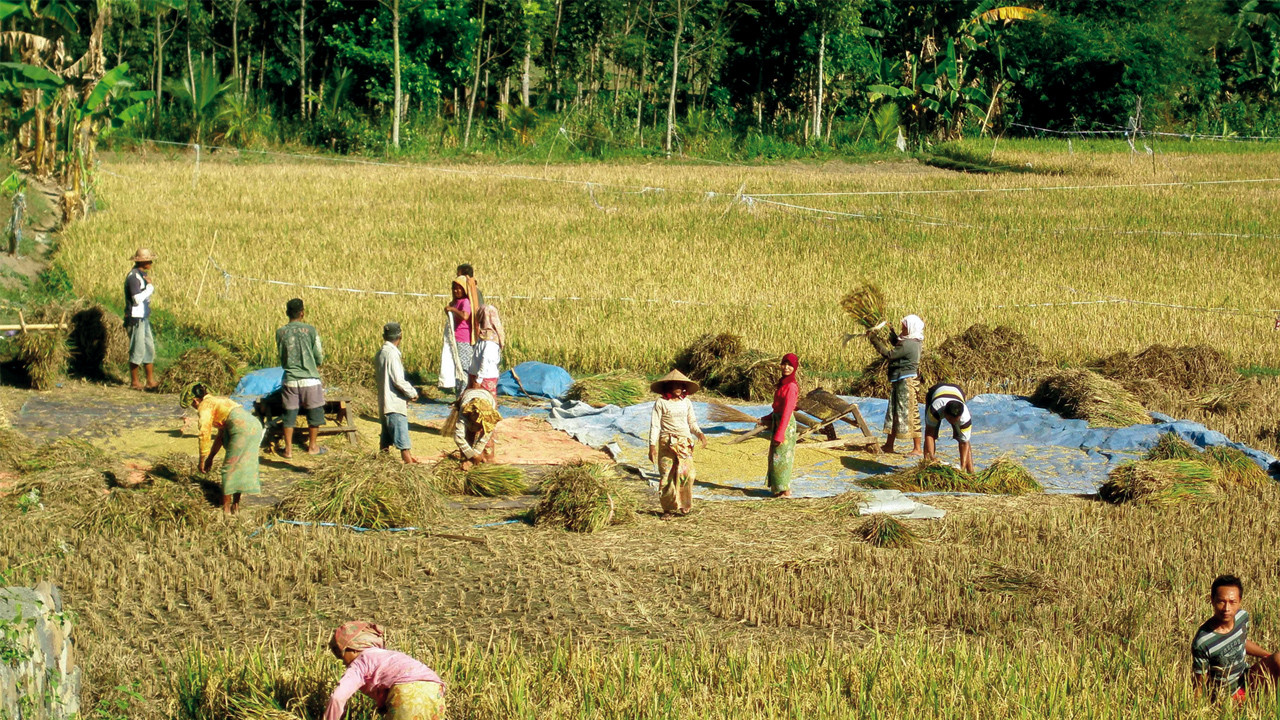 Thank you Alfred…
Did you know that the island of Lombok is of particular scientific interest?
The island is crossed by a strange line, which is not visible but it does exist. It is called the Wallace Line. Alfred Russel Wallace was a British scientist who like others of his time, and most notably Darwin, was interested in the theory of the evolution of animals, and in particular the idea of natural selection. He was a highly respected naturalist, botanist and ornithologist. He spent 8 years in Indonesia and Malaysia studying the fauna and in particular the insects and the birds. His most interesting theory was developed in the Maluku archipelago and during a particularly lucid moment when struggling with the malarial fever which he had contracted. He was convinced that living things adapt themselves to their surroundings, and he thought long and hard about how different species developed. He came up with the idea of the survival of the fittest, which implied that the species which were better adapted when changes happened in their environment would have the best chance of survival. These organisms would reproduce and transmit their gradually changing genetic characteristics to their descendants. Other species were condemned to gradually disappear. This was Natural Selection. This is a difficult idea for humans to accept. After having spent several years in south-east Asia, Wallace noticed a striking bio-geographical difference between two large ecological zones, usually defined as the Indo-Malaysian and the Australasian zones. He drew a line (later called the Wallace Line) between Lombok and Bali, and between Borneo (now Kalimantan) and the Celebes (now Sulawesi). The many observations that he had made on the ground, showed a clear difference between the make-up of the fauna on the island of Borneo and the Celebes archipelago, despite being only a few dozen kilometers apart. These differences were even more marked between the islands of Bali and Lombok which were only separated by a twenty kilometer wide strait. On Bali, Wallace had noticed several species of birds which were also found on the Asian continent and the western Indonesian Islands. However, on Lombok, he noticed birds that were typical of the Australasian zone, such as cockatoos, cassowaries, birds of paradise or megapodes, which are also found further east, on Flores or Timor. Like all good naturalists, Wallace had observed the same phenomenon among the mammals. The Wallace Line placed the Philippines, Borneo and the islands of Bali, Sumatra and Java in the Indo-Malaysian zone, whilst the Australasian zone comprised New Guinea, the Malukus, the Celebes, all the little Sunda Islands to the east of Lombok (also included) as well as Timor. The Australasian bio-geographical zone corresponded to the old continent which had separated, creating Antarctica, Australia, New Zealand, Papua New Guinea and part of South America. Wallace's observations showed that despite the distances between the islands today being short, there were significant differences between animal and vegetable species either side of the line. This obviously implied that these species which had been separated for a long time and then brought closer together by the shifting of the continents, had still not had enough time for the inevitable genetic exchanges to wipe out the signs of their own individual evolutions… It's an incredible story. So in short, Oceania ends at Lombok, and Asia begins In Bali! Thank you Alfred for working it all out! Anyway, Jangada's humans, not knowing where they'd come from, let alone where they were going, sailed across the Wallace Line heading for Lembongan, a small Island which is like a little anteroom to the port of Benoa on Bali…
Text and photos : Olivier Mesnier
What readers think
Post a comment