Cruising
Rehua - Extended stopover in Singapore ... before setting off again!
Who: Seathan, Audrie, Tyrii and Aeneas
Where: Singapore
Multihull: Antares 44
www.svrehua.wordpress.com
---
We both started sailing from a young age and, once we had kids, used to go on regular bareboat charter holidays. It was after returning from one of those sailing vacations, in late 2013, that we decided to change our lifestyle. We sold our house, quit our jobs, took the kids out of school and started looking for the perfect boat. At first, we only considered monohulls. It was just what we knew best after all, but soon, we started looking at catamarans too. We wanted a properly built, live-aboard boat that was well-equipped for offshore sailing. Our search ended with the Antares. Unfortunately, there was a long waiting list, but luckily, we found a great secondhand option, located in Turkey and immediately available. We moved on board in June 2014 and renamed her Rehua, after a Polynesian god, a healer and protector. After all, the South Pacific, and Polynesia in particular, was our dream destination. We started our trip in Marmaris, Turkey and reached the Pacific one year later, after crossing the Med and the Atlantic, spending time in the Caribbean and the San Blas and transiting the Panama Canal. French Polynesia was one of the highlights of our trip. Making landfall in the Baie des Vierges in Fatu Hiva, after a 20-day crossing from the Galápagos, was our most rewarding achievement. We loved the Marquesas and the Tuamotus, which can only be described as true paradises. After a stop in Tahiti and Bora Bora, we continued West to Niue and Tonga and then down to New Zealand. Once the cyclone season had ended, we sailed back up, to Fiji, New Caledonia, Vanuatu and the Solomon Islands. When we reached South East Asia, we were already 4 years into our trip and we still didn't feel like returning 'home'. We had originally intended a 3-year voyage, but now, we wanted to extend our journey. There was still so much to explore. We found ourselves in Singapore, for a brief stop, and have been stuck here during the pandemic, as borders closed all around us. We are itching to get going again and the Indian Ocean awaits. Going sailing was the best decision that we ever made. Visiting new countries, experiencing fascinating new cultures, and meeting many wonderful people has been extremely enriching. Most importantly, we did it together as a family. It's been a great experience. It hasn't always been easy. We have encountered rough weather and flat calms and spent frustrating weeks doing boat maintenance or waiting for new parts to be sent to some remote location. We've had scary moments when we were hit by an unexpected storm in the North Atlantic and another one when we left New Zealand. But those moments are easily outweighed and compensated by all the magic. We don't want our adventure to end.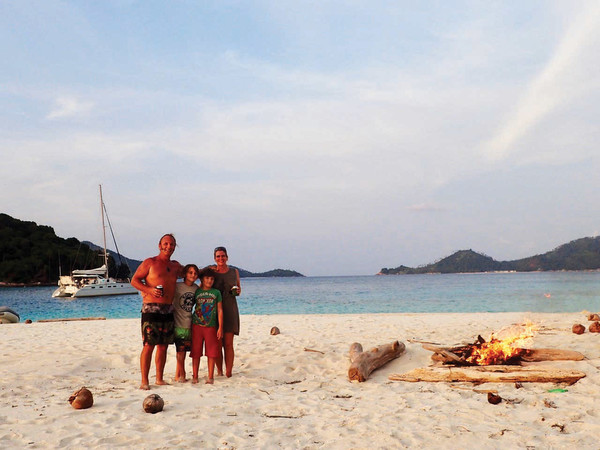 What readers think
Post a comment