Cruising
Stopover in South Africa. The other catamaran country.
Since the turn of the century and the emergence of piracy in the Red Sea and the north west of the Indian Ocean, South Africa has become a vital stopover for those who want to rejoin the Atlantic and finish their world tour. With the south of the African continent now an obligatory part of the route, the number of boats stopping over has increased, and there are more and more catamarans. Whether they're coming from Madagascar, Réunion or Mauritius after crossing the Indian Ocean, most round the world craft stop in South Africa. But don't forget those who are sailing down from Europe or coming from South America, Brazil or Argentina perhaps, and who also stop in this zone…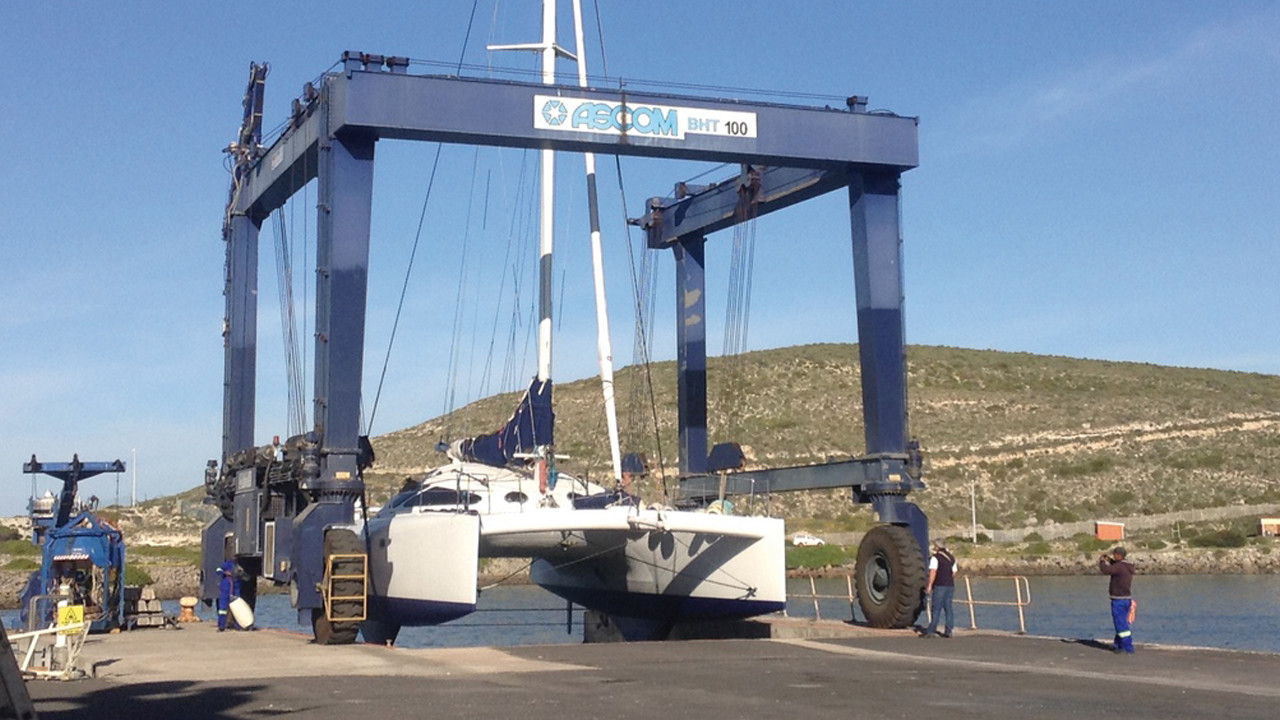 From November to March, there is a kind of migratory pattern to those sailing around the east coast from Richards Bay to Cape Town before rejoining the South Atlantic, and waiting for the next weather window in between stopovers: Richards Bay; Durban; East London; Port Elizabeth; Mossel Bay… to mention the main destinations. In many of them there are marinas or Yacht Clubs, but there are also some lovely anchorages in the region. It's worth joining the Zululand Yacht Club- a simple formality- which will allow you to get better rates at the other Yacht Clubs, most notably, Cape Town. Some marinas struggle to accommodate multihulls. This is the case at Port Elizabeth. There is only the fishing boat quay but you risk seeing your warps chafe through or the boat scraping up and down the dock walls. On our cat we were lucky enough to be able to do the trip from East London to Cape Town in one hit.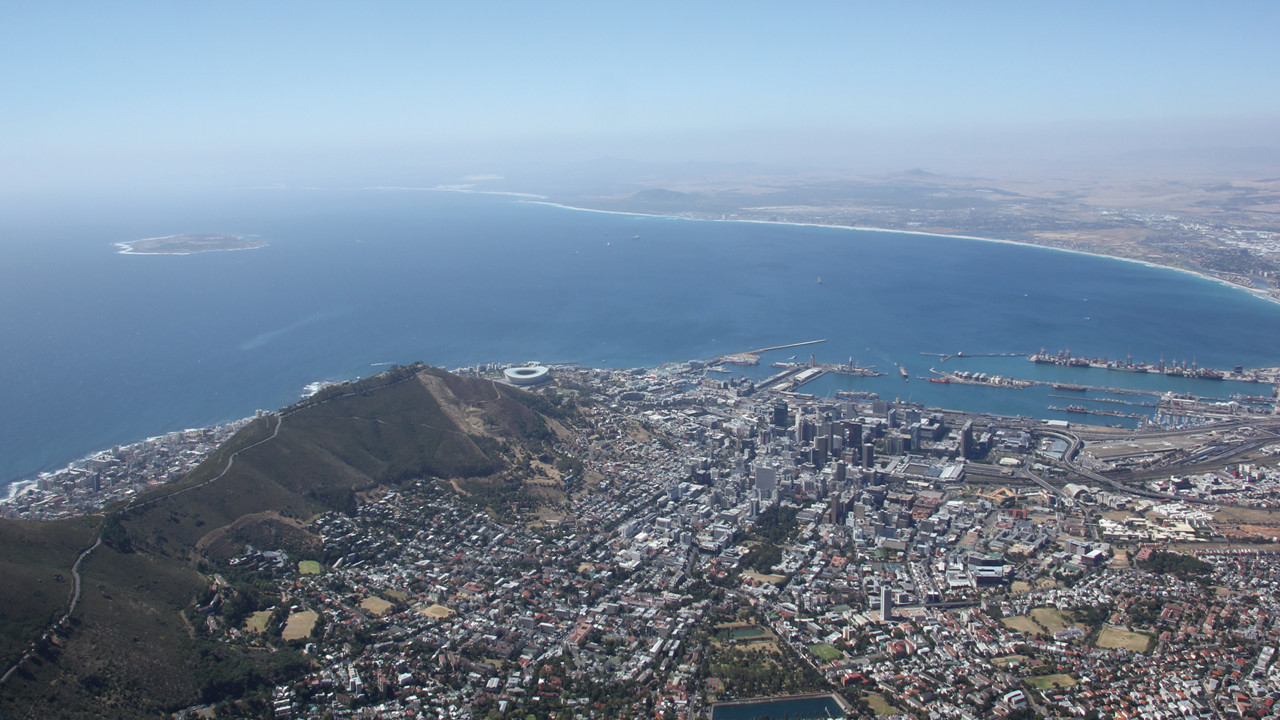 Some long haul sailors make the most of this stopover to leave the boat on the hard or in a marina, to go back home or to visit the interior. It's worth noting that getting a multihull out of the water here can pose problems depending upon the beam and weight of your boat. You could take your cat or your tri out at Richards Bay. But this will be a trailer system which takes the catamaran from underneath… otherwise if your boat is too big or too heavy, you will have no chance but to head for the Cape Town or Durban region to find a crane or a Travelift which will allow you to get the boat out easily.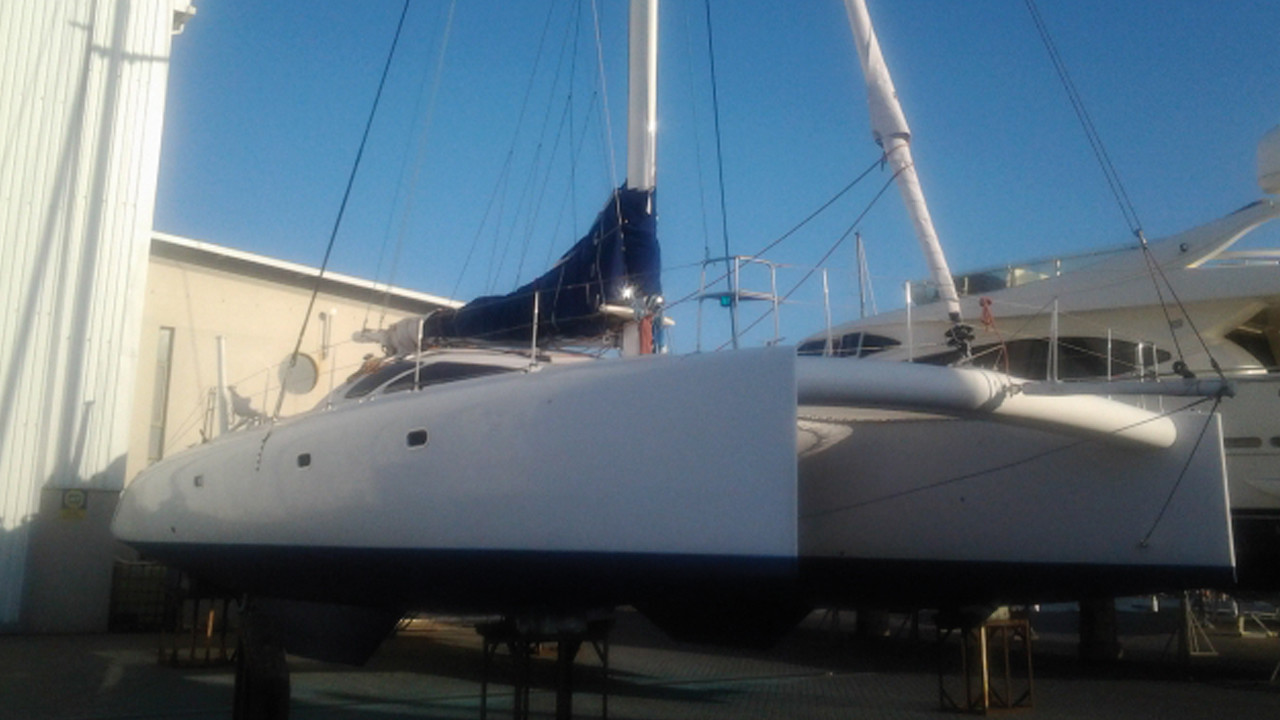 Historically, all South Africa and more particularly Cape Town and its two mythical Capes-Good Hope and Agulhas- are along the way of the great maritime routes. There is a lot of sailing activity as well as an industry around it. The country is the second biggest producer of catamarans after France. There are numerous, well known shipyards like Robertson and Caine, Royal Cape Catamarans, Two Oceans Marine, Matrix Yachts, Maverick Yachts, Voyage Yachts, but also Xquisites Yachts and Nexus Yachts, St Francis Marine, Knysna Yachts to name but a few… South Africa has shown that it is a competent and professional multihull builder, and has built up a network of businesses and services which allow the projects to get finalized. Every week 4 or 5 sailing or motor catamarans take to the water in Cape Town… This explains why the local infrastructure is top quality. This means that passing boats can make the most of this infrastructure, which is mainly situated around the Royal Cape Yacht Club.
RCYC is one of the oldest Yacht Clubs, created in 1905. In there you can see an exhibition of different collections of objects, trophies and photos showing their sailing history. It is also now in the center of the nautical industrial zone, with an incredible view of Table Mountain. There is a warm welcome, as there is everywhere in South Africa.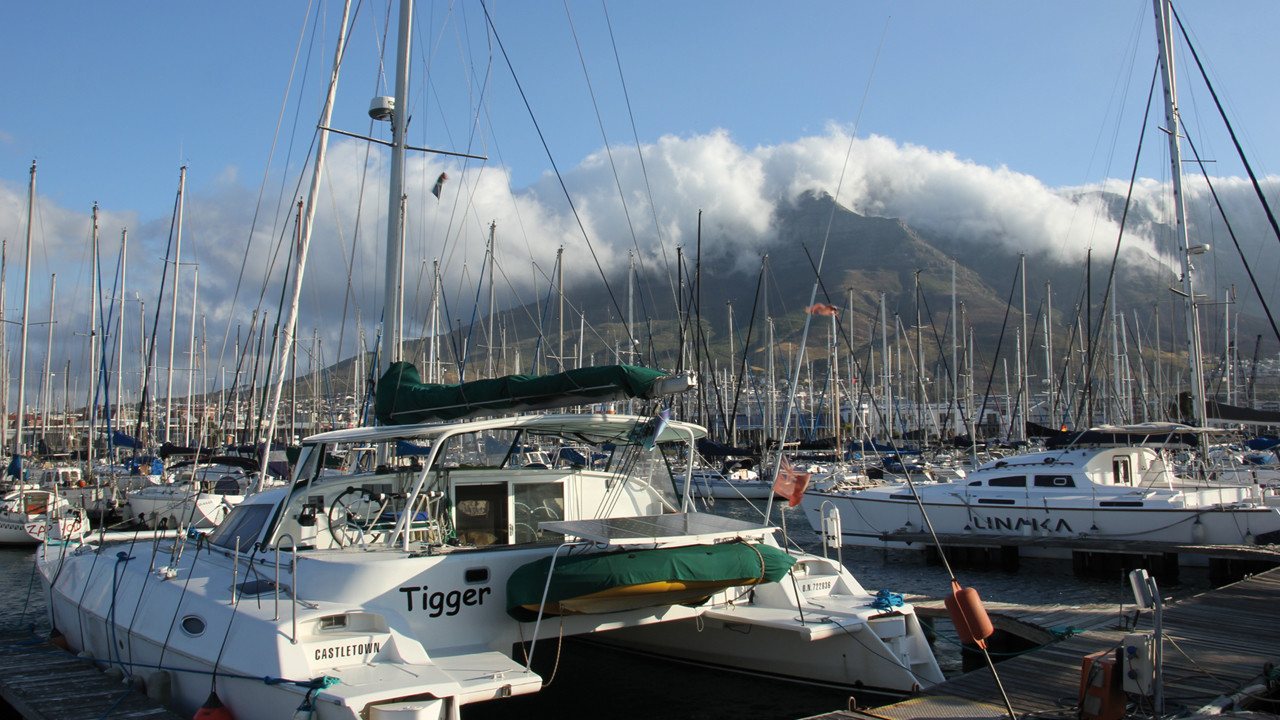 Many boats make the most of their stopover in South Africa to repair or freshen up their catamaran after several months (or years) at sea. It's common knowledge that you can find everything you need in Cape Town, even if you need to do a bit of searching. The best thing to do is to ask around in the Paarden Eiland area. The Woodstock bus stop, 5 minutes from the RCYC will take you into the industrial zone, where there are two possible stops: Paarden Eiland or Section Street. Here you will find chandleries and also everything you'll need for your electronics, hydraulics and mechanics. You can also get your fire extinguishers serviced, and it's here that you'll find the company Southern Rope. This is where you'll find all the ropes that you need for your boat, with an incredible choice of all types, and even the chance to buy by the kilo for those that are on sale… It's the biggest manufacturer in South Africa. As far as sails are concerned, two companies dominate the market, and offer different products: North Sails and Ullmann Sails. It's worth noting that the Ullmann factory, which is situated in Cape Town, makes different types of sails from cruising to racing, and for monohulls and multihulls all over the world. They work 24 hours a day and a visit to their factory is an impressive experience… North Sails has two outlets: one in Durban for smaller craft and one in Cape Town for bigger boats.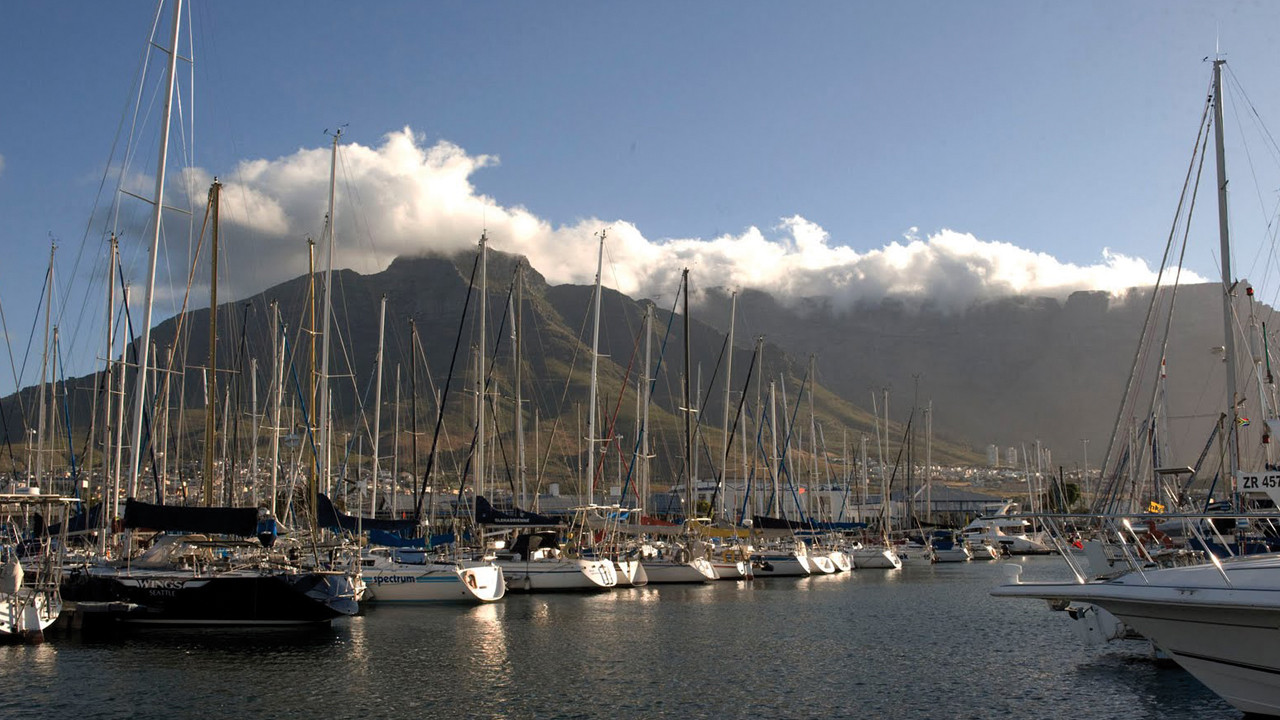 Once in situ at the RCYC, you will also find many other specialist businesses in the neighboring zone or next to the marina's shipyard. Don't just stop at Action Yachting. They can help with small rigging jobs and offer several services but they usually sub contract the work. Take the time to go and see the independent specialists. Go and see Jerry for example at Diving and Yachting Services. He's a real pro when it comes to epoxy composite but also for any helm or rudder problems. And for French-speaking readers of Multihulls World, Jerry loves France and needs to practice his French, so… Divers also offer the chance to check out your hull without having to take the boat out of the water. You'll find them here too. A little further down the road, about 300 meters from the marina you'll find Associated Rigging. Warren and his team specialize in masts and rigging and can also step or take down a mast. They are very efficient.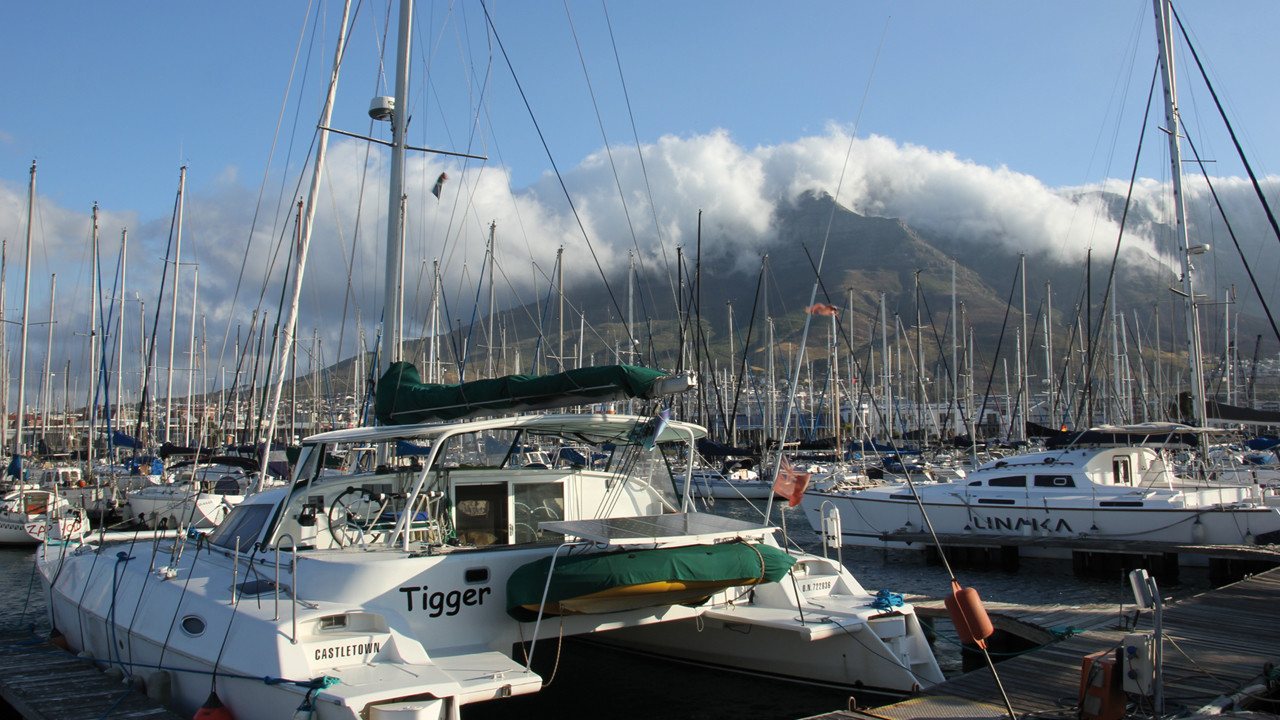 If you wish to leave your boat for a while to visit the country, Waterfront marina is better protected than RCYC which gets stronger wind because of Table Mountain. But they are both good places and both marinas are secure. If you need to leave your boat for a longer period (to return home for example) you could choose (as we did) Saldanha Yachtport, a very professional and friendly shipyard. We left our boat on the hard in a clean and secure shipyard. You can also get work done on your boat, as many local specialists work there regularly. It's also easy to get materials delivered. The shipyard will propose the services which it does best, and for everything else will call in specialists. Yachtport also has a small marina which specializes in receiving larger boats and especially catamarans. The Travelift is very modern, and it's easy to get boats up to 25m out onto the quayside. The only negative point is the distance from the shops and the town of Saldanha. But whenever anyone from the shipyard has to go to the village, they will always offer you a ride to do your shopping, and there is a snack bar open during the week. The prices are good and much cheaper than Cape Town. We found the whole team to be polite and professional, and it's a calm and convivial environment.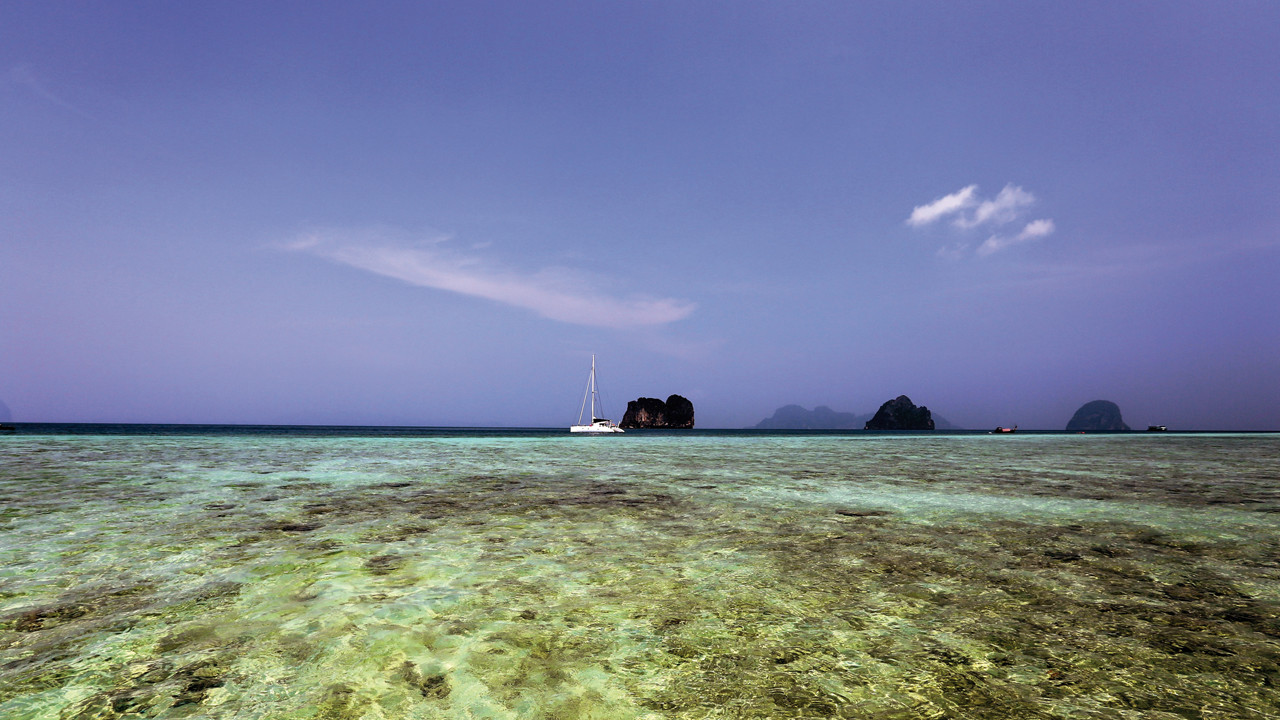 The other piece of good news if you stopover in South Africa, is that all your purchases can be tax-free. You just need to keep all your bills and give them to the customs when you check out. After a quick visit on board and a form getting filled in, you should receive a check six months later which corresponds to the sales tax which you paid.   Some suppliers can even knock the tax off when you buy, and there's the possibility of paying in euros or dollars. This is the case especially with the sail companies.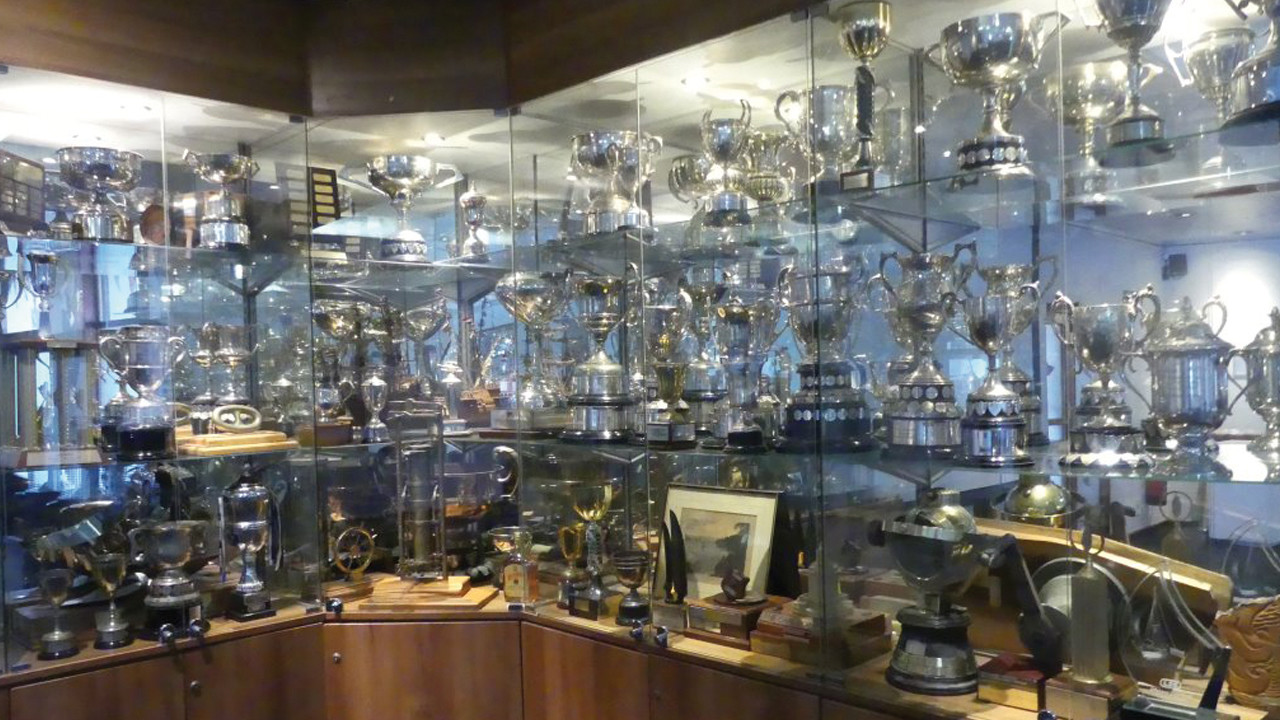 The South African Nautical Almanac is a sailing and services guide which is updated every year and which you can get hold of from Richards Bay to Cape Town. It lists all the marinas, Yacht Clubs and moorings along the coasts of South Africa and Namibia. A really indispensable guide!
Yes it's true that South Africa is a difficult country for sailing, with rapidly changing weather, strong winds and an often violent sea with strong currents… It's complicated! Choosing the best weather window is always an excellent conversation topic over a beer or glass of wine (excellent South African wine) in the Yacht Clubs. And each time that the weather allows, there will be several boats setting off together. All that remains is to study the various legs ahead based upon the competence of the crew and the boat.
And afterwards?
P'titFilou continued on its merry way. Since its launch in Asia, the Erik Lerouge designed catamaran has been on the move. After South Africa we were to head west. It was transat time!
We had 12 days of good sailing in the southern Atlantic, with the wind right behind us, and zero fishing success, as it's impossible to slow down P'tit Filou. We arrived at our anchorage in the Jacaré river at 9pm, opposite Jacaré Yacht Village in Brazil's north east, close to João Pessoa. Another night time arrival! The smells of the land and life ashore wafted out to us over the water, replacing the noise of the swell and the wind.
We stayed a good month there and made the most of the atmosphere in the marina and its surroundings, and the warmth of the inhabitants of the village of Jacaré.  Caïpirinhas, barbecues and other culinary specialties, including the famous Feijoada… but also many encounters. Each one different from the last. We felt good.
But then it was time to leave. 
After some easy sailing with favorable wind and currents, P'titFilou stopped off at Charlotteville, Tobago. There were very few boats in the anchorage. The colors and the warmth of the inhabitants enticed us to discover a bit more… The atmosphere is pleasant and the key words are patience and peace. Boats arrive from Brazil or Cape Verde. It's a kind of meeting place. We spent a week here to make the most of it… 
Then we took a whole night to sail to Carriacou, although we arrived a little early in the morning. We waited for daybreak between squalls and rain before discovering that there were lots of boats anchored there. This was something new for P'titFilou, who weaved her way through to a spot close to the beach in the turquoise waters. 
Welcome to the Caribbean! The ambience is a bit more superficial and impersonal. The "hellos" and encounters are less common, despite (or because of) the hundreds of boats that are anchored there. Perhaps we have turned into savages! No, but we're probably not used to crowds anymore!  
We decided to head to St Martin a little earlier than planned to welcome the family and to put P'titFilou up for sale. P'titFilou found a spot in Marigot Bay. We discovered that the destruction left by Irma was still very visible, as though it had been bombed or there had been the apocalypse, but life was also starting again while they waited for the tourists to come back… The colorful Carnival allowed us to forget the past and think about the future…
What readers think
Post a comment