Cruising
Tamata's Voyage: I swam with dolphins
Editor's note
One day we got a phone call here at the magazine from Marion. She recounted her story and told us about her love of the sea and voyaging. A passion she shares with Vincent, her partner in life and on the water.
And then… toward the end of our conversation, Marion said, "I'd love to surprise him. He's currently crossing the Pacific on our boat. I'm pregnant and will soon be having our baby, and I'd love it if Vincent were able to read our story in Multihulls World… Do you think it's possible?"
Of course, Marion. Everything is possible with Multihulls World… when it comes to sharing our readers' dreams!!!
Everything always starts as a pleasant dream which begins to take over our nights. It starts out as a pretty vague idea, but eventually becomes so clear over time that it's hard to distinguish between the dream and reality.
Setting out on a boat… Making your life choices instead of having your life make them for you. Getting away from the constraints imposed upon us by society. Feeling free. You can offer yourself the most luxurious of all presents: the time to take your time to meet people, discover other countries and their different customs and cultures. Taking the time to get closer to nature. So close that you feel that you can almost touch it. This was our dream.

Vincent discovered and adopted a windsurfing board at the age of 13.
After a professional Basketball career, alongside his love of his board, there was an important moment fast approaching: ending his sporting career. One day he began reading Tamata And The Alliance by Bernard Moitessier. It was a revelation. Sailing around the world's oceans just seemed like the obvious thing to do. This would be his second life.
As for me, I had been brought up on the stories of my grandfather who was passionate about the sea, and I was therefore very curious. I lost count of the times when as a child on family holidays at our cabin overlooking the Mediterranean, I would wonder what lay beyond the horizon.

When I had met Vincent eight years previously, we realized that we were dreamers, and those dreams never went away. Then one morning, we realized that the dreams alone were not fulfilling us. It had become imperative that we start to live out our dreams. We confronted what we had to do and set about doing it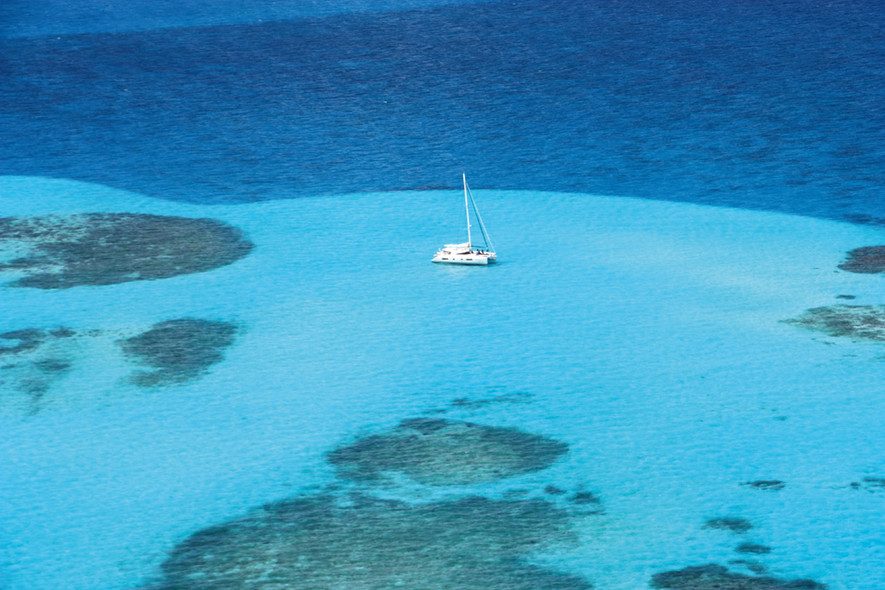 In 2011, we hired a Sun Odyssey 30i, named Art.T. It was on this boat that we earned our stripes, learning to sail with a friend who had years of experience. Six months later, he encouraged us to take on our first real passage. And there we were, between the continent and Corsica, taking on the first part of our dream.

The next year, we bought our first boat. It was an Océanis 393 which we fell in love with. We began to kit it out ready for the big voyage, as we'd decided that we were going to set off on this monohull. For the next two years we sailed Otemanu in just about all possible conditions, both summer and winter. We did the continent-Corsica crossing twice to improve our sailing skills, We clocked up mile after mile, worked out a rhythm for night watches, got a handle on necessary supplies and even calculated water consumption by day and by person.
At the same time I was continuing my nursing studies. Vincent had finished his basketball career. He was busy getting a professional sailing qualification, doing lots of sailing and taking his Yachtmaster, a British qualification which is the equivalent of the French Capitaine 200.

It was whilst he was getting some miles under his belt that Vincent discovered the particularities of a catamaran. He immediately set about convincing me that we needed to modify our plans somewhat. We should sell Otemanu and buy a catamaran. So there we were, on the lookout for a new boat.
The choice would be based on one criteria in particular: the amount of headroom! You see the captain is 6'8" tall and it's important that he can get around in our "future home" without banging his head all the time.
Everyone has their own idea of on board comfort. Some people choose a minimalist style while others opt for a more functional or comprehensive layout. It all depends upon the personalities and the projects of the owners.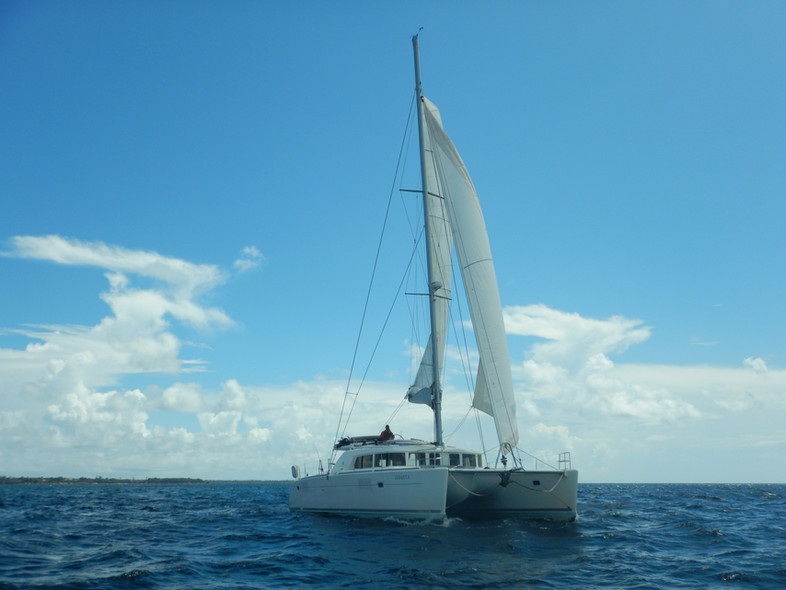 We actually decided to leave with a bigger boat than we had originally planned. I will be able to work during our stopovers in the islands, but we will need to supplement our on board income as my nurse's salary will not be enough. The money that we have set aside for the journey will not be enough. We decided therefore to offer cruises on board our floating home in Corsica and the West Indies.

With this in mind, we opted for a lagoon 440. On the one hand, this comfortable and spacious boat has four cabins, each with a toilet and a shower. The central saloon is fairly large, and has an extra bed which along with the two converted hull points means that there is a sleeping capacity of 12. The interior living areas are functional and have all the facilities which clients would expect and appreciate.
The large storage capacity means that we can take all of our toys with us: windsurfing boards, Paddle boards, kites and diving cylinders.
The Lagoon 440 is also renowned for its handling at sea, and it is possible for two people to handle it, as long as you have the right attitude and know your boat well.
This catamaran has a good lower hull, and the panoramic flybridge offers an uninterrupted 360° view, and it is useful both when sailing and at anchor because it provides an extra living space.

The only downsides are an increase in windage and sailing in heavy weather. In fact in heavy weather it can get quite wet. However, if you are planning to sail in the tropics, it will only rarely be an issue.
On a boat, everything is about compromise, and it's crucial to understand your program and your desires, and to strike the right balance between performance, comfort and budget.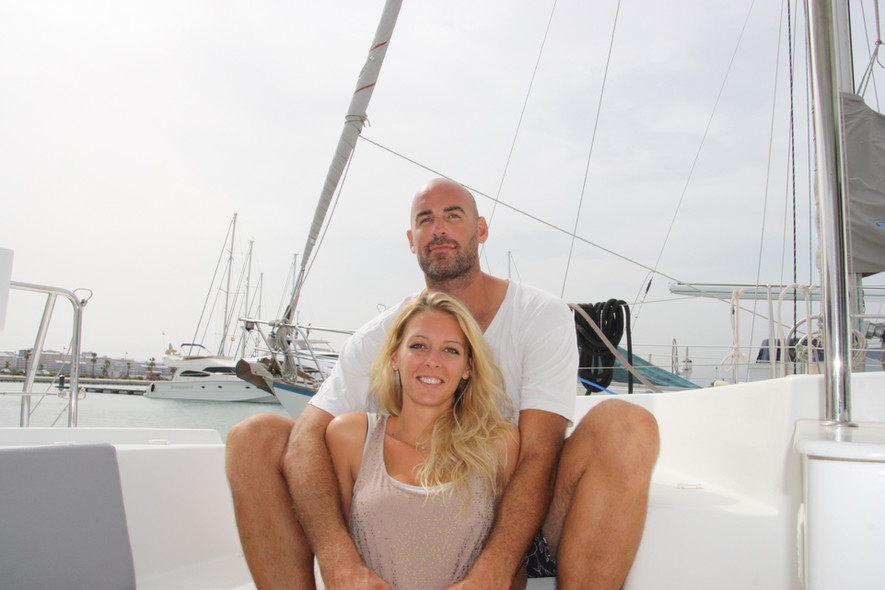 We are totally convinced by all of these elements, even though Vincent remarked that "this type of boat requires a level of servicing which should not be underestimated, which will mean having a certain budget or being very good at solving issues yourself. Necessity is the mother of invention, so we need to learn quickly and get on with things"!

On the October 1st 2014, we finally left the port of Hyères, in the South of France, on board Tamata, setting out on the voyage of our dreams. Sensing the breeze of freedom on our faces was a fantastic feeling.
You can't just drop everything and set off on this kind of adventure. There are all sorts of administrative and organizational details to think about, as well as the necessary materials and the condition of the boat, making sure that you're in financial good shape, and preparing psychologically to being separated from one's friends and families. We had first dreamt about setting out five years previously, and had spent the last three preparing. Our departure had been weighing on me for the previous few months: had we thought of everything? How will I cope with the goodbyes? Despite all that, on the big day, it was with great joy that I watched the spray splashing onto Tamata's hulls. As for the skipper, given his passion for the project, I think that he had already set off in his mind long before.

Our first stop was in the Balearics, and then after sailing along the Spanish coast, we reached Gibraltar.
Tamata surfed on the waves, sometimes hitting 14 knots. We were guided by six blue and white dolphins. They were like luminous torpedos with their form becoming apparent when submerged amongst the phosphorescent plankton. We stood there open-mouthed. On the horizon there was a storm raging, throwing balls of lightning across the sky. A truly spectacular 'son et lumière' show.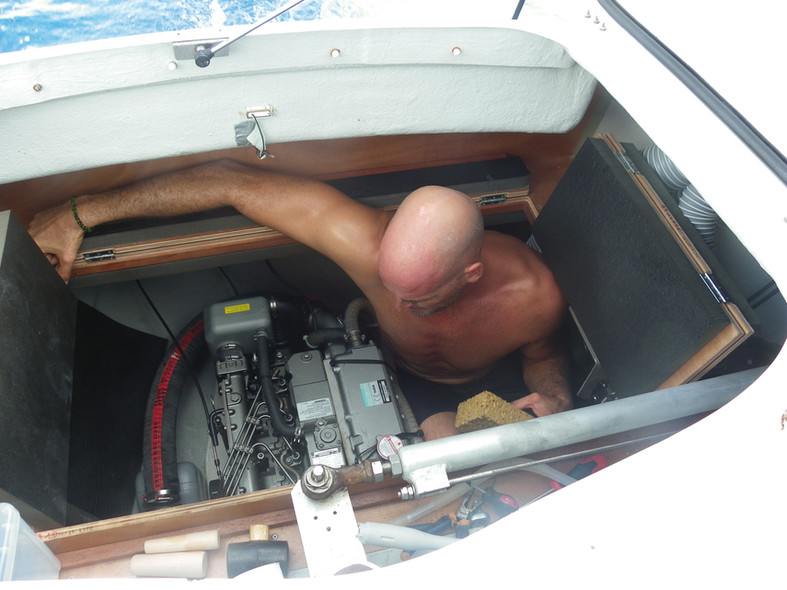 Then as we pushed on through the Straits of Gibraltar, the Atlantic suddenly began to open up before us. So wide and never-ending that we were immediately taken aback. The days are mild and the nights mysterious. A mixture of excitement and anxiety. The two feelings jostle for position, sometimes getting mixed up and sometimes colliding. Sometimes one is more prevalent than the other for a while. There are moonless nights, where the jet black of the ocean and the sky blend into one. There are no more landmarks and no more light. Heading out in total darkness, without knowing what lies ahead of you is an indescribable feeling. As though you're hesitating between two worlds that you just can't make out. Or a dream where the wonderful and the worrying collide. Your body finally allows itself to get carried away, you close your eyes and begin an intoxicating dance with the boat. Your body follows all the boat's movements, feels them, and sometimes loses its balance

Soon afterwards, the Canaries appeared on the horizon. As we approached the island we could begin to see the outline, dry and secretive. There are already some boats moored there, looking as though they are dancing as they bob in the water.

After a few weeks on these Spanish islands, we sailed to Cape Verde. It's a forgotten group of volcanic islands. Some are inhabited but still fairly wild. Some are home to miles of white sandy beaches. Turquoise waters surround lunar plateaux, which are devoid of vegetation, any source of fresh water or signs of life. You feel as though you are lost in the middle of nowhere, in a beautiful and pure setting. And then there are the windswept islands which are simply cliffs of volcanic rock, bearing the scars of millennia of combat against two powerful elements.
For us, Cape Verde was the first real culture shock of our voyage. It's an authentic and simple country inhabited by lovely, gentle people.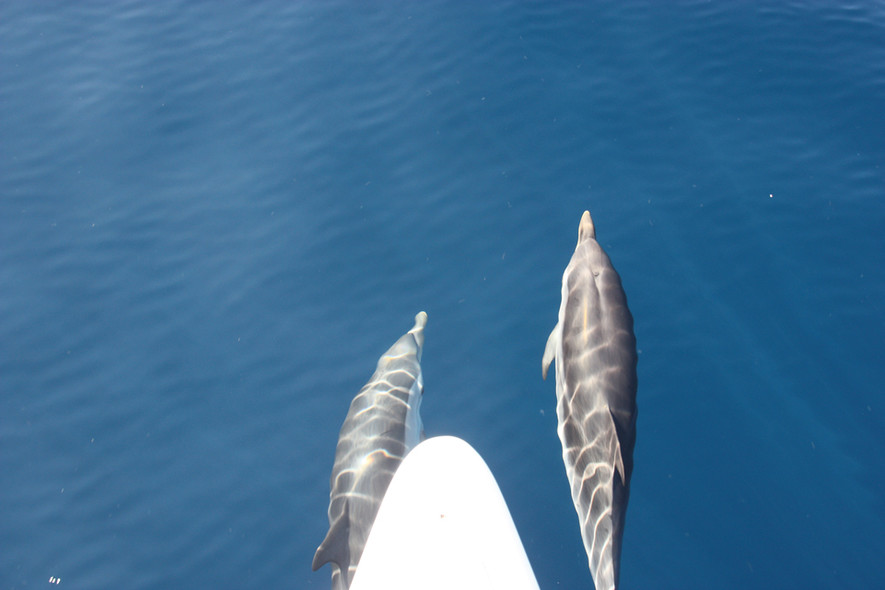 Then in December 2014, the time came to do our crossing. One boat, three souls and the ocean. Vincent stressed that "The east-west Transat, in other words from Africa to the Americas, is not as difficult as some people imagine. You just need to leave at the right time. The main difficulty is simply the fact that it is so long, and that you need to be ready for any eventuality whilst you have to fend for yourselves. Tamata and her crew crossed in 16 days. "It was a period where it felt as though time had stopped. It was an experience which only served to whet the appetite," wrote Vincent. During this episode I returned to France and then met up with Vincent and our proud ship in the West Indies.

We explored the Grenadines and fell under the spell of this picture-postcard archipelago. There were incredible shades of turquoise, deserted islands rimmed with white sand, coconut palms swaying in the Trade Winds, and fantastic anchorages. The region lives from tourism and sailors are warmly welcomed. We quickly managed to do a first season of cruises, during which I also managed to work at the hospital. For two months I was at the heart of local life, its aromas, tastes and colors. I was thrilled to encounter sincere and authentic human warmth. During this time, Vincent went cruising to the BVI.

July brings the start of the hurricane season. We headed to the north east of Venezuela and the island of Tobago, which would afford a certain amount of shelter. We soon christened it the Fantastic Island. It's a haven of peace, with an incomparable relationship with nature. After our journey we dropped anchor for four months of total relaxation in this destination with its own particular identity. The south of the island has some of the best waves that we have surfed, and to the north, Charlottesville is famous for the idyllic Pirates Bay. It's a deserted beach which leads into a tropical forest, where the chatter of parrots can be heard through the sound of a babbling fresh water spring. We met some amazing people whose lives are devoted to protecting nature. These people are genuine to the core, and it restored our faith in human nature.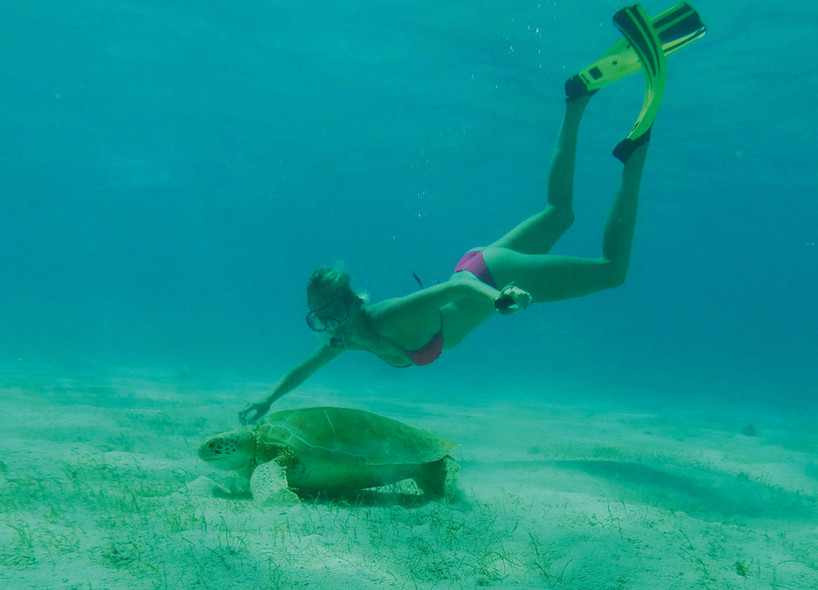 It's not just people that we met on this voyage. There were animals too. Fin whales, sharks, tortoises, dozens of pilot whales, corals, fish of all colors, manta rays, leopard rays and even killer whales!!
As for the playful, curious, childlike dolphins, they accompanied us right from the start of our voyage, and always lifted our spirits. One day in Tobago, they put on an unforgettable show for us in our mooring, by inviting us to swim and dance with them. We literally looked each other in the eye for an hour and there was a trust which formed between us, based upon their curiosity and our respect for them. It just so happened that on that particular day there was a film crew on board Tamata from the French TV show "Thalassa." The images are beautiful, and will stay in our hearts forever.

After a second season spent in the Grenadines, it was time to cross the Pacific in search of new horizons: French Polynesia, The Marquesas islands, Tahiti and her islands. We will soon see with our own eyes all these places that we have dreamed about for so long. The adventure continued, and after several months it was blessed with the arrival of a baby.
We said a final farewell to our sailing friends and left the West Indies behind, continuing on our dream voyage. Vincent crossed the Pacific with a crew member. We joined up with him in the Marquesas, with his daughter Lola at the end of June 2016.

We are so lucky to have the chance to live on the water. It allows us to reconnect with Nature and to drink in its incredible beauty. We also see how fragile it is. Man's impact upon the environment is unfortunately much too big.
Because we have got so much out of our voyage, we want to share it all to help change peoples' mindsets. As man tends to protect the things he likes, we are doing what we can to make sure that future generations can appreciate our planet's treasures. To this end, we share photos, essays, general information, and perhaps soon children's books. By passing on our love of everything that we see, we hope that we can help Nature to continue to shine as only She can. Happy Sailing!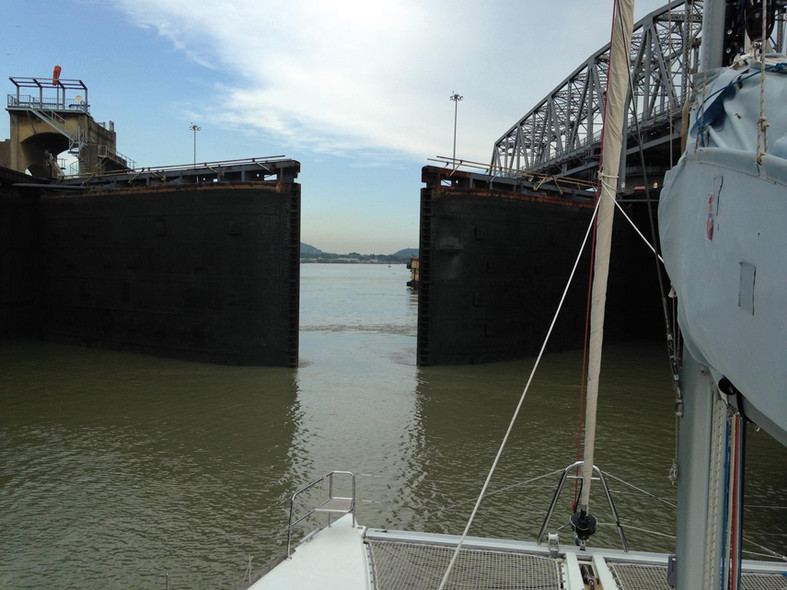 More:
You can follow us on Facebook: Le Voyage de Tamata.
Youtube: Swimming with dolphins. The Thalassa TV show changed my life.
Coming Soon: A collection of educational books for children.
What readers think
Post a comment