Technical
Downwind: under full sail!
So we need to have a suitable sail, ready to launch from the forward locker. A spi? Yes, but which one? Are you sure that it is in fact a spi that you need? Oh yes, I forgot to mention: If you have skipped the last thirty years, I have bad news for you, your great big old symmetrical spi made from slightly stretchy nylon, no longer has the monopoly on tradewinds. Numerous other solutions are available to you. Here we conclude our technical series looking at sails, with downwind headsails.

At last the wind is favorable. You are going to be able to lengthen your stride and make the speedometer sing. You open your sail locker, and there in front of you are four options. Yes, four! OK, so four theoretical options, because actually depending on your boat and your program, you might only have one on board. Or at best, two. Or in any case, not more than three. Unless you want to make your sailmaker rich! So which do you choose? To make the right choice, there are two factors to take into account: the direction and the strength of the expected apparent wind. And for apparent wind, you have to consider the potential acceleration of your multihull. In effect, a better-performing sailboat will have closer wind angles than one designed for more sedate cruising, which lets itself be carried by the wind. It's on the latter that our good old symmetrical spi will continue to work. If you're looking for a bit more stability, be ready to come up a bit more in relation to the true wind, even if you have to gybe to keep on track. So an asymmetric spi will keep you happy. But if you really love speed, you risk being under-canvassed as soon as you are at 60 degrees off the wind, so you must have a gennaker on board. And once you have seen how easy it is to handle with its endless-line furling system, you'll only want for one thing - to have an identical system for your spinnaker. Certainly the spinnaker sock invented for our single-handed friends makes hoisting and lowering them easier, meaning they can be used for longer. But even if you have tried it only once in too much wind, where the lightweight foredeck crew is lifted off his feet with every gust, or the lines get tangled with the collar, halfway up, and it won't go up or down, then you know what I'm talking about. To sum up, the good news is that whatever boat you have, and whatever the weather, progress and research originating from offshore racing means that there should be a sail to suit your needs. Two common things link them: a modern Superkote-type nylon, which comes in different weights of sailcloth depending on your requirements, and the fun you will have using them!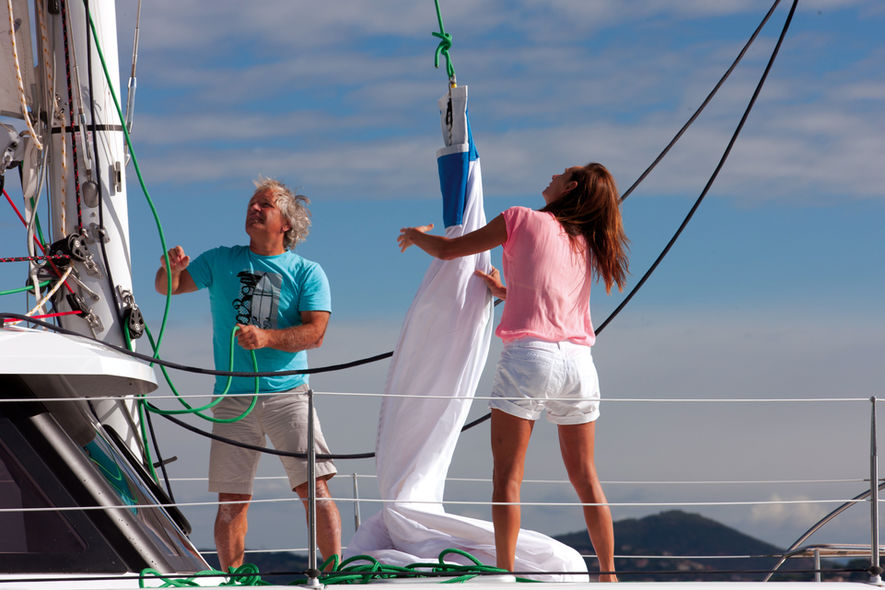 The Gennaker
It is THE sail to have on board your multihull. Versatile, easy to use, it will acclimatize you with downwind sails. Its more or less triangular shape allows the use of a furler, which is attached to its loose luff whose shape is formed by a solid Kevlar ...
Subscribe
Subscribe to Multihulls World and get exclusive benefits.
Subscribe
What readers think
Post a comment