Technical
Forepeaks - How do you make the best use of them?
The layout of a multihull is generally so spacious that less attention is often paid to the forepeaks. However, there is an impressive storage space between the forward bulkhead and the bows. And the good news is, it's multiplied by two on board a catamaran. On board cats of less than say 40 feet, they might only be used to store sails and equipment. But from 45 feet, the forepeaks of cruising catamarans are tall, long and wide enough to install a more functional compartment, or even a living space. A children's or skipper's cabin, a workshop, a laundry room or an additional bathroom can be fitted out in boats of this size. Combining an extra cabin with a bathroom can really only be considered from 60 feet and upwards, depending on the model. Beyond 65 feet, a very cozy and an almost luxurious layout can even be provided.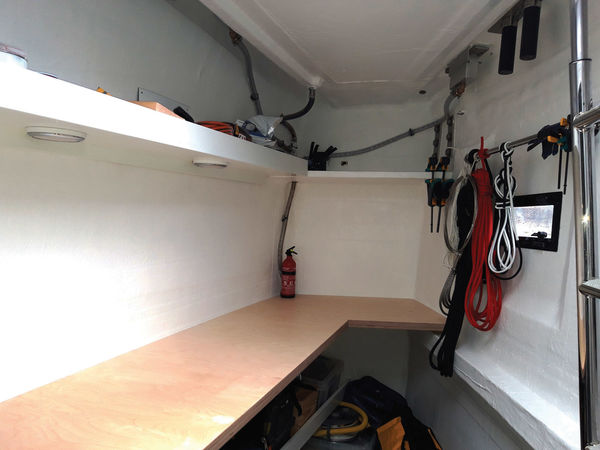 A WEIGHT-SENSITIVE AREA
As we saw in MW 164, weight management is essential on a cruising multihull to maintain good hydrodynamic qualities. This is even more true with regard to the forepeaks. They are in fact subject to strong stresses, particularly when heading upwind into a big sea. But it is also important to balance your longitudinal trim by avoiding loading the bows. The goal is first to limit pitching, then to favor planing rather than loading and finally to keep the rudders well in the water to maintain proper control – and with less force on the autopilot. Sailing with a minimum of weight forward of the mast is therefore an essential precaution. For stowing your sails and fitting out your forepeaks, one simple rule is essential: do not exceed 10% of the payload on board. If the light displacement of a 45-foot catamaran is 14 tons and its fully loaded weight is 17 tons, no more than 660 lbs (300 kg) should be allocated to the forepeaks, i.e., roughly 330 lbs (150 kg) per hold, depending on the hull form. It's best to get out a set of scales before piling up too much equipment in these spaces... Fortunately, a lot of equipment is compatible in terms of weight, such as inflatable fenders or lightweight furlers. For sleeping, bunks on an aluminum frame are very well suited. They are light in weight and can be easily folded away by mounting them with a pulley, for example.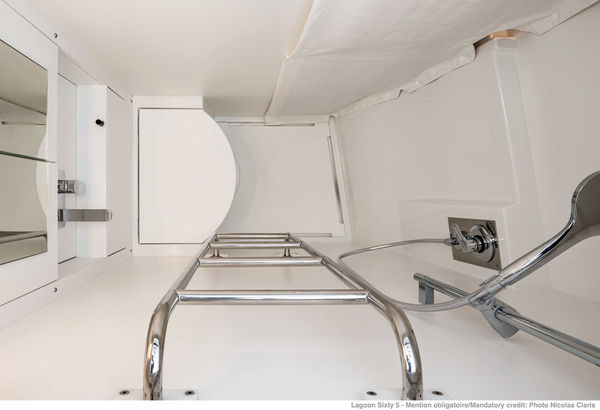 ACCESS
Another sticky point, after the weight, is the access to these holds. They're often deep - modern catamarans are characterized by fairly high freeboard. At sea, it can be tricky to get down, and even more so to come back up. A ladder is a minimum to have a practicable access. An aluminum model can do the job if it is well secured beneath the hatch. Dedicated stainless steel units are sturdier and more aesthetic as well. Some high-end catamarans have composite steps. You could also use plywood planks. They will allow for easy access without condemning the storage space.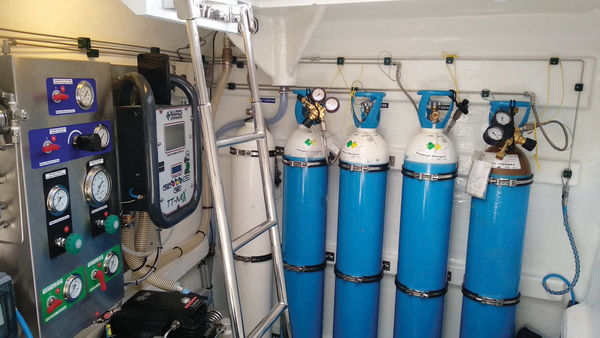 ORDER AND CENTERING OF WEIGHT
Given that forepeaks are quite voluminous, compartmentalizing this volume is a judicious idea, to make sure you can find the ...
Subscribe
Subscribe to Multihulls World and get exclusive benefits.
Subscribe
What readers think
Post a comment