Technical
From internal combustion to electric! - Re-powering a 44-foot catamaran
Peter Weil is no newcomer to the world of boating. An accomplished sailor and regatta competitor, he has been wearing out his foul weather gear on sailing boats since he was young. As he got older, he decided to turn to cruising and being already a multihull fan, he set his sights on a catamaran. However, he chose a powercat which corresponded more to his way of life at the time. Seduced by the look and layout, he bought an Aquila 44, one of the brand's best-sellers. A thoughtful and committed purchase which nevertheless did not completely satisfy Peter who dreamt of a power multihull which would go like a sailboat, that is to say in silence and relatively slowly to take advantage of its surroundings. To go through with the process, he decided to remove the diesel engines from the hulls and to replace everything by an entirely electric propulsion system. This was quite a challenge, because, even though the Aquila's design is remarkable, the shipyard hadn't designed the boat for this type of drivetrain, nor offered it as an option. But this wasn't going to our man, who was as reasoned as he was determined, and so he decided to embark on this project on his o wn initiative. Peter began his research and soon chose Torqeedo engines. It was also at this time that he met Marc Hawxhurst, the creator of Nova Luxe, who had more or less the same idea, except that he wanted to turn this transformation into a real business by working, if possible, directly with the shipyards. For this purpose, Marc already had an agreement for the implementation of Torqeedo motors in multihulls.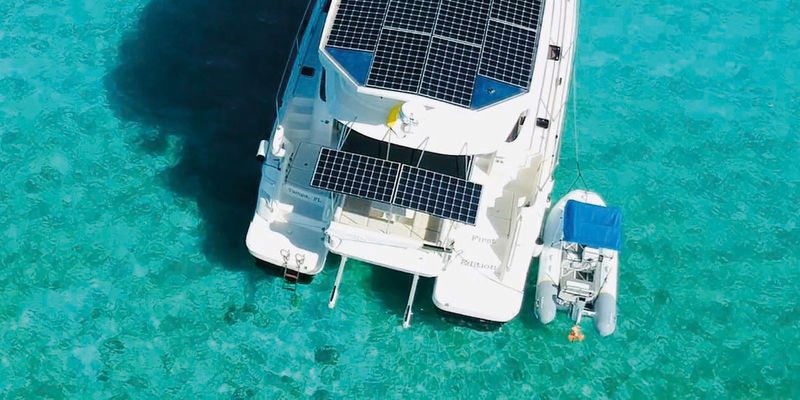 In the second phase in the yard, Peter lengthened his 44-footer… to a 50! 
5,600 Wp of solar panels
So, Peter decided to purchase a Torqeedo electric system from Marc and the work began with a simple mission statement: to sail silently at about 6 knots and to have a large range. The diesel engines were removed and replaced by two Torqeedo Deep Blue engines equivalent to an 80 hp combustion engine. To power these electric motors, Peter installed two BMW I3 batteries (2 x 40 kWh), which were installed in a storage compartment, protected from the water. In addition, in order to have a decent range, the catamaran has a Whisper Power diesel generator combined with a 265-US gallon (1,000-liter) tank to recharge the batteries if necessary or to operate some of the equipment on board, notably the air conditioning. Consuming less than 2 US gallons (7 liters) per hour, the generator has a capacity to run up to 142 hours... Finally, sixteen solar panels of 350 Wp were also installed, giving a total of 5,600 Wp. To accommodate all these panels, the T-Top of the flybridge had to be enlarged to a surface of nearly 333 sq ft (31m²). The most impressive thing is that the work has been so well done that the new hard-top fits perfectly into the line of the boat. Finally, the rest of the solar panels their take place on a support at the back of the boat. These solar receivers alone ...
Subscribe
Subscribe to Multihulls World and get exclusive benefits.
Subscribe
What readers think
Post a comment