Technical
Maintenance - Servicing the engine(s)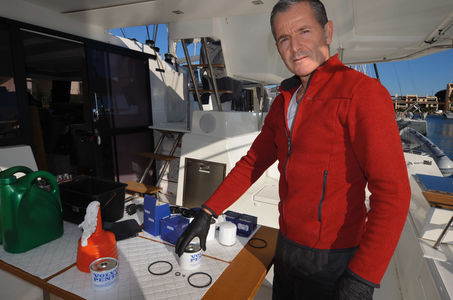 Olivier, the technician, carried out this service for our cameras. Note the filter seals - every single one of them has to be changed.
On board sailing boats, skippers sometimes tend to "forget" about periodic maintenance. But beware! This behavior can lead to (very) unpleasant surprises, or even jeopardize your multihull in the event of a breakdown that occurs at the worst possible moment. The overhaul recommended by the manufacturers is important for the reliability and durability of the engines. A service is required every two hundred and fifty hours. Most of the blocks you have in your engine bay are indestructible - if you do the right thing, at the right time. In general, an engine service can be carried out easily and wherever you are - provided you are properly equipped. In port, it is of course easy to ask for the services of a professional mechanic. But when you are on the other side of the world - and this often happens on a multihull - you have to do it yourself. gearbox oil, cleaning the raw water strainer and the air filter, replacing the oil and diesel filters, changing the impeller and even the belts are all operations that should be carried out at least once a year. Every 500 hours or three years, a more extensive overhaul can include replacing all the hoses, heat exchangers - air and water - and exhaust elbows. In general, this is a professional service that will cost a minimum of € 1,500 for a 50 HP engine. For a simple annual overhaul and maintenance, expect to pay around € 700. Sailors who prefer to do their own service will need an oil extractor (a little over € 100), a good filter wrench (€ 30) and a impeller puller (€ 30). As for the other essential tools that will be needed, they should already be on board during any long-distance trip. Then all you need is a bit of energy and a lot of rags... To service both engines on a catamaran, you should expect it to take a full day. As a guide, we used a 50 HP Volvo D2 engine on board an Astrea 42 as an example. This engine had a total of 690 hours after two charter seasons. We would like to thank Tendance Voile, Fountaine Pajot's agent in the Marines de Cogolin, for all their help.
---
1) First step: get all your equipment together - belts, filters, consumables (in duplicate on a catamaran). The oil extractor, impeller puller and a quality filter wrench are essential. Also prepare a good tool kit and absorbent paper rags.
---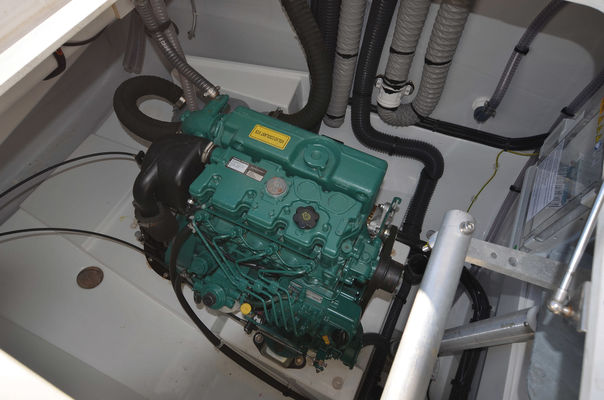 2) Run the engine for ten minutes and then let it sit for five minutes so that the hot oil settles back into the sump. On this model, there is plenty of room to operate. We take advantage of this to line the bilges with absorbent paper to avoid drips at the bottom.
---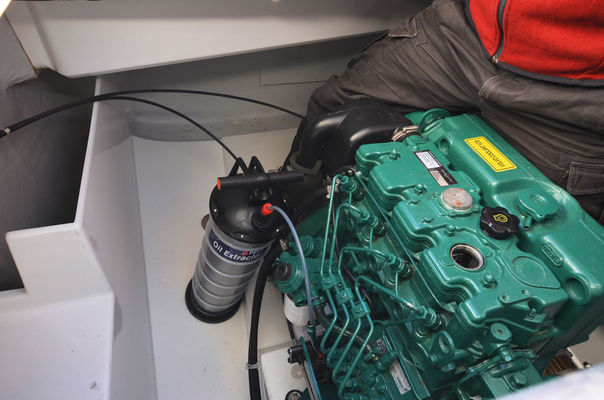 3) You start by emptying the oil. The flexible nozzle of the extractor is inserted into the bottom of the dipstick tube. It is then pumped two or three times and the oil pours out. This model, which has a capacity of five liters (nearly a gallon and a half), will ...
Subscribe
Subscribe to Multihulls World and get exclusive benefits.
Subscribe
What readers think
Post a comment