Technical
Passerelles for our multihulls!
You come stern-to the dock, pick up the groundline and moor up. Perfect! Except that the dock protrudes a good 70 cm (2 feet) above the level of the sugarscoop steps. It's not easy to get ashore, especially if you've got to revictual or unload equipment. Not practical either for children or the elderly - yes, it can happen that your mother-in-law comes to visit: your multihull is so comfortable... More seriously though, remember that the minimum width for wheelchair passage is 80 cm/32". The solution? A gangway or passerelle that allows you to pass easily onto the dock. But which model to choose? From a simple plank to a hydraulic "letterbox" passerelle, there are all kinds of weights, all sizes and also for all budgets. And you need to consider storage: a passerelle can easily measure 2 meters / nearly 7 feet in length. Sometimes a little too long to fit in the sugarscoop lockers. Being able to handle and store your gangway easily is therefore a must.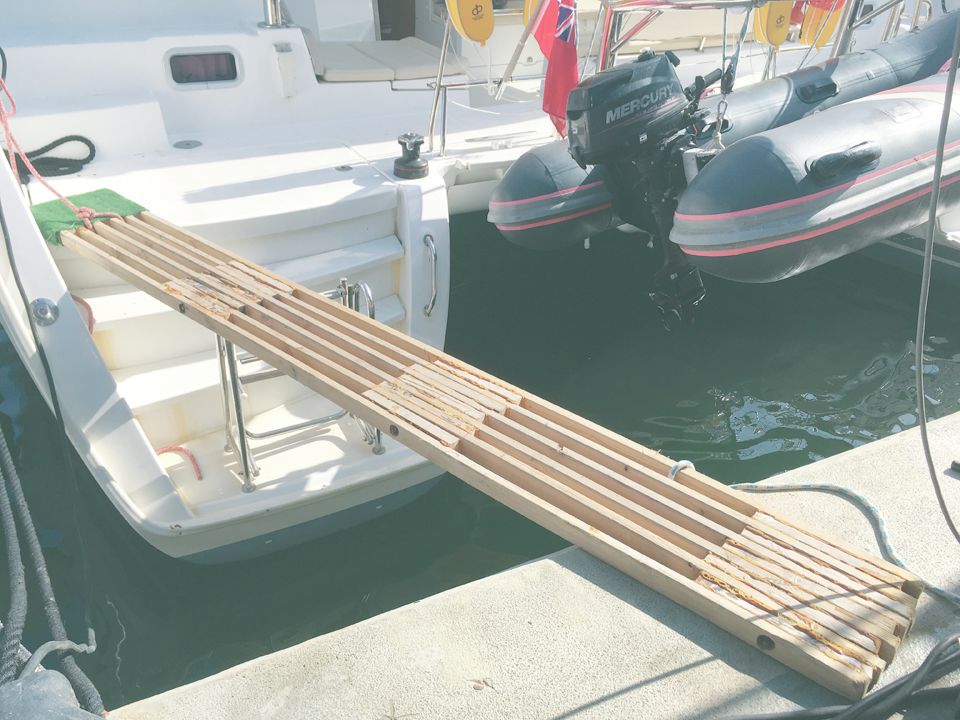 System D
A simple board can do the trick. There's no need to over-complicate life, you can have it cut to size at a DIY store (in resistant wood) and make small holes in the four corners so you can secure it with a line and glue a piece of carpet to it, to avoid damaging the gel coat of your sugarscoop. It's convenient, cheap and will provide good service. But the disadvantage is that this basic bridge is at least 20 mm (¾") thick: it is therefore heavy - and of course does not bend. The only solution for storage is to lash it along the guardwires. An unattractive passerelle, not very practical to handle but it couldn't be cheaper. A more sophisticated formula consists in adapting a painter's aluminum folding ladder. You can find them for about a hundred euros in shops; you just have to adapt the end caps for the dock and the sugarscoop. Much lighter than the simple plank, it'll be about 2.40 m/8' long. The advantage is that it can be folded in four and easily stored in a locker. In addition, this gangway can be used for working around the boat when you're on the hard or have taken the ground. On the other hand, since its primary function is to serve as a ladder, it's likely to be of interest to certain people when you're in port…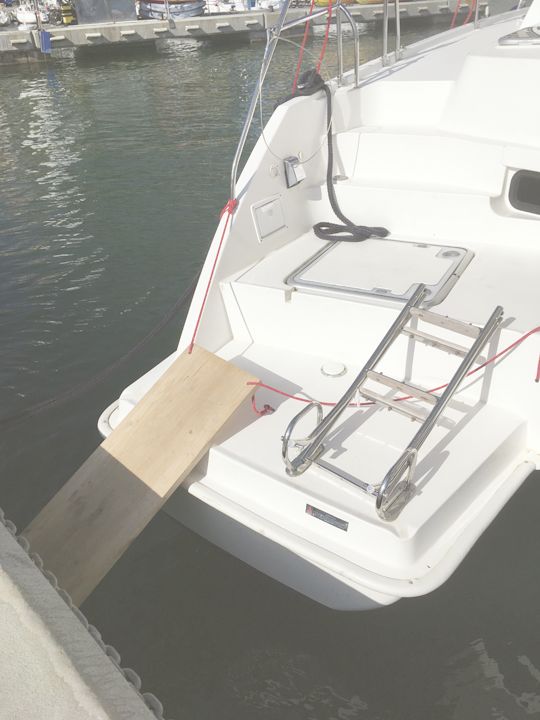 Folding gangways made of wood, aluminum or stainless steel
At the chandlery, you'll likely find a plethora of models. From € 250, you will discover wooden and stainless-steel models with a socket to fix them on the sugarscoop and little wheels for the dock. These gangways are already much more technical than the solutions described above. They can be a little heavier (between 15 and 20 kg / 20-45 lbs), but by doubling the budget, we can afford a lighter/aluminum model (about 10 kg / 22 lbs). By taking a few options, it is possible to equip them with handrails - which is very reassuring, especially for unaccustomed visitors. In the high-end segment, for around 1,000 euros, you'll find folding passerelles with teak gratings. These platforms are very ...
Become a member
Become a Multihulls World Community Member for free and get exclusive benefits
Become a member
What readers think
Tell us your opinion