Technical
Catamaran basics : Make yourself a soft shackle
Published on 01 february 2016 at 0h00
Progress as regards ropes has been spectacular: racing boat preparers have made no mistake. Their boats are sailing shop windows for their art of ropework. On our more conventional boats, we can of course make use of these new materials. The most commonly used is Dyneema. This fiber resists UV and chafe perfectly. Above all, for the same diameter, it is twice as strong as stainless steel. And for the same weight, the ratio leaps to 12! It is therefore tempting to use Dyneema to replace our traditional stainless steel shackles and snap links. Or even our bulky bowlines on the genoa clew. Lightweight and very thin, the fiber shackle doesn't weight the leech of the sail in light weather, doesn't catch on the shrouds when tacking, and will not injure a crew member on the foredeck when the sail flogs. It is easy to open, and particularly recommended aboard boats where the headsails are changed. Try it, and you won't be able to do without it aboard your multihull!


Necessary tools:
A set of hollow fids,
a marker pen,
a cutting board,
a Stanley knife,
a lighter.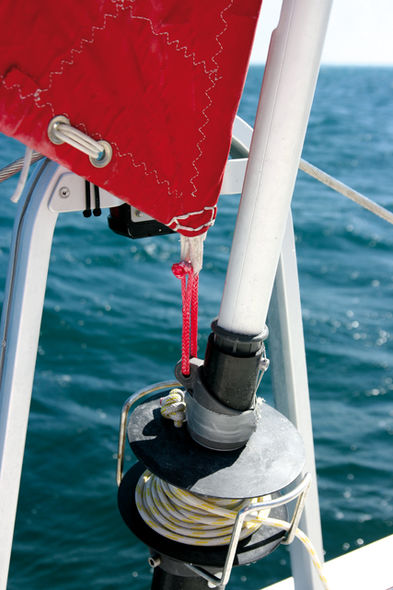 Heat the blade of the knife and cut a meter of Dyneema, 4 to 6mm in diameter. No bigger, as the rope becomes hard to work with. Make two marks, at 60 and 80 cm from one end.
Wedge this end in the fid, which is equipped with a ...
Become a member
Become a Multihulls World Community Member for free and get exclusive benefits
Become a member
What readers think
Tell us your opinion