Fasten your seatbelts, forget most of what you've learned on the water since you were born, put the yellow lever to manual and cross-check the doors: we're on the Befoil 16 Sport, and takeoff is imminent!
Place: Saint-Pierre-Quiberon, Brittany (France)
Wind: WSW 8-9 knots, gusting 12 - Sea state slight
---
The hull of Eric Tabarly's Tornado was flying back in 1976, the AC72s of the 34th America's Cup flew in 2013, the Ultims are flying, GP50s are flying, Jean-Pierre-Dick and Tom Phipps fly wearing helmets on their ETF26s... In short, on competition multihulls, the jury is no longer out, it seems. Even the sharpest monohulls - and the roundest ones, by the way - have taken to their foils - the Moth and AC75s are flying brilliantly, while the IMOCA and Mini 6.50 are still getting there. But are we, mere amateurs, condemned to ancestral Archimedes-based boating? For the passionate sailing publisher Benjamin Magnard, the answer is clearly "no". In 2011, he launched the 'Voilavion' project. Ten years later, Multihulls World has tried out its direct descendant: the Befoil. This is the boat whose ambition is to make flying accessible to anyone.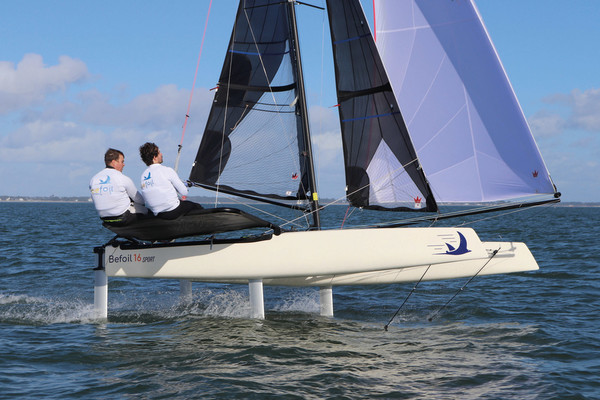 Control lines attached to the front of the hulls control the angle of the T-foils on the daggerboards.
Water: 816 times denser than air
Until the end of the 19th century, length was the key factor in the speed of a sailboat. For most boats tha...
To read in full,
Buy the boat test
Boat Test price$5.00Inc. tax
Purchase
What readers think
Post a comment
---