The bigger version of the very popular Iroquois, the Comanche 32 is just as robust but much more modern. She offers more comfort and a load capacity far superior to that of her little sister.
Its faceted coachroof and (very) raked bows obviously give the Comanche 32 a dated silhouette, but this model deserves attention, if only because of the rather affordable price. Despite her short length, the Comanche 32 is well suited to long distance cruising: she is pretty seaworthy for her size and is safe thanks to its four watertight compartments. In 1978, this model was positioned between the Iroquois 30 and the Cherokee 35 and offered a large load capacity – all within her 32 feet. Obviously, for long periods on board, this boat is ideally suited to the single-hander or a couple. As standard, the Comanche was delivered with fixed keels in order to gain living space inside the hulls. However, daggerboards could be ordered as an option (6 feet / 1.82m draft in the lowered position). The rudders are protected by strong skegs, allowing for stress-free beaching. This model was also available in a motor-sailer version with two 15 HP diesel engines, an interior helm station and a raised deck.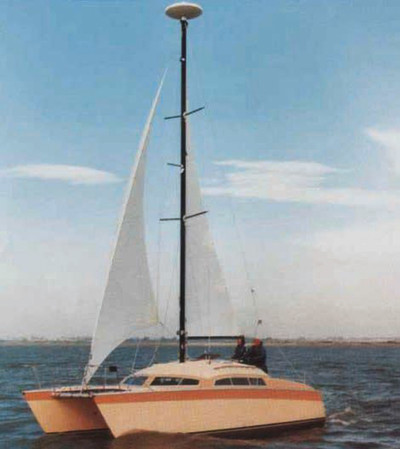 This image shows the monohull-like rig of the Comanche 32 – apart from the anti-capsize addition at the masthead!
Wide coachroof and aft-set mast
In order to optimize the living space a...
To read in full,
Buy the boat test
Boat Test price$3.00Inc. tax
Purchase
What readers think
Post a comment
---