Initially designed as a charter boat, the takeover of Dufour by catamaran specialist Fountaine Pajot in May 2018 changed the fate of this 48-footer. Instead of becoming the unwanted orphan of the mighty Fountaine cat empire, its molds and yard space in northern Italy, run by JJL Catamarans in Forli in northern Italy, was bought by Croatian charter company Under the Heavens. We got the chance to test hull #29, the first unit to arrive in Australian waters.
---
Test location: Sydney, Australia
Conditions: 18 to 25 knots, slight chop
Sailing around the world can have a profound effect on sailors, as it did for monohull dealer Matt Hayes. The former Olympic sailor and successful Sydney boat dealer came to a few conclusions during that 30-month circumnavigation, done on a 56- foot Dufour monohull. "Everywhere we went there were cruising catamarans!" 
This fact reflected the strong market for them, both in power and sail varieties. "So when the opportunity came to get this Dufour catamaran dealership, we jumped at the chance," explained Matt as we talked aboard the first example to arrive in Australia. As a former Dufour monohull dealer, he knows well the flair of designer Umberto Felci, so had confidence in taking on this catamaran, despite the Italian being relatively new to the concept. For this initial model Felci collaborated with his company co-founder Lorenzo Giovannozzi.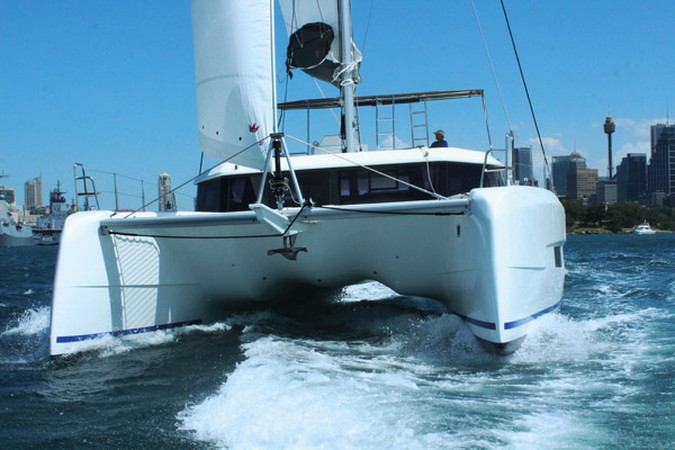 The streamlined nacelle of the Dufour 48 minimizes windage. As for the relatively modest bridgedeck clearance, it guarantees good volume to the cabins but risks slamming in bigger seas. 
First shown at Cannes in 2018
Having seen the first hull at the 2018 Cannes Boat Show, I was impressed by the overall sleek design and general f...
To read in full,
Buy the boat test
Boat Test price$5.00Inc. tax
Purchase
What readers think
Post a comment
---