Christophe Barreau is a prolific naval architect whose signature is synonymous with fast cruising catamarans.  With XL, Outremer, Catana, Marsaudon Composites and Technologie Marine, he has made significant contributions to the recent evolution of fast cruising catamarans coming out of France.  The new Eos 54, inspired by the TS generation has come about in response to a requirement for a sporting/family program, offering top-level performance.  We had the opportunity to take one for a sail on a lovely day around the Ile de Groix, off the south coast of Brittany.
Christophe Barreau: experienced architect, passionate about innovation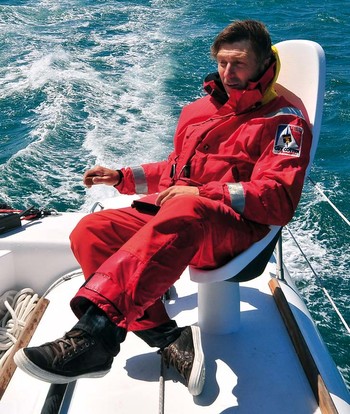 The architect began his work with multihulls when he took up designing for Catana, following the death of Lock Crowther.  He produced several master-strokes, such as the emblematic Catana 471 which is still in production today, and also a lightened carbon version; the excellent Outremer 51, 45 and 4X; and the extraordinary TS 50, capable of amazing speeds for a cruising boat (400 miles/day!).  Christophe is also a committed sailing adventurer who, with his one-off 45, crossed the South Atlantic and then Patagonia after having taken the Catana 40 "Diabolo" to Spitsbergen!  Trekking in the Alps and the Himalayas led him to develop a taste for the extreme, and for freedom at the heart of natural open spaces.  These experiences have influenced his take on sailing.  The philosophy of his most radical range, the TS (42, 50, 52 and soon the future 5 and 3) is borne out of this, and provides a consistently innovative vision of possibilities using the catamaran as a platform.  The idea of the Eos 54 combines the pleasure of speed and sliding across the water with a spacious and simple layout for harmonious life on ...
To read in full,
Buy the boat test
Boat Test price$5.00Inc. tax
Purchase
What readers think
Post a comment
---