The Fast Cat was presented for the first time at La Rochelle, and offers a radical approach to multihull cruising, with a boat which is certainly comfortable, with two single cabins, but is above all light and fast. The story of a pleasant sail…
The 2005 Grand Pavois has just closed its doors and the time has come to test the new boats from this autumn Boat Show. The Fast Cat 435 comes direct from South Africa and was designed by Angelo Lavranos, who was responsible for the Saint-Francis series, also built in the Durban area. The architect's distinctive touches can be seen in the characteristic shape of the cabin roof, with its fairly sharp angles and large 'picture windows'. Apart from its name, Fast Cat, the layman could think that he is looking at fairly staid cruising boat, with no excesses. However, if we look a little more closely at the platform, we notice that the entries are quite fine, which does not favour load-carrying capacity, but tends to give a hull with good performance, both in terms of pointing ability and speed. And seen from the pontoon, we notice that the forward part of the nacelle is a bit lower than the aft, but its height above the water is clearly greater than average. The waves can't hit it too often in choppy seas… What if this is really a wolf in sheep's clothing?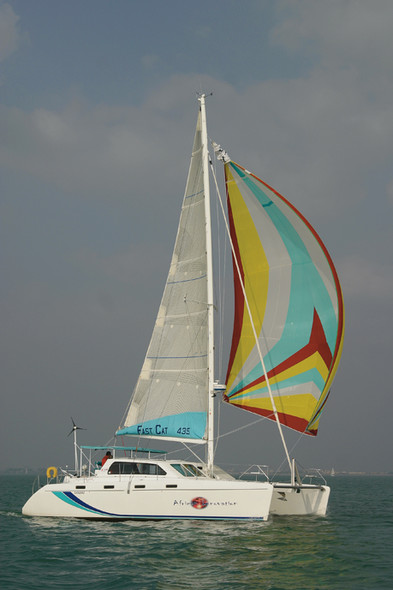 An efficient rig.
This test will take us from...
To read in full,
Buy the boat test
Boat Test price$5.00Inc. tax
Purchase
What readers think
Post a comment
---