The multihull segment has come out of the slump of 2009, and is again progressing, despite the brakes linked to the price of the boats and the difficult and costly search for harbour berths. The competition between the makes is intense and has brought about a regrouping of the offer around consensual products in the leading range of 12 – 15 metre boats. The Format 400 concept's originality has come to break up this harmony and offer an attractive alternative approach to fast, comfortable cruising.
Jürgen Peter, the semi-open catamaran convert
The founder of Format System has been designing and building multihulls since 1984. His creativity has revolved almost exclusively around the development of simple, fast, practical catamarans on a human scale. He insists on aesthetic requirements in his approach and defends the idea of the semi-open concept on all his models. Jürgen was directly influenced by Derek Kelsall in his approach (boat philosophy, choice of sandwich material, and production method); he also supplies construction kits for amateurs!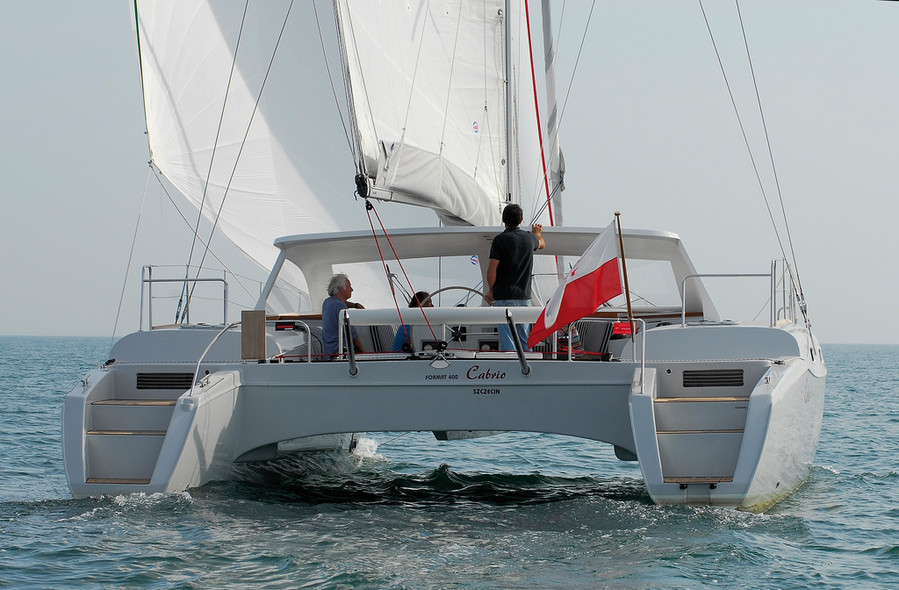 A European partnership
Since 1998 (the boats were then being sub-contracted in Czechoslovakia), Format System has been building in Eastern Europe. The F400 is now being produced in Poland, in a modern factory, which again prioritises manual lay-up under vacuum. After having designed numerous one-offs for his customers, and covered more than 30,000 miles aboard his catamarans, Jürgen Peter has been applying his ideas and experience to a series of open multihulls (F33, F700 transportable) and day-charter prototypes, since 2003. Marketed today ...
To read in full,
Buy the boat test
Boat Test price$5.00Inc. tax
Purchase
What readers think
Post a comment
---