In the spirit of their MY range of comfort and performance, Fountaine Pajot are logically filling the gap between 37 and 44 with this new 40, launched at this year's Boot Düsseldorf. We discovered this powercat in the cool waters of Portugal.
There are no great surprises when you discover the MY 40: this new model fits perfectly into the range, without any design revolution. There are a couple of evolutions, such as the lateral windows which have become immense and the sides at the top of the coachroof, which are much more apparent. The design of the hulls, as ever, entrusted to Andrieu Yacht Design, presents very fine-entry bows at the point of attack, which are quickly topped by a marked chine. This design has many advantages: more rigidity, less drag, a quickly damped pitch, more useful volume inside and a significant reduction in spray on the deck.
Unlike many of their competitors in the powercat market, the MYs from Fountaine Pajot aren't built on a sailing cat platform: they are the result of a 100% motorboat design. This work results in a smaller beam and a higher freeboard, which puts them closer to the monohull motorboat world. Because Fountaine Pajot's goal is not to limit themselves to seducing multihull enthusiasts who are tired of managing their sails, but rather to address a much wider audience. Note: the forthcoming Power 67 will originate from the Alegria 67.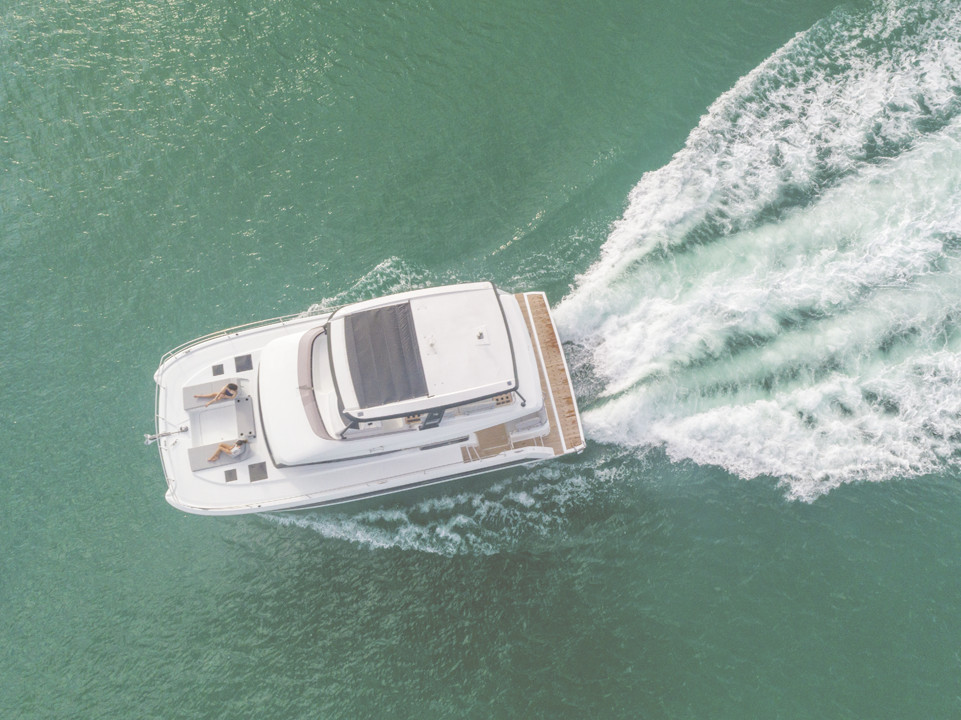 Speed and range, the infernal equation...
To read in full,
Buy the boat test
Boat Test price$5.00Inc. tax
Purchase
What readers think
Post a comment
---