Garcia, the aluminum boat builder with a global reputation, could manage no longer without a multihull in their range. They needed to expand on their selection of monohulls, whose name "Exploration" sums up the program in just one word. The Explocat 52 is therefore an adventurer of the same temperament. The ambition is to widen the options beyond production GRP catamarans: it offers the possibility of venturing further north and/or south. In addition to the safety provided by the mechanical qualities of aluminum, the Explocat 52 benefits from a design and from options that allow it to venture just about anywhere.
Test location: Cherbourg, France
Weather conditions: sea state slight; wind 15 knots
---
 In the 1970s, in the heart of the Normandy countryside, far from the sea, the Garcia brothers began building aluminum boats. Talented metalworkers, their beautifully shaped hulls quickly left behind the amateur constructions that had done so much damage to the material's reputation. Fervent supporters of the monohull, and more precisely of the centerboarder, their short and fruitless industrial adventure with Yapluka catamarans wasn't going to make them switch allegiance. That said, the brand became part of the Grand Large Yachting group in 2010, and nevertheless put its name to hull #2 of the SC 48, initially produced by Alumarine. Exhibited at the International Multihull Show at La Grande Motte, France, in 2015, it met more with critical success than commercial success. The appeal of the concept and the program were there, but the answer wasn't completely seductive just yet.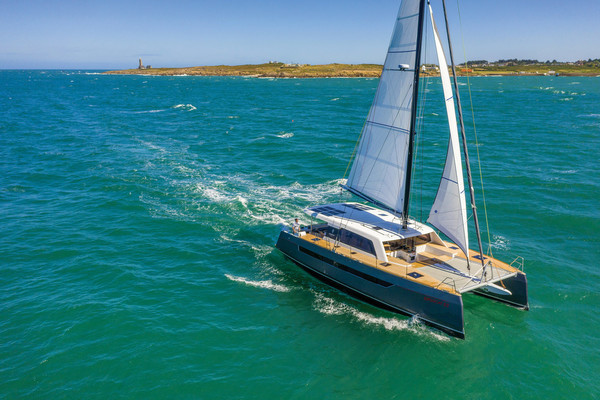 Despite its aluminum construction - except for the coachroof - the Explocat 52 manages to remain lighter than many of its GRP competitors.
 52 feet, just the right balance for adventure Five years later, the trident ...
To read in full,
Buy the boat test
Boat Test price$5.00Inc. tax
Purchase
What readers think
Post a comment
---