Lagoon is continuing the redevelopment of its range with a model whose new rig is at the heart of a significant evolution in style, ergonomics and performance. We have just spent two days on board the 42.
A highly effective 42 foot craft.
Building on experience
The previous model (the 420) was an experimental boat, but the ambition of building a hybrid catamaran was without doubt pioneering when one considers the technology available at the time. However, this didn't necessarily correspond with a multi-use multihull for the general public. The increased wetted area caused by the additional weight of a very heavy battery bank, positioned aft, penalized performance, and also required the powerful motors to be alternatively mounted. This attempt did not meet with the success which had been envisaged. Things have moved on since 2006: engines have evolved significantly (fuel consumption, noise, reliability, absence of vibration, clean running) as has sailcloth technology, sail design software and also that of rigging, not forgetting developments in interior design and the digital fabrication of the interior fittings. Barely perceptible individually, these developments today allow Lagoon to remain loyal, with this 42 footer, to their image of spacious multihulls while concentrating on their – sailing" values and reaffirming the position of motor yachts, notably that of the MY40.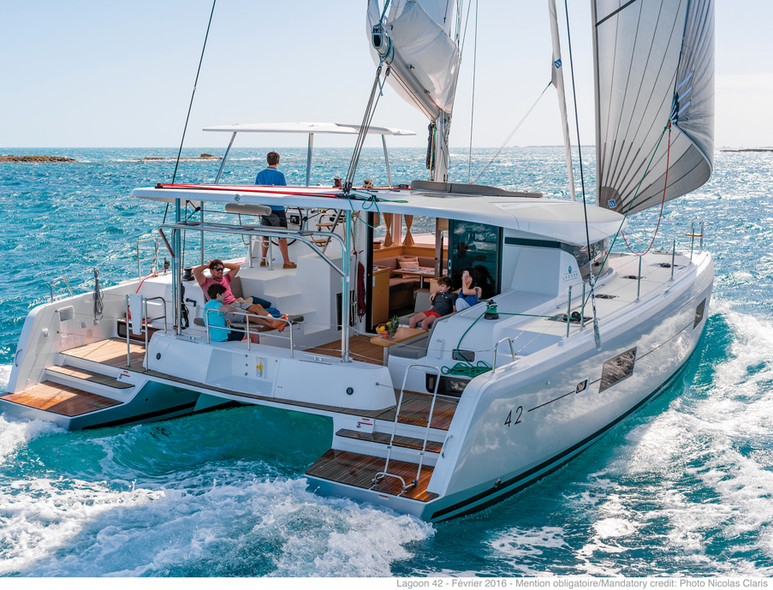 To read in full,
Buy the boat test
Boat Test price$5.00Inc. tax
Purchase
What readers think
Post a comment
---