The test of the Lagoon 400 allowed us to appreciate a comfortable, agile catamaran, more playful than its predecessors. The renewal of the range today concerns the 450 and 560, presented at the autumn Boat Shows, and seems to be inspired by the same values. I invite you to a discovery test aboard the 450.
The inheritance of a breakaway model
In 2004, the concept defended by the 440 dared to stand out clearly from the dominant culture, and completely rid itself of the dogma in force. Off the beaten track, it opened up its own route, going out to meet a developing family clientele. Not really obsessed by aerodynamics, over-engined as an option, this iconoclast with the slightly clumsy looks, joyfully trampled the classic references underfoot, and sent the helm and manoeuvring 'upstairs'! This breakaway positioned the guests, the wife, and the children at the centre of the preoccupations. Ulysses wavered! The heroic posture of the skipper, dripping wet in front of a curled up crew took a step in the direction of happy memories! 400 orders later, the adventure illustrates the relevance of the market study and the company's strength. Not having been one of the first to be full of praise, left with the memory of unwanted windage, and laborious performance in moderate conditions, I was impatient to see how the VPLP-Lagoon-Nauta trio had reinterpreted this ambitious and difficult specification. Would the magic potion used for the 400 still be effective?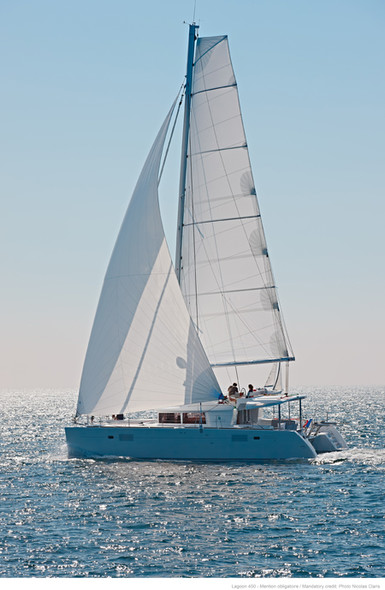 To read in full,
Buy the boat test
Boat Test price$5.00Inc. tax
Purchase
What readers think
Post a comment
---