With this new model, the little sister to the remarkable SEVENTY 7, Lagoon is reinforcing its anchored position in the world of luxury catamarans with a visual identity that is very different from that of the smaller Lagoons. We were able to make two trips aboard the SIXTY 5 off La Rochelle on France's Atlantic coast, sailing between the islands of Ré, Oléron and Aix.
Test location: La Rochelle,France
Wind: WSW 6 to 18 knots
Sea state: slight
---
We had hoped to see her in April at the International Multihull Show... but it's going to be at Cannes in September, if all goes well. The launch of the Lagoon SIXTY 5 has of course been disrupted by the health crisis. While waiting for the 2020 Cannes Yachting Festival, here we are aboard this imposing catamaran of more than 65 feet (20 meters). For once, the base of this model is the power version and not the other way round. Lagoon was eager to first complete its power model in this fast- growing niche market. The SIXTY 5 is therefore the sailing version of the SIXTY 7 first presented barely a year ago - see our test in MW170. This new boat is based on the design of the big Lagoons and keeps the suspended deckhouse and the "ear" cut out at the top of the aft pillars. The burgundy red hulls of the first model have given way to a more discreet cream. But the most visible difference is of course the imposing rig. On the other hand, the work carried out on the aft third of the hulls, rudders and keels - the draft is 16" (40 cm) deeper - is obviously more discreet.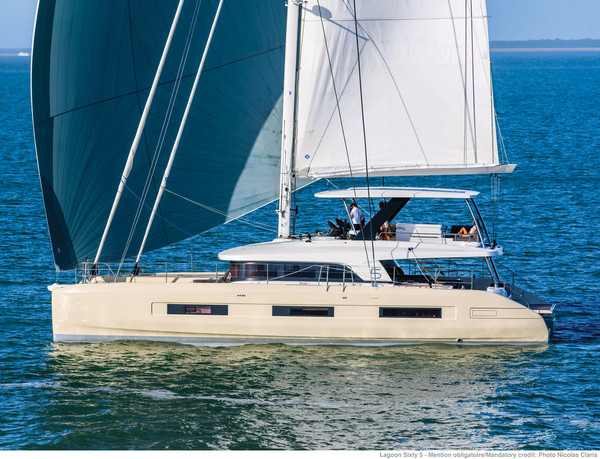 The big 3,875 square foot (360 m²) as...
To read in full,
Buy the boat test
Boat Test price$5.00Inc. tax
Purchase
What readers think
Post a comment
---