The Leopard 42 is a blue water cruising catamaran designed for convenient boat handling, comfort on the water and reasonable upkeep efforts and costs. It favors none of these exclusively, but is notably successful in each category. For this reason, it is difficult to conveniently characterize it only as a charter design, or one favoring private ownership.
The Moorings offers this catamaran to owners for private purchase as the Leopard 42, usually with the owners quarters occupying the starboard hull and two guest rooms in the port hull. The charter version has 4 staterooms, each with a private head and is marketed as the Moorings 4200. Except for the interior layout and optional features, the two names refer to what is fundamentally the same catamaran. This review is based primarily on a cruising test of the charter version with 4 staterooms.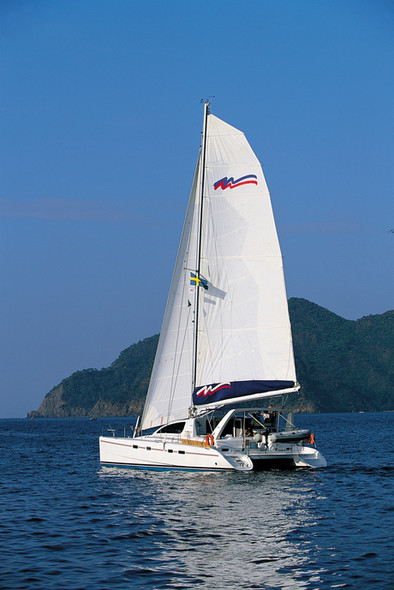 General Characteristics
The Leopard 42 is distinctive for its high, nearly plumb bow, apparently compact salon (from side view)., and large cockpit area. The bow trampoline, although modest in area compared to many other catamarans in the 45 foot size range, extends more than 6 feet from the front cross bar to the fiberglass hard deck. Support for the anchor mechanism forms a hard foredeck to the front cross beam, dividing and supporting the trampoline along the catamaran's midline. The hard foredeck slopes gently up toward the salon's windows and the mast base. From the side, the salon profile is somewhat wedge shap...
To read in full,
Buy the boat test
Boat Test price$5.00Inc. tax
Purchase
What readers think
Post a comment
---