After 11 years production and more than 50 units sold, the Privilege 37 was in need of a re-vamp; fortunately the decision was taken to keep its successor under 40'. The 37' was an excellent cruising catamaran, safe, solid and oh, so comfortable! Its tooling was capable of evolution; therefore Marc Lombard designed what was, to a large extent, a copy. The Alliaura factory rebuilt the hull mould, adapted it to the new demands of infusion moulding and the 395 was born. I invite you to get to know the 'easycruise' version (pack including all the options).
OVERALL PRESENTATION
The 37's personality survives in the 395, however it is a completely new boat: the after half of the hull's lines has been redesigned, so it is not just a transplant job. It is this that enables the silhouette to integrate perfectly the extra 78 centimetres in length and offer a modern and ergonomic sugar-scoop transom design: the steps are wide and deep, safety is taken care of by handrails and guardrails and the cabin roof is pleasing to the eye. The mast is 65cm longer and the sail plan logically benefits from a gennaker, flown from a bowsprit. The interior architecture is completely new, with the exception of the starboard hull which keeps its 'owners suite'.. The galley is in the nacelle (in the hull gangway on the 37), which optimises and transforms the space assigned to the port aft cabin, which now has its own heads with shower and WC. The 'forward suite' in the rostrum (the cabin area ahead of the mast) with its 'Breton-style bed' is as appealing as ever, continuing the magic formula already applied to the 37.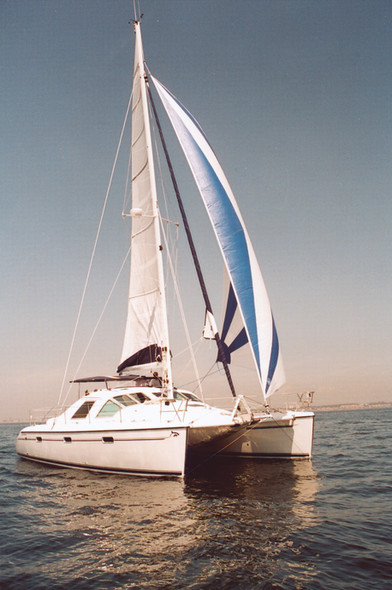 CONSTRUCTION PROCESS
As a positive result ...
To read in full,
Buy the boat test
Boat Test price$5.00Inc. tax
Purchase
What readers think
Post a comment
---