The Privilège 615 is not really a crisis period 'product'! But let's not deny ourselves the pleasure of discovering it; moreover this generic term doesn't suit it! It benefits from a small production run design, but concentrates such talent and ambition for quality that it intends to be in the leading group of a family born at the beginning of the 2000s, the 'catamaran yachts'.
48 hours aboard BLUE NOTE
When replying to the invitation from the owner of this 615, I didn't imagine meeting such a passionate cruising catamaran enthusiast. BLUE NOTE is actually his 3rd multihull, after a one-off 50' from the Profils team, and a Lagoon 57'. Alain has always greatly customised his boats; he likes living aboard, cruising and welcoming customers and friends. From the Mediterranean to the Pacific, he has gradually acquired a solid experience of this kind of multihull, which allowed him to collaborate positively in the definition of his new catamaran! The kind of emblematic purchaser in the segment, with whom the builders have to be able to compromise. This 615 has already covered more than 5,000 miles, including a lively trip round Spain and two charter seasons. It is used as a main residence! It is not therefore an exhibition bijou residence, but a completely functional boat which was interesting to observe at the end of its 'running in' period.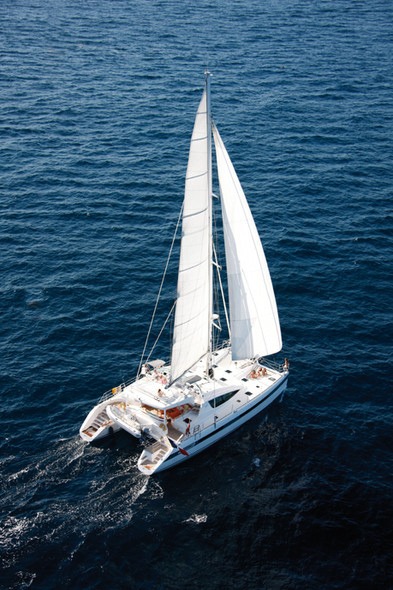 Ask for the programme
The Privilège 615 can be justified wit...
To read in full,
Buy the boat test
Boat Test price$5.00Inc. tax
Purchase
What readers think
Post a comment
---