Jurg Hinz, the creator of the Swiss 55' has already had a Switch 55' custom built by Sud Composites, in 2005. After several years of cruising, reflection and market studies, the sale of the boat allowed him to launch his big project, the creation of a top-of-the-range 55-footer, derived from the Swiss school, and with the approach of a passionate owner.
From the Swiss mountains to the Anatolie plateau
Jurg is a rigorous and prudent manager: his knowledge in general and of multihull construction in particular let him glimpse immediately how he could achieve his desired result. He therefore surrounded himself with a limited design team, before going looking for the partner capable of adapting to a demanding and original specification.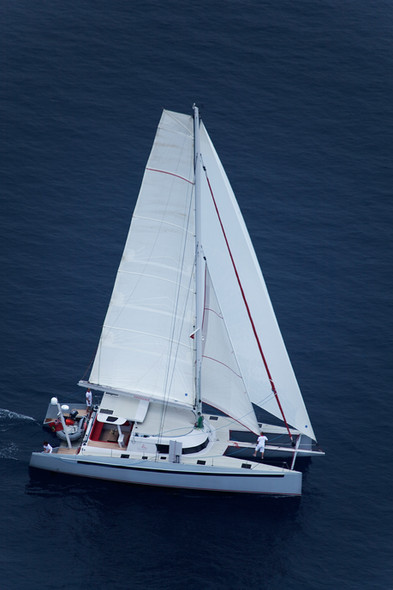 A strong piloting trio for a production boat designed as a one-off
At the side of the boss who gave the project its direction and spirit, is Christophe Bulhozer. A sailor and seasoned traveller, builder and experienced project manager, this composites expert has developed and enriched his skills in Swiss, New Zealand and American boatyards. He confesses shyly to a more esoteric talent: that of artist/creator of unique furniture; using nothing but traditional Japanese tools for their construction and no portable electric tools! Sébastien Schmidt, the architect for the Swiss 55', is not yet very well-known by lovers of cruising multihulls, but he carved out a solid reputat...
To read in full,
Buy the boat test
Boat Test price$5.00Inc. tax
Purchase
What readers think
Post a comment
---