After the success of the now mythical Virus Magnum 18 and 21, the Morbihan-based company is launching into the raid catamaran adventure. To our great delight.
The idea of a test is above all to have fun, so we chose our day: the weather forecast gave a light to moderate breeze, with sunshine. Above all, it was forecast to be favourable on the outward leg of course, (from Locmiquélic, in the 'Rade de Lorient', to Rosbras, 25 miles away, in the Aven, which leads to…Pont Aven), but also for the return leg, as Mr. Ugrib's wind vane forecast a change overnight. We were not wrong: "if you are sailing to windward, you have chosen the wrong route". Once we had left the Rade de Lorient, the V8 showed its character. In difficulty in the very light airs close to the coast, notably to windward (but a code 0 would help), it really came alive once the breeze reached 6-7 knots, to allow the GPS to display values which changed when the wind increased or decreased by 1 or 2 knots. Little by little, we settled down on the wings, holding the tiller extension, sitting comfortably, with a good view over the platform and the sails. The wings would be improved by the addition of a backrest - planned for the future.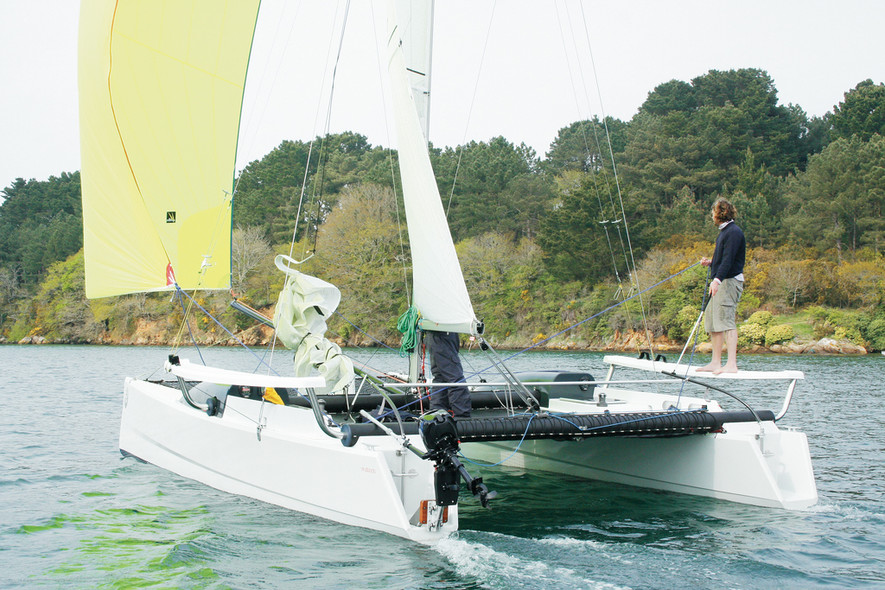 Fun, fun, fun…
In the choppy water, we felt that the bo...
To read in full,
Buy the boat test
Boat Test price$5.00Inc. tax
Purchase
What readers think
Post a comment
---