It was to take 11 years of development - and as many prototypes - before François Tissier launched his folding and transportable catamaran. His Iziboat is all the more accomplished as this first model has already had two seasons on the water, and has been tested by 1,200 crew members!
Test location: La Flotte-en-Ré, France
Conditions: flat sea, 10 to 15 knots of wind
We met up in a small parking lot shaded by pine trees: a few cars, of course, but more importantly, a curious-looking catamaran ready to sail. François Tissier, who is at the origin of the project, is in the middle of a discussion with a FrancoBelgian family: Nino, in a wheelchair, seems very eager to go sailing! This impromptu meeting shows that the Iziboat - even before getting out on the water – really does deserve its name.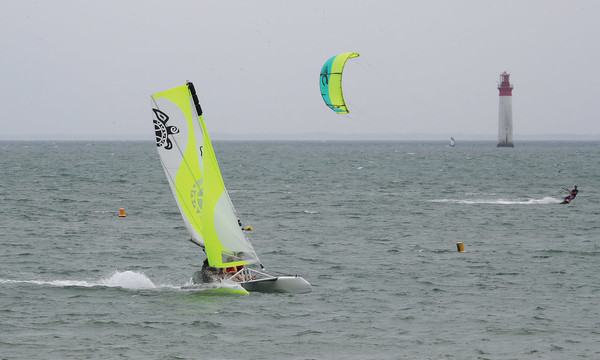 The overlapping genoa is very effective as you start to come off the wind.
But if you try and hold a course hard on the wind, even with the sail partly furled, the very outboard sheeting points don't help.
The complete mainsail/small jib/gennaker wardrobe seems the best choice to us.
The interest of this small multihull is of course the possibility to dismantle it - and therefore to transport and store it - very easily. The operation takes 15 minutes. Two powerful straps ensure that the various parts are securely held in place. For those who live close to the water, the manufacturer even suggests transporting it by bicycle. This is possible, but on flat ground, since th...
To read in full,
Buy the boat test
Boat Test price$5.00Inc. tax
Purchase
What readers think
Post a comment
---